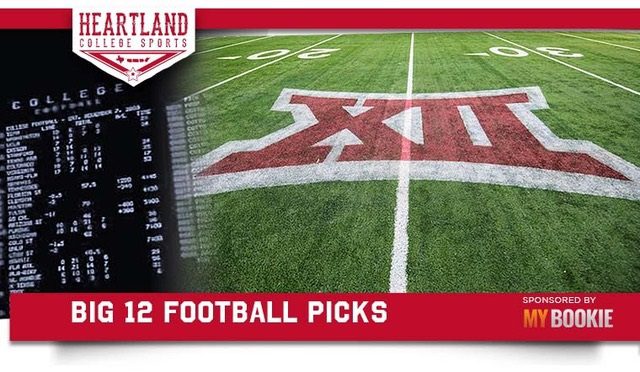 Well it's a new season of college football and that means a fresh slate for my Big 12 football picks against the spread. As they have been for several years running, our friends at MyBookie.com are the sponsors of the picks, and with our promo code "BIG12" you get to DOUBLE your first deposit, no questions asked! Support them to support us at Heartland College Sports and get your picks in.
Our Week 2 picks went 2-3, so we are 5-6 on the season, and now it's on to Week 2 with five games to pick.
Oklahoma vs. Nebraska
I don't need to look at the trends for this game. This game was over when Nebraska tried to cancel it in the offseason and then it came out last month that head coach Scott Frost was the main culprit who wanted to switch out the OU game for a lesser opponent at home to compile more wins. OU is going to send a message in this game with a huge victory.
The Pick: Oklahoma -22
West Virginia vs. Virginia Tech
I can't trust Jarret Doege and this offense in this game to do enough against a Virginia Tech defense that picked off UNC QB Sam Howell, an NFL Draft prospect, three times two weeks ago in their upset win. Virginia Tech is going to try to stop Leddie Brown and force Doege to beat them. I can't see that going well for the Mountaineers this weekend, especially with the inconsistencies of their wide receivers. My hope is a WVU nail biter, but when it comes to the spread, I'm taking the Hokies.
The Pick: Virginia Tech +3 (buy the 1/2 a point)
Baylor at Kansas
This will be the lowest spread KU sees all season, but it still feels too low. Baylor is a solid team that is steadily improving and has far more talent than KU. Also, Dave Aranda knows he needs to get off to a good start in conference play considering he's coming off a 2-7 campaign. Baylor will roll to a victory on the road by three touchdowns or more over the Jayhawks.
The Pick: Baylor -18
Kansas State vs. Nevada
I can't believe Nevada is the favorite in this game on the road. No doubt Skylar Thompson being out is a big loss, but if K-State plays its cards right in the ground game, the Wildcats should win this game with relative ease. Will Howard is a year older, more experienced and mature, and I am confident he can handle a Mountain West team on his home turf, especially with the defense doing its part to help the cause.
The Pick: K-State +1
Iowa State at UNLV
Iowa State will win, but by more than 31 points. With the way this offense has started the season? This might be a sucker bet as ISU takes all its frustrations out on UNLV, but I need to see it to believe it. It's too many points against a team that hung with Arizona State until the fourth quarter last week. Now they're at home, while Iowa State travels across the country a week after getting smacked by Iowa. The Cyclones win, but the number is too big, especially given Matt Campbell is 0-5 against the spread in his last five games in the month of September.
The Pick: UNLV +32.5
Oklahoma State at Boise State
Oklahoma State is 2-7 against the spread in its last nine games, and they could easily be 0-2 this season (not just ATS). Boise is 5-1 against the spread in their last six games in September and is returning 16 starters in a home game against a team from the Big 12 Conference, which undoubtedly they feel slighted about not getting the opportunity to join. They should've beaten UCF in Week 1 and steamrolled UTEP in Week 2, they can put up points and I worry too much about the OSU offense right now.
The Pick: Boise -3 (buy the 1/2 point)
Texas Tech vs. FIU
The Red Raiders embarrassed themselves last week against Stephen F. Austin, barely pulling out a victory. Matt Wells knows he can't afford another performance like that against an inferior opponent in front of the home crowd. Tech will try to run up the score, if they can. FIU lost to Texas State last week, a decent program, but not a team that Tech should have any troubles with, if they're focused on Saturday night. That's an "If", but it's an "if" I'm willing to bet on.
The Pick: Texas Tech -20
Texas vs. Rice
Some might think it's crazy to take Texas with the points, but I don't and here's why: Casey Thompson has waited for this moment as the starting quarterback. He has his chance after replacing Hudson Card. He came in and gave this team a spark last week against Arkansas. Maybe it's because the game was out of reach, but I feel confident in his dual-threat ability and keep thinking back to his performance against Colorado in the Alamo Bowl last season. He'll want to pile it up against Rice, as will the entire team. Rice lost to Houston (who lost to Texas Tech) 44-7 last week. They're deflated. Texas rolls.
The Pick: Texas -26
Kansas State vs. Nevada
K-State is an underdog in the game, simply because Skylar Thompson is injured. I have a little more confidence in Will Howard than Vegas does. If the Wildcats keep this game on the ground and use more than Deuce Vaughn they will win. It won't be pretty, but I can field a solid field goal victory for Kansas State in a 24-21 or 21-17 type of ball game. Plus, the early start with the long travel for Nevada benefits K-State early and I really like the Wildcats defense heading into this one.
The Pick: Kansas State +1.5