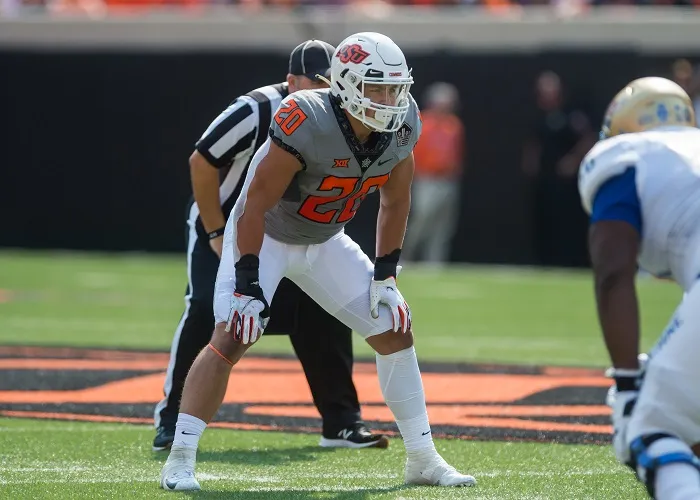 Oklahoma State super-senior linebacker Malcolm Rodriguez is on his way to becoming one of OSU's all-time leading tacklers should he keep up his historic play from the Cowboys' first two games, while also making his case for Big 12 defensive player of the year.
A former dual-threat quarterback out of Wagoner, Oklahoma, Rodriguez made the switch to safety after arriving in Stillwater in 2017. He moved to linebacker shortly after, where he has developed into one of the best tacklers in the nation and arguably, Oklahoma State's most important defensive players.
Rodriguez recorded team-high tackles in both of Oklahoma State's first two games, with 15 against Missouri State and 13 against Tulsa, totaling 28 on the season. That number is currently tied for first in the FBS with Connecticut's Jackson Mitchell, and well first in the Big 12, seven total tackles ahead of second place.
The fifth-year linebacker league-best 14 tackles per game would put him on pace for a historic season in Stillwater and put him near the top of the record books at Oklahoma State. If he can keep up, which yes is a big if, given that we are only two games in, would put him on pace for 168 tackles on the season and 447 in his career. The latter would be good for fourth all-time on Oklahoma State's career tackle list.
Rodriguez is one of the most reliable defenders I've watched in a long time. He is always at or near the ball no matter where it is on the field, and he rarely, if ever, misses tackles. If you were to give me one guy in all of college football to make one tackle in open space, and if he makes the tackle I get a million dollars, I'm taking Malcolm Rodriguez every day of the week. 
Basically, if you're a ball carrier and he has you in his crosshairs, you better do your best Barry Sanders impression and reverse to the other side of the field real fast, because you're not getting away from him.
"Malcolm has been a special player here forever," said OSU head coach Mike Gundy. "He's got a lot of natural ability to get to the ball and make a play. He's done it. He's done it all the time. He's a great leader for us."
That natural ability and tackling discipline also stems from a background as a state champion wrestler, where technique and form is key when taking somebody to the ground. Which is also why it's important to remember that multi-sport athletes often end up exceeding expectations, just like Rodriguez, who was "only" ranked as a three-star prospect and the No. 23 player in the state of Oklahoma in the Class of 2017.
But as we continue through the 2021 season, Rodriguez earned his third career Big 12 defensive player of the week award after his performance against Tulsa, and if he keeps up his impressive numbers it likely won't be his last. I fully expect to see him vying for Big 12 Defensive Player of the year come December, because in my eyes Rodriguez is the overall best defender in the Big 12 and one of the best in the country.