Baylor Bears
Kirk Herbstreit Suggests USC Tries to Hire Former Baylor Coach Matt Rhule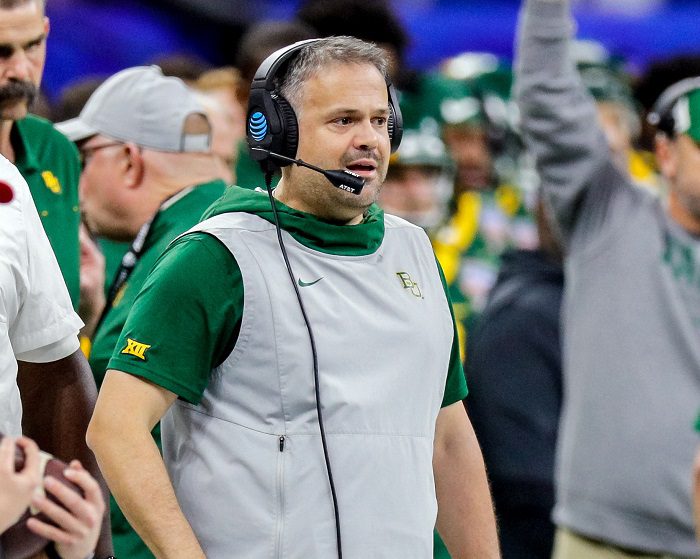 There's plenty of speculation over who will end up as the next head coach of the USC Trojans. Current Big 12 names like Matt Campbell and Mike Gundy are "getting odds" from Las Vegas to end up in Southern California.
But on Saturday during "College GameDay", ESPN analyst Kirk Herbstreit threw out a name that not many have mentioned: former Baylor head coach, and current Carolina Panthers head coach, Matt Rhule.
Herbstreit said, "I think they're a good coaching hire away from once again making it a Top 5 job… Matt Rhule, to me, make him say, "yes". Like that would be one of the first guys you would look at. [Cincinnati's] Luke Fickell, of course he would deny it, they've got so many big games in front of him, those kind of guys are names they should be focusing on."
Rhule is in his second year with the Carolina Panthers after turning around Baylor from 1-11 in his first year to 11-3 in his third year. It's long been believed that Rhule wanted to be in the NFL. Plus, Rhule signed an enormous contract with Carolina, for seven years and $60 million.
It's hard to believe USC would top that money, especially when you factor in the cost of living in Southern California compared to Charlotte, North Carolina.
But Rhule proved to be a great program builder at USC, and if he had the kind of talent the Trojans can bring it, there's no doubt in my mind he would succeed. I just can't see Rhule leaving the NFL after two seasons, given that it was always believed to be his ultimate goal as a head coach.