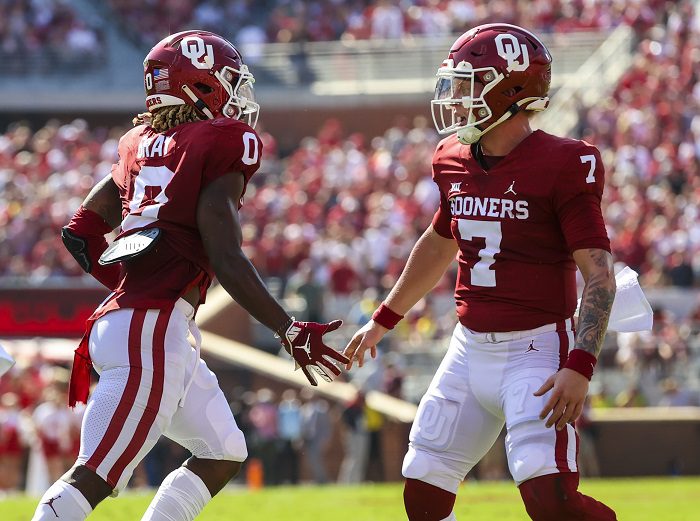 The Oklahoma Sooners took care of business on Saturday in the 50th anniversary of "The Game of the Century" between OU and Nebraska. This game was certainly not a memorable one, but Oklahoma got out of Norman with a 23-16 win over the Huskers. The Sooners were a 22-point favorite heading into this match up, so it didn't exactly go as planned, but for the Sooners, they finish the non-conference schedule with a 3-0 record heading into conference play. But with all that being said, there is certainly plenty to critique coming out of this win in Norman.
So, here are three thoughts coming out of this match up.
1. Spencer Rattler's Regression
Rattler started the season as the favorite to win the Heisman Trophy and also a favorite to be the No. 1 pick in the 2022 NFL Draft. Neither of those things look likely after Rattler continues a shaky start to his sophomore campaign. The numbers don't look bad on paper as Rattler finished 24/34 for 214 yards, one touchdown and no interceptions. On the ground, he ran for 35 yards and a score.
But it wasn't just the numbers, Rattler didn't appear to go through his progressions well, seemed uncomfortable in the pocket and was often backpedaling. There were also multiple instances of throwing into double or triple coverage. On top of that, he's lost confidence and conviction on his passes. These are problems for an Oklahoma team with expectations of not just winning the Big 12, but having a chance to play for a National Championship.
2. The Defensive Line Won this Game for OU
In any other year prior, Oklahoma likely loses this game. But their defensive line was dominant against Nebraska. OU had five sacks and 10 tackles for loss in this game. Nik Bonitto was a force to be reckon with as he finished with two sacks and three tackles for loss on the afternoon. But Perrion Winfrey, Jalen Redmond, Josh Ellison and Isaiah Thomas were all in on the action against the Huskers. They held Nebraska to just 2.5 yards per carry and Adrian Martinez was running for his life most of the afternoon. The final drive was the bow on what was an outstanding afternoon for this unit, that is holding up its end of the bargain as one of the best defensive lines in the country.
3. Special Teams Always Matters
We talk about it the least of any unit, but once again, it often times makes the difference in games. The most notable special teams play of the day came in the third quarter when Nebraska scored a touchdown and when the extra point came, Oklahoma blocked it and Pat Fields took it back the other way for two points, turning a 14-10 game into a 16-9 game. It was an enormous swing in this one.
Also, Nebraska missed two field goals. Not to play the "if" game, but Nebraska left a total of seven points on the table, while gifting Oklahoma two. That turns this game on its head, considering Nebraska would end up losing by seven points.