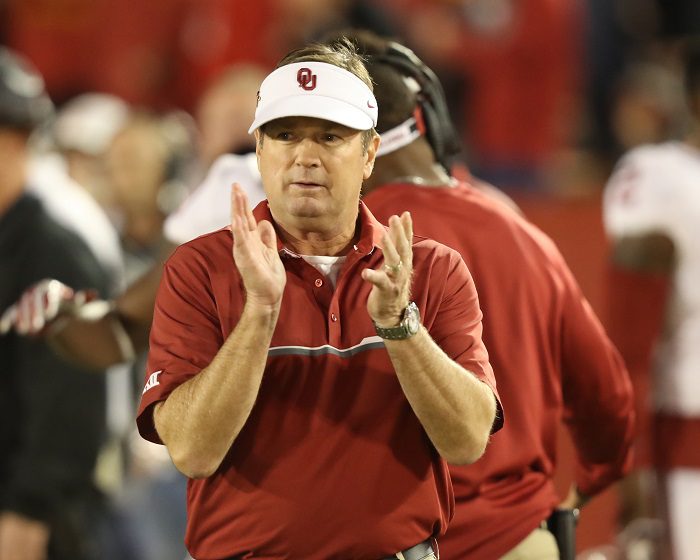 FOX Sports' "Big Noon Saturday" show was on the University of Oklahoma campus on Saturday to celebrate the 50th anniversary of the "Game of the Century" between the Oklahoma Sooners and Nebraska Cornhuskers.
Former OU head coach Bob Stoops is now a commentator and contributor to FOX Sports' college football coverage, including his position with "Big Noon". So with Stoops on his old stomping grounds, it was only appropriate for Stoops to lead the OU fans in a couple of chants.
Those chants included "Boomer Sooner" and then "Texas Sucks".
Check them out here.
Stoops has also been in the news lately as he's been connected to the USC job opening.
CBS Sports' Dennis Dodd reported this past week:
"The thought has always been that Stoops would only return — if he ever does — at a place already set up to win. That's why the ex-Sooners coach was thought to covet a place like Notre Dame, USC or Florida if they ever came open. The longer Stoops doesn't take his name out of the running, the more he is interested. Maybe the only reason Stoops isn't first is because he's out of coaching and currently working as a TV analyst."
Stoops is 61 years old, hardly old in today's professional climate. And with USC's talent, he may think a quick fix is possible. Also, as you may recall, Stoops planned to get his coaching itch from the XFL, but that came to an end before it even started due to the COVID-19 pandemic.
However, with his son playing wide receiver at Oklahoma, would Stoops give that up to go back on the sidelines himself? Is he content being in Norman and working as a FOX Sports analyst on a seasonal basis?
Well, based on this video, he sure seems like he's enjoying the analyst work, and you sure can't blame him for that!