Big 12 News
Big 12 Football Week 3 Players of the Week: West Virginia's Leddie Brown, Jared Bartlett Lead the Way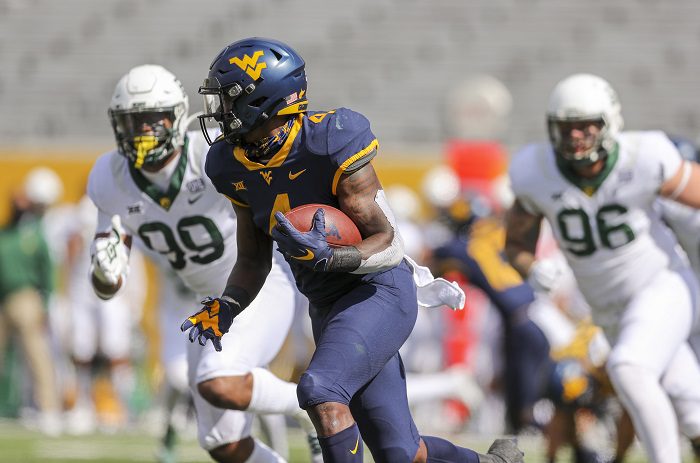 Week 3 of the 2021 Big 12 football season is in the books with the conference finishing 7-0 in non-conference action, and the league kicking off conference play with Baylor rolling over the Kansas Jayhawks. There were top performances, like West Virginia and Kansas State, and underwhelming performances such as Oklahoma and Oklahoma State. But for those teams who impressed, who are the reasons why?
Each week we will be picking the best offensive, defensive and special teams performance in the Big 12 Conference, which I'm sure won't be at all controversial or debated by our readers.
So with Week 3 in the books, let's get to it!
Offense: West Virginia RB Leddie Brown
I wrote in our preview of WVU-Virginia Tech game earlier in the week, "Leddie Brown is the engine of the WVU offense. They need him to get going early to try and ease the pressure on the passing game."
Well, Brown did just that. Right on cue, on WVU's second play of the day, he took it 80 yards to the house to put the Mountaineers up 7-0 and set the tone for this game. That got the Virginia Tech defense jittery, and on the second drive, after a Brown four-yard run, Doege found Bryce Ford-Wheaton for a 29-yard touchdown, putting the Mountaineers up 14-0 in the first quarter. It was a lead they would never relinquish. Brown finished with 19 carries for 161 yards and a touchdown, while also finishing with 3 catches for 35 yards. As a result, he racked up 196 yards on the day.
Defense: LB Jared Bartlett
In West Virginia's 27-21 win over Virginia Tech, linebacker Jared Bartlett led the way with an incredible game finishing with three sacks and three tackles for loss. Oh and don't forget about that forced fumble. He had half of WVU's six sacks on the afternoon, in a game where the Mountaineers needed their defense to help them hold on for a win, despite the offense's best efforts late to try and blow it.
Special Teams: Oklahoma State's Jason Taylor
Taylor tipped Boise State's field goal attempt from 36 yards out with two minutes left in the game to preserve the Cowboys' win on the road. Sure, there are a lot of options and directions to take, but this one literally saved the game for Oklahoma State in a hard-fought road win. There was no bigger special teams moment directly tied to the outcome of the game than this one in the Big 12 in Week 3. Here's the video.