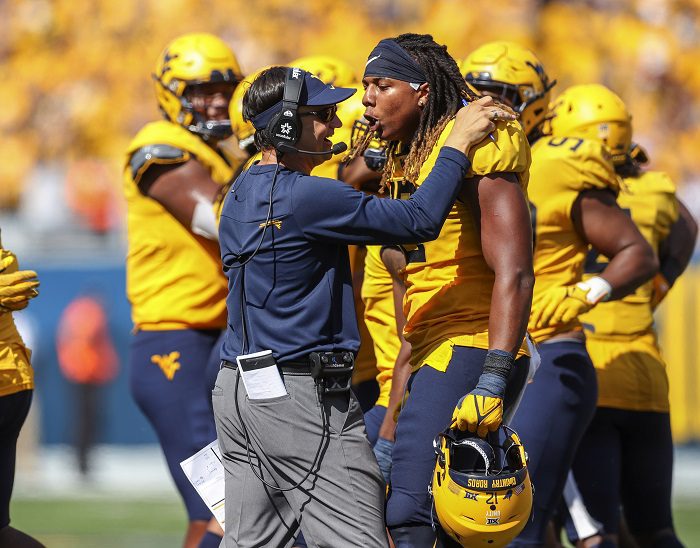 It was another crazy week in the Big 12 from the off the field news to the on the field play. There was plenty of excitement on Saturday and I will break it all down here for you as I share the good, bad, and ugly from week three in the Big 12.
The Good
Oklahoma (Beat Nebraska 23-16)
It was not the cleanest game for the Sooners, but they came out alive with a win. This was the 50th anniversary of the classic 1971 game and this one turned out more like a 1971 game rather than 2021. Nebraska limited the amount of possessions in this one and each possession became more important as the game went on. At halftime this was a 7-3 game, but I want to give credit to the Sooners defense. At the end of the day, they only allowed 16 points which is hard to complain about.
Offensively, there still needs to be some things to work out. Spencer Rattler did not have his sharpest game, but the run game was able to help him out a bit. When I look at this performance, Oklahoma had too many penalties and made a few mistakes here and there but when this game turned into an old school fight, they held tough and gutted one out. Keep in mind, Oklahoma always seems to have early season struggles over the years and they usually figure it out and win a Big 12 title. If they look like this in October, then maybe start to worry more.  
West Virginia (Beat Virginia Tech 27-21)
This may be the best Big 12 win of the weekend. The Mountaineers had a great first half as they had a 24-7 lead before the offense stalled out. Leddie Brown had a big run to open the game and the Jarrett Doege had two touchdown passes in the first half. But for whatever reason, the offense fell flat on their face and the defense had to do their best to hold on and they did. When the team needed them most, West Virginia got two critical goal line stops in the final six minutes of the game. I love the defensive effort, but some things need to get cleaned up on offense. Also, nine penalties were a bit too much as well. However, I still look at Jarrett Doege and wonder if he truly is the best option at quarterback for this offense. Time will tell but for now, Neal Brown got his big win on Saturday against a top 15 team.
Kansas State (Beat Nevada 38-17)
Believe it or not, Nevada was actually favored to win this game. They beat Cal earlier in the year, but then they ran into a tough Kansas State team. The Wildcats did not do anything flashy on offense as they attempted just 13 passes, but the run game was working. Kansas State racked up over 250 yards on the ground led by none other than Deuce Vaughn, who was once again fantastic. The Wildcats lined up and just beat the Wolfpack plain and simple as they dominated the trenches. There was plenty of buzz around Nevada quarterback Carson Strong being a high draft pick next spring, but the Kansas State defense gave him fits all game long and shut down the Nevada run game allowing just 25 yards on the ground. Say what you want about this Kansas State team and quarterback Will Howard, but this is one tough football team who maybe is not being talked about as a serious contender in the Big 12.
Baylor (Beat Kansas 45-7)
Our first true conference game of the year was in Lawrence, Kansas. Where else is a better place to play some football? I am kidding of course, but how about Baylor? They played a sloppy second quarter but after that, they lit up Kansas in the second half outscoring them 31-0. The defense was great throughout the game, but the Baylor offense is what I came away impressed with. The Bears rushed for over 300 yards led by Abram Smith and Trestan Ebner. However, the star for me was quarterback Gerry Bohanon. He looked sharp on Saturday, and I was surprised to see his accuracy throwing the football in this game. If he can continue to play like that, then Baylor will surprise some people this year, but the games will get tougher from here on out for the Bears.
Texas Tech (Beat FIU 54-21)
This is exactly what Tech needed. A game where they put the petal to the metal on offense and that is what happened. Quarterback Tyler Shough had a great game with nearly 400 passing yards and 4 scores on the night. The run game helped, and it was great to see other receivers outside of Erik Ezukanma make plays and be involved in the offense. The defense worried me a little early on, but I thought they settled down as the game went on. It was a much-needed breather for Texas Tech, but they will have a tall task ahead as they go to Austin next weekend.
Texas (Beat Rice 58-0)
This game was over at halftime already, but Casey Thompson was the key storyline here starting his first game. Thompson played well but it was the Texas run game that dominated on Saturday. Texas racked up 427 rushing yards led by superstar Bijan Robinson who had a big bounce back performance with three rushing touchdowns. The Longhorns defense did their job but despite the big win, did I really learn anything from this game about Texas? Not really but I will find out more when they host Texas Tech next weekend.
Oklahoma State (Beat Boise State 21-20)
I don't know how the Cowboys pulled it off, but they did it. Spencer Sanders completed only six passes, but the run game led by Jaylen Warren was the major point of the OSU offense. To me, Warren should be the number one back. The Cowboys were missing a few starters, but there is no reason that they went scoreless in the second half. The lack of creativeness is concerning and the play calling about as dull as it can be. I believe some offensive staff changes may need to happen at some point this year, but for now, a win is a win. It took some whacky plays and who would have thought a blocked field goal and a third down pass to walk-on Cale Cabbiness would help seal the deal for the victory. Somehow the Cowboys are 3-0 before Big 12 play.
Iowa State (Beat UNLV 48-3)
There wasn't much to learn this game because Iowa State did what they were supposed to do in Las Vegas. They came in and beat up on a bad UNLV team. Brock Purdy finally looked like his old self in this one throwing for 288 yards and three scores, but Breece Hall had a nice game as well with 100 yards and two touchdowns. The defense was outstanding all game long holding UNLV to under 150 yards of offense. Also, it was crazy to see a UNLV home game turn into an Iowa State home game.
The Bad
Hey, for once there was nothing bad but unfortunately there was something ugly.
The Ugly
Kansas (Lost to Baylor 45-7)
I am almost at a loss for words because I saw the same thing every week. The offensive line is bad, and their only offense has been the legs of quarterback Jason Bean. I mean, it is fine every now and then, but he needs help back there. As for the defense, they can't stop the run and it is going to be a long season if they keep giving up 300 yards on the ground. The slow rebuild will continue in Lawrence.