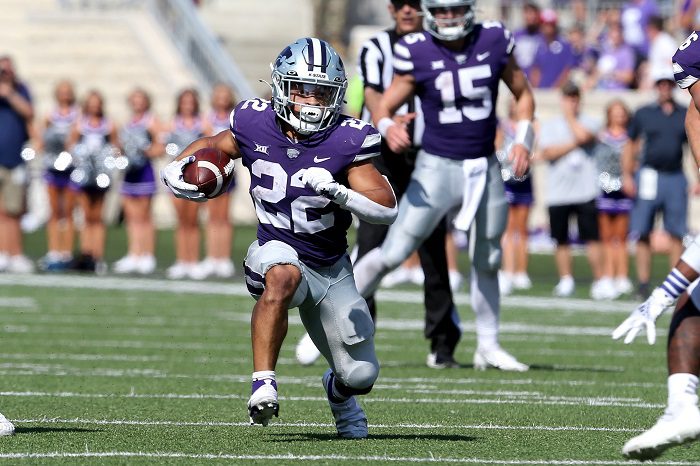 Well if you love Big 12 football, Week 3 of the 2021 season was for you. Games started at 11 a.m. CST with Oklahoma vs. Nebraska and West Virginia vs. Virginia Tech and didn't end until about 1:00 a.m. with Iowa State wrapping up a big win against UNLV. All in all, eight games were played and the Big 12 went 7-0 in their non-conference games. It wasn't always pretty (Oklahoma, Oklahoma State), but the league got the job done as they needed to have a bounce-back week.
So while there's so much to recap after Saturday's action, here are my top five takeaways from Week 3 in the Big 12 Conference.
1. Is Baylor for real?
Baylor fans have really been on us (or me, in particular), about the lack of respect we've given the Bears this season. I'm sorry, but BU has still played the weakest schedule to date in the Big 12. Going 3-0 against Texas State (who just lost to Incarnate Word), Texas Southern (bad FCS program) and Kansas (arguably worst Power 5 program) isn't something that is going to make me scream about how the Bears are being disrespected and we need to start taking them seriously. At least not yet. But I admit I am wanting to get there after watching them roll Kansas 45-7.
I really like senior running back Abram Smith, who has rushed for at least 100 yards in every game this season, and racked up 122 yards and a touchdown against KU, giving him five scores on the season. At 5'11", 220 pounds he has the size to keep it between the tackles, while Trestan Ebner can get the edge. Gerry Bohanon remains very efficient (19/23 for 269 yards, two TDs, no interceptions) and he has options on the outside.
Then there's the defense, which continues to become a more cohesive unit under Dave Aranda. There is a lot to like about the make up of this team, but Baylor fans need to understand that the competition has to improve before you say anyone is disrespecting the Bears this early in the season.
And right on cue, you've got No. 14 Iowa State at your place this weekend. Get it done and then we're really talking.
2. What's up with Oklahoma State?
This is the most confusing 3-0 start I've seen in recent Big 12 history. Spencer Sanders had seven passing yards by the third quarter, yet the Cowboys were able to hang on for a 21-20 win over Boise State. To think this team could be 0-3 against Missouri State, Tulsa and Boise State, yet here they are at 3-0 heading into conference play, is incredible.
The offensive line is still a huge concern. The Pokes did average 4.3 yards per carry (up from 3.3 last week vs. Tulsa), but Boise State had two sacks and ten tackles for loss. And while there were injuries, most notably WR Tay Martin, the passing game is in a state of flux. Sanders finished 6 of 13 for 82 yards. When is the last time any Oklahoma State QB put up those measly passing numbers, nevermind in a win?!
But Jim Knowles' defense is legit. The real deal. No doubt about that. And that unit can possibly take this team relatively far in a Big 12 that seems completely up for grabs right now.
3. Spencer Rattler's Regression
We mentioned this in our "three thoughts" from Oklahoma's 23-16 win over Nebraska on Saturday, but it remains one of the shocking developments of the early Big 12 season.
Rattler started the season as the favorite to win the Heisman Trophy and also a favorite to be the No. 1 pick in the 2022 NFL Draft. Neither of those things look likely after Rattler continues a shaky start to his sophomore campaign. The numbers don't look bad on paper as Rattler finished 24/34 for 214 yards, one touchdown and no interceptions. On the ground, he ran for 35 yards and a score.
But it wasn't just the numbers, Rattler didn't appear to go through his progressions well, seemed uncomfortable in the pocket and was often backpedaling. There were also multiple instances of throwing into double or triple coverage. On top of that, he's lost confidence and conviction on his passes. These are problems for an Oklahoma team with expectations of not just winning the Big 12, but having a chance to play for a National Championship.
4. Kansas State Keeps Grinding
The Wildcats were disrespected, as Vegas made them a home underdog in their game against Nevada. The Wildcats went on to win by 21 points in a dominant win over QB Carson Strong, an NFL Draft prospect, and the Wolf Pack.
K-State's rushing defense continued to perform incredibly well, holding Nevada to 25 rushing yards on 23 carries, for an average of 1.1 yards per carry. The unit also had three sacks, six tackles for loss, four passes defended and five QB hurries.
Oh and the back drop for the Wildcats is another possible injury, with offensive lineman Josh Rivas needing to be helped off the field. He did come back, so you hope he's totally OK, as Rivas is one of the best offensive lineman in America and it comes a week after QB Skylar Thompson went down for an extended period of time with a knee injury. And then on the defensive line, Khalid Duke left the game with an injury and did not return.
But this team under Chris Klieman is taking on a classic K-State persona with fight and grit, while grinding their way to a 3-0 start.
5. Just How Good is the Big 12?
Through three weeks, I just can't tell. I want to be optimistic about Oklahoma, Iowa State, Baylor, Kansas State, TCU, Texas and West Virginia, but I also am being given plenty of pause for concern. Right now, one can make the argument on either side for each of those teams that they are Big 12 favorites or contenders, but then also find reasons for why they won't come close to their preseason expectations.
But the bigger picture is that it looks like college football is due for a rollercoaster type of season. We've seen top teams already lose and/or struggle out of the gates like Clemson and Ohio State. Alabama had a scare against Florida on Saturday. FCS teams are beating FBS teams left and right.
Maybe we're just due for that kind of a Big 12 season, in which case, buckle up, it's about to be a helluva two and a half months in this league.