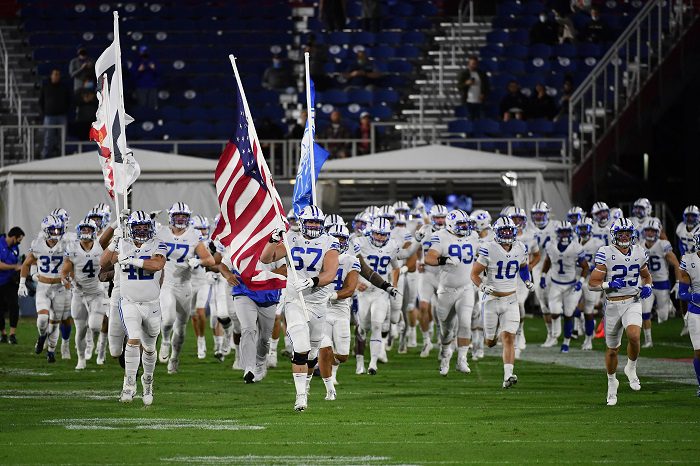 The Big 12 Conference kicked off its Week 3 slate with a pair of 11:00 a.m. CST games with West Virginia hosting Virginia Tech and Oklahoma welcoming in Nebraska. The eight games then continued throughout the day, without interruption, until 1:00 a.m. CST, when Iowa State closed out a dominant win on the road against UNLV.
Even as a Big 12 football homer, it was a LONG day. Of course, we all dream of days like this from February to August, but I couldn't help but wonder, as I tried to keep my eyes open after midnight to see Iowa State close out their win against the Rebels, if this was how the Big 12 schedule could look in 3-4 years.
The Big 12 Conference officially added UCF, Houston, Cincinnati and BYU last week. That gives the Big 12 Conference teams in three time zones, the only major conference that has that. So it's entirely feasible that in the year 2024, the conference could kick off at West Virginia or Cincinnati with 12:00 p.m. EST games, roll through the central time zone in the mid-afternoon and early evening, and then, if BYU is home, have the Cougars hosting a Big 12 game that kicks off at 7:30 or 8:00 mountain time, which would be as late as 10:00 p.m. EST.
It may not be ideal for those of us who like to get a decent sleep on Saturday nights, but it would be a way to spread games across all day parts and maximize ad revenues, which is the name of the game in live sports.
Also, understanding that the Big 12 is not going to be on the level of the SEC or Big Ten in terms of value or payouts (it pains me to say it, but it is a reality), the league may have to be creative by acquiesing to TV network demands with later-than-ideal kick off times on Saturdays, or even a couple extra Thursday or Friday night games.
And remember this, the Big 12 may not be done expanding. Oklahoma State's President was reportedly set to discuss more expansion with Boise State's President during their trip to Idaho this weekend. Also, it's believed that if the Pac-12 TV deal isn't up to snuff in 2024, the league might be able to poach a couple of teams from that conference. That possibility would only create more chances for late-night kick offs for the Big 12 Conference.
If this would allow the Big 12 to come close to the TV network payouts that they have been receiving in recent years ($35-40 million), then it would be well worth it. And the reality is beggars can't be choosers.
So as we all wake up groggy this Sunday morning, maybe it's time to realize this could be the way of the future in the Big 12 Conference, and we need to start training ourselves properly. And by that I simply mean an extra large coffee, instead of a large, come Sunday morning.