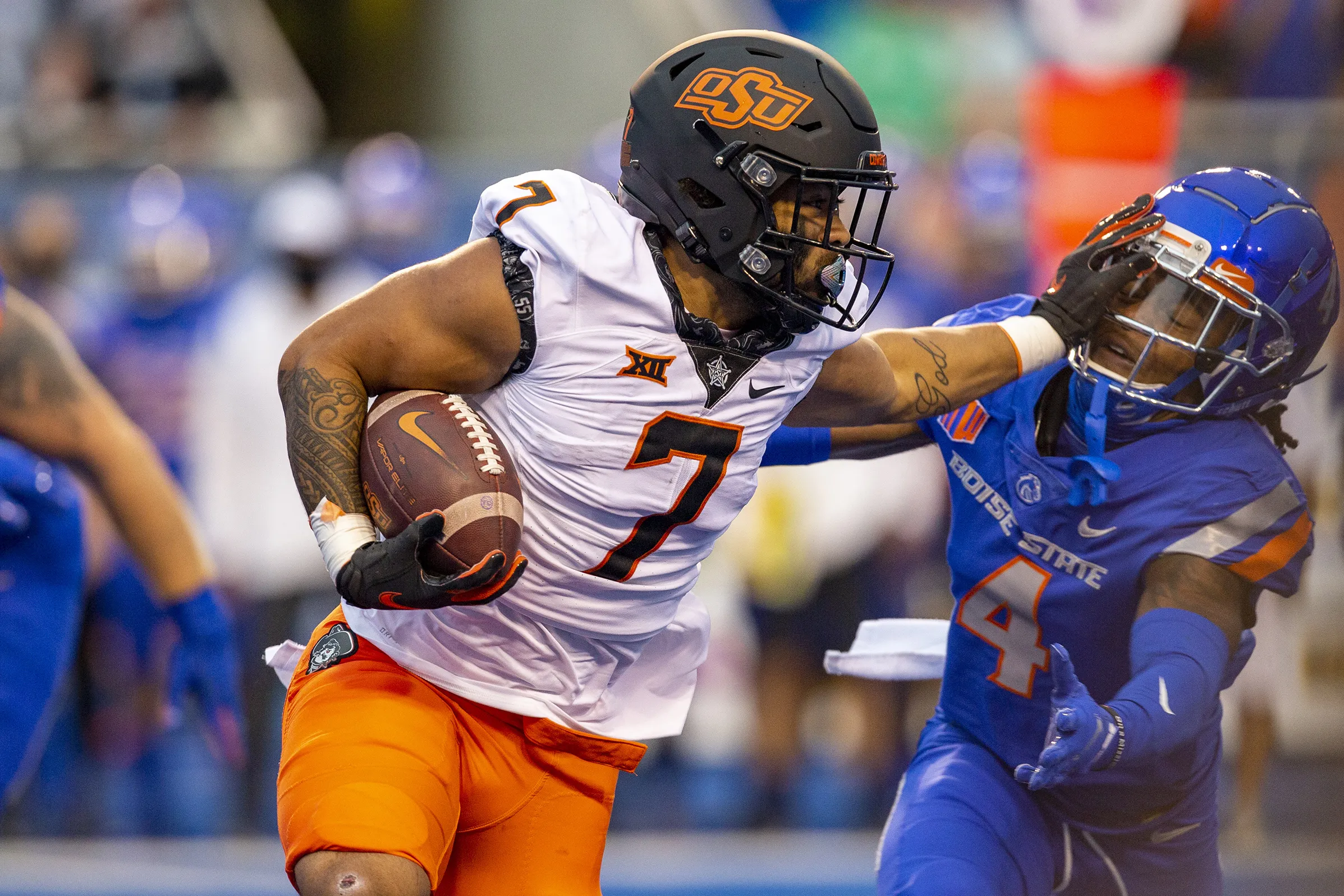 It was a crazy game with plenty of ups and downs but all that matters at the end of the day is winning. The Oklahoma State Cowboys got into a fight on the blue turf at Boise State and walked away victorious which is not easy to do. In fact, since 2000, the Broncos are now 126-11 at home.
Oklahoma State may have a perfect 3-0 record going into Big 12 play but there are still plenty of questions to go around. However, tonight we focus on the victory as I share my three thoughts from the big 21-20 win on the smurf turf.
1. How Did They Do It?
If you truly watched this game, you were likely scratching your head wondering how the Cowboys managed to win this game. At one point, Oklahoma State was down 20-7 in the second quarter and to be honest, I thought Boise State would separate themselves, but the Cowboys hung in there. Oklahoma State was able to score twice in the final two and a half minutes of the first half to take the 21-20 lead and never look back.
It took a heck of a defensive effort in the second half and a break here and there along with a blocked field goal, but the Cowboys got it done. I still am not sure how, but a win is a win.
2. Second Half Woes on Offense
Oklahoma State had plenty of missing players on offense but putting up 21 points in the first half is not bad at all. It took awhile but the run game of Jaylen Warren was the one thing working for the Cowboys offense as he finished the day with over 200 yards and two scores.
However, the second half was ugly on offense. Nothing was working and it is not shocking when Spencer Sanders completed only six passes on the night. The holes weren't there like they were in the first half due to Boise State knowing what was coming yet the Cowboys were never able to get anything going through the air. Mostly because they did not even try at all. Sanders attempted just 13 passes in the game and to my surprise, it was a third down pass to Cale Cabbiness that ended up sealing the deal for Oklahoma State. The offense stunk it up but luckily for them, the defense was able to pick up the slack and carry the team to a win.
3. What's Next?
As I said earlier, this team has not really played a clean game yet and somehow, they sit at 3-0 going into Big 12 play. The defense is legit, we all know that watching Oklahoma State this season, but the issue has been the offense. The line is hit or miss with their play and pass protection is an issue along with creating space in the run game. As far as the running backs go, Jaylen Warren should be the number one guy in the run game. Lastly, Spencer Sanders needs to get better. He has some young receivers around him, but this coaching staff has to get more creative with the way they draw up plays and call them. This offense feels bland and at some point, they will need to score more than 30 points to win a game. We heard all offseason about how the offense will be improved and to be honest, we have yet to see that. If this offense continues to stall out for long periods of time, maybe it is time to shake up some things on the offensive staff.