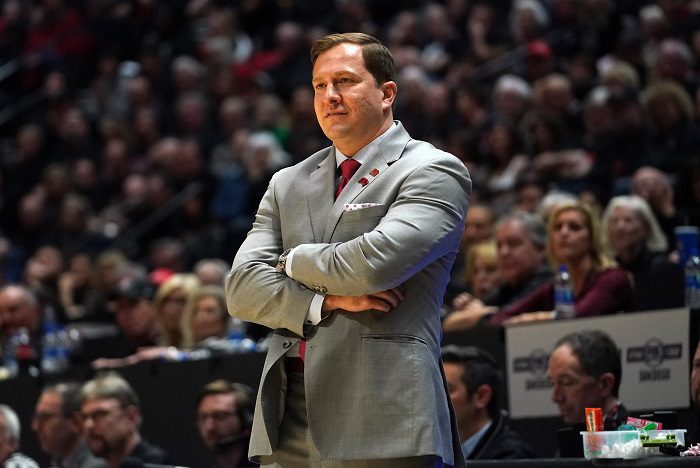 Leading up to the opening of the 2021-22 Big 12 Men's basketball season Heartland College Sports will analyze each of the Big 12 men's basketball rosters. Today it's the Iowa State Cyclones.
2020-21 Season-Ending Roster (bold denotes returning for 2021-22): G/F Blake Hinson (6-foot-7), G Tyler Harris (5-9), G Nate Jenkins (6-2), G Tre Jackson (6-1), F George Conditt IV (6-10), G Jalen Coleman-Lands (6-4), F Xavier Foster (7-0), F Dudley Blackwell (6-8) G Carter Boothe (6-1), G Jaden Walker (6-5), G Nate Schuster (6-4), G Eric Steyer (6-5), F Solomon Young (6-8), G Rasir Bolton (6-3), G Darlinstone Dubar (6-6), G/F Javan Johnson.
Left for pro basketball: None
Left due to eligibility: Steyer, Young.
Left program to transfer: Blackwell, Bolton (Gonzaga), Coleman-Lands (Kansas), Dubar (Hofstra), Harris (Memphis), Jenkins (Green Bay), Schuster, Johnson (transfer portal)
Joined program via transfer: G Izaiah Brockington (Penn State), F Tristan Enaruna (Kansas), G Caleb Grill (UNLV), C Robert Jones (Denver), G Gabe Kalscheur (Minnesota), F Aljaž Kunc (Washington State).
READ MORE: Podcast: 247Sports' Josh Pate on Big 12 Future and Surprise Teams
READ MORE: Is 14-Straight Hours of Big 12 Football the Way of the Future?
Class of 2021 Recruits: G Tyrese Hunter (6-foot-1), St. Catherine's, Racine, Wisconsin.
Potential starting lineup: Brockington, Kalscheur, Hinson, Hunter, Jones.
Why?: Head coach T.J. Otzelberger is going to have a wide-open competition for playing time going into this fall, so any projected starting lineup is complicated by the lack of consistent returning players. But there is also no reason for Otz to NOT open things up. He's brought in some transfers that have a track record for scoring, such as Brockington, who flirted with the NBA Draft. To me, he's the closest thing to a lead-pipe lock in the starting lineup. Jones averaged nine points per game last season, and will get the majority of playing time at center. Hinson is the great unknown, since he didn't play last year. But he had a good track record at Ole Miss before he transferred, and he was a player former head coach Steve Prohm was sorry to lose before the season last fall. Otz didn't work for a week via Zoom calls to not play Hunter right away. You want to be conservative with a freshman, but Iowa State's situation doesn't really allow it. I had Hunter on the bench at first, but after further reflection, I think there's a good chance he wins a starting job right away. Johnson's move to the transfer portal in late August opens up a spot that, most likely, goes to Kalscheur, who averaged nearly 10 points per game last season for Minnesota.
The bench: Grill, Conditt IV, Enaruna, Kunc.
Why? Grill was a former Cyclone who transferred to UNLV and played for Otz last season, so his experience with Otz's system will come in handy, but he doesn't have the scoring track record the Cyclones need right now. Conditt (coming off a solid summer with Puerto Rican national team), Enaruna and Kunc are going to spend the first two months slugging it out for playing time in the frontcourt. Otz is clearly intrigued by Kunc, but the former Washington State transfer is going to have to earn the chance to start. Foster was dismissed from the program on Oct. 8.
The wild card: Jackson. If there's a time for the junior to make an impact, it's now. The roster is wide open and he has the talent to get more playing time. People forget that he started 12 games in his true freshman season of 2019-20. He averaged 20 minutes per game that season. In his sophomore year he only played 16 games, but he averaged 5.1 points per game. He's not on the bench list because I'm not sure where he fits just yet. Otz has a lot of shiny new toys entering the season, and that can be dangerous for a holdover player that hasn't carved out a consistent role. The question is how much playing time he will get in this new world?
By Big 12 Play?: ISU has plenty of low-major opponents at home this season, so Otz will have a chance to figure out the rotation. By ISU's Big 12 debut, I expect Hunter to be running the point, and for Brockington to be the leading scorer. As many as two or three projected starting positions could turn over from the start of the season to Big 12 action. But the Cyclones will still be a bottom-tier team and, if it wins a third of its conference games, that should be seen as growth.
Previous Roster Analysis: Baylor |
Author's note: Story was updated to reflect Johnson's move to the transfer portal. Story was updated to reflect Foster's dismissal from the program.
You can find Matthew Postins on Twitter @PostinsPostcard.
**Want to win a $20 gift card? Go sign up here and join our conversation! The best poster each week wins a gift card to your favorite establishment!**