Baylor Bears
Are the Baylor Bears for Real in the 2021 Big 12 Race?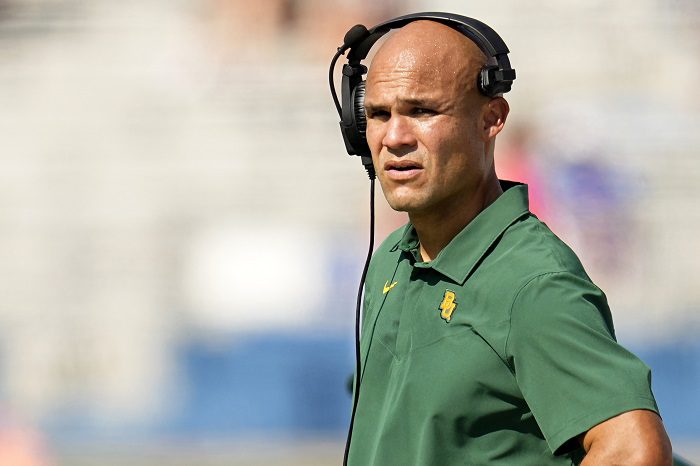 The Baylor Bears have come out hot this season cruising to a 3-0 start with sole possession of first place in the Big 12 at 1-0. Of course, being one of only two teams to play a Big 12 contest, and the other team being Kansas, has something to do with that.
The Bears aren't just first in the Big 12 in conference wins, however. Baylor leads the league in scoring offense, scoring defense, and rushing offense.
Ask Baylor fans, they'll tell you, the Bears have been impressive. Baylor has completely dominated every opponent except the first it played – and opening games with a new QB and a new offensive coordinator are often shaky.
But what of Baylor's opponents?
To quote Hamlet, "aye, there's the rub."
Baylor's Opponents
As many are quick to point out to Baylor fans beating their chests and asking why they aren't ranked higher, the Bears haven't played anybody with a pulse yet. Here's a quick overview of Baylor's victims (note: the Sagarin Rankings include all Division I teams, FBS and FCS):
Texas State (1-2): Lost to Baylor, 29-20; beat 1-2 FIU 23-17; lost to 2-1 FCS Incarnate Word, 42-34; Sagarin Ranking: 142.
FCS Texas Southern (0-2): Lost to Prairie View A&M, 40-17; lost Baylor, 66-7; Sagarin Ranking: 249 (note: that's just nine spots above the lowest possible Sagarin Ranking of 258).
Kansas (1-2): Beat South Dakota, 17-14; lost to Coastal Carolina, 49-22; lost to Baylor, 45-7; Sagarin Ranking: 126.
Baylor's three opponents have a combined record of 2-6 and an average Sagarin Ranking of 172.3. That's far and away the worst competition anyone in the Big 12 has faced.
Here's how Sagarin ranks the Big 12 strength of schedule so far:
K-State – 38th nationally
Kansas – 47th nationally
Texas – 71st nationally
West Virginia – 72nd nationally
Oklahoma State – 75th nationally
Iowa State – 84th nationally
Oklahoma – 118th nationally
Texas Tech – 147th nationally
TCU – 149th nationally
Baylor – 194th nationally
Make what you will of these strength of schedule rankings, but there's no denying that when your toughest opponent thus far has been Kansas, you've played a soft schedule.
However, thinking about Kansas in this context takes me back to the year 2007.
2007 Kansas and 2021 Baylor
Kansas fans will immediately recognize where I'm going with this, but for the majority of you, let me explain.
In 2007, Kansas entered the season having suffered a number of close defeats in 2006; the same can be said of Baylor in 2020.
The 2007 KU football team raced out to a 4-0 start, knocking off Central Michigan, FCS Southeast Louisiana, Toledo, and FIU.
No, it wasn't quite as soft of a schedule as 2021 Baylor's thus far, but these were not strong teams. Central Michigan went 7-6 and lost to FCS North Dakota State 44-14; SELA went 3-8; Toledo went 5-7; and FIU went 1-11.
Coming out of that four-game feast of creampuffs, Kansas was not only undefeated, it led the Big 12 in scoring offense and scoring defense, just as Baylor does thus far in 2021.
How I scoffed at Kansas fans thumping their chests in 2007! "You haven't played anybody," I, and many others, insisted.
But what became of that 2007 KU team?
The 2007 Jayhawks went 12-1, including an Orange Bowl victory over 5th ranked Virginia Tech, 24-21. Kansas was ranked 7th in the final AP Poll of the season.
I'm not trying to say that just because this happened for KU in 2007 that it will happen for Baylor in 2021. Not at all.
I'm saying that dominating victories, regardless of the opponent, absolutely mean something. And stats like scoring offense and scoring defense should never be ignored.
However…
It should be noted that the 2007 Jayhawks had a huge advantage not afforded to the 2021 Bears: The Big 12 was divided into North and South divisions in 2007. As a member of the Big 12 North, Kansas faced K-State (5-7), Baylor (3-9), Colorado (6-7), Texas A&M (7-6), Nebraska (5-7), Oklahoma State (7-6), Iowa State (3-9), and Missouri (12-2), with the only loss coming to Missouri.
In other words, Kansas missed the three best teams in the Big 12 South: Oklahoma (11-3, conference champs), Texas (10-3), and Texas Tech (9-4).
Not only does 2021 Baylor have to play every team in the Big 12, it has to play nine conference games compared to 2007 KU's eight.
So again, the comparison between 2007 Kansas and 2021 Baylor is not to say that Baylor will win 12 games. Rather, it is to say that Baylor's results so far mean something: Baylor's a good team.
Is Baylor For Real?
As I said above, the results thus far show that Baylor is a good team, and it seems to be improving. How good Baylor is, or can be, remains to be seen.
As it stands, there's not another surefire win on Baylor's schedule, so it's within the realm of possibility that Baylor could go 3-9. That, however, seems very unlikely and could be said about some other teams in the league.
The offensive line, probably the biggest question for the Bears entering the season, has been fantastic. The defense is at the very least stout. Teams with good offensive lines and good defenses don't go 3-9.
Trying to project how high Baylor could climb this season is very difficult, however, because there is no shortage of good teams in the Big 12, and the Bears have already played the only bad team in the league. Not to mention that Baylor still has a date with BYU to look forward to this season.
If you held a gun to my head and forced me to give a projection, I'd say the Bears win somewhere between five and eight games in the regular season, and I believe a bowl appearance is more than likely.
However, to get to eight (or even more) wins, the Bears' pass rush must improve. A win at home against West Virginia, for example, is doable, but not without getting pressure on WVU QB Jarret Doege.
Conclusion
We'll know a lot more about Baylor after it hosts Iowa State this Saturday. We'll know a lot more about Iowa State too. The only outcome from that game that would surprise me is a blowout either way because I believe both are quality teams. It will be strength on strength as Baylor's rushing game takes on ISU's defense, and the game will be won and lost in the trenches.
Baylor fans, you just need to wait until this Saturday for the Bears' chance to prove themselves. Win, and the Bears will start getting national recognition.
But even if Baylor loses, I believe we've seen enough to know that Baylor is a good team, capable of beating just about anybody in the conference.
League play is about to begin in earnest, and the cream will begin to rise to the top. We'll see over the course of the season how high Baylor rises.