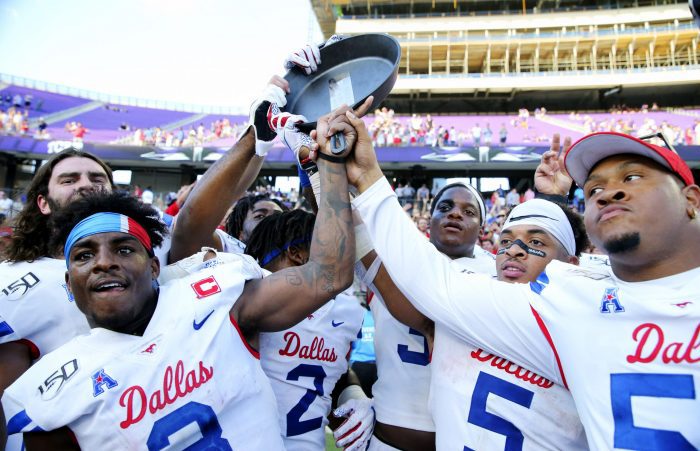 For the first time in two seasons, TCU and SMU will be playing for the Iron Skillet. Last year's game was supposed to be the only non-conference game for TCU during the COVID-shortened season, however TCU had to postpone the game due to the program's issues with COVID.
After the game was postponed, SMU trolled TCU on Twitter when they shared a Twitter video of the team eating a meal and cooking with the "Iron Skillet".
The game was never made up, so when these two teams take the field this Saturday, SMU will go in with bragging rights after pulling off a 41-38 win in 2019.
Interesting, SMU provided some bulletin board material for TCU this week when wide receiver Rashee Rice said, "Freshman year, I didn't get to play them … sophomore year, after we wont that [Iron] Skillet, they were scared to play us. I'm going to say that again: they were scared to play us."
Those are some big words from Rice, who didn't have a catch during the 2019 match up between these two teams. Granted he's turned into a very solid player, with 10 catches for 207 yards, plus four touchdown catches in three games this season.
Is this is a wise move for Rice? It doesn't seem so. The Horned Frogs are ranked just outside the Top 25 and are expected to have one of the best defenses in the Big 12 Conference this season. Let's just say, I wouldn't want to angry a Gary Patterson-coached defense, especially given TCU has won 11 of their last 13 match ups against the Mustangs.
We'll find out on Saturday if Rice and the rest of the SMU offense ends up feeling the same way. TCU vs. SMU kicks off at 11:00 a.m. on Saturday on FOX Sports 1.