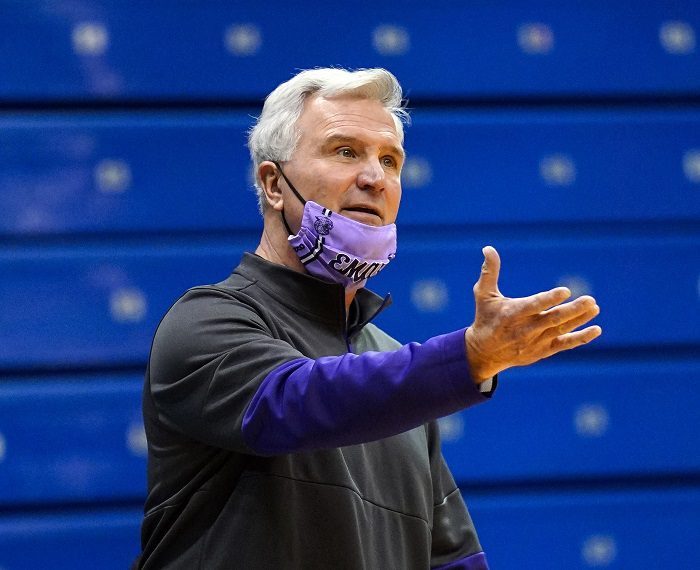 Leading up to the opening of the 2021-22 Big 12 Men's basketball season Heartland College Sports will analyze each of the Big 12 men's basketball rosters. Today it's the Kansas State Wildcats.
2020-21 Season-Ending Roster (bold denotes returning for 2021-22): F Davion Bradford (7-foot-0), F Kaosi Ezeagu (6-10), F Antonio Gordon (6-9), G DaJuan Gordon (6-4), G Drew Honas (6-foot), G Luke Kasubke (6-5), F Seryee Lewis (6-9), F Carlton Linguard Jr. (6-11), G Mike McGuirl (6-2), G Selton Miguel (6-4), F Montavious Murphy (6-9), G Nijel Pack (6-0), F Joe Petrakis (6-9), G Rudi Williams (6-3).
Left for pro basketball: None.
Left due to eligibility: None.
Left program to transfer: Antonio Gordon (Southeastern Louisiana), Dajuan Gordon (Missouri), Murphy (TBA), Petrakis (Western Carolina), Williams (Coastal Carolina).
Joined program via transfer: F Ismael Massoud (Wake Forest), G Markquis Nowell (Arkansas-Little Rock), G Mark Smith (Missouri), F Jordan Brooks (Iona).
READ MORE: Is Baylor Bears football for real in the 2021 Big 12 Race?
READ MORE: HCS Week 4 Big 12 Mailbag
Class of 2021 Recruits: C Logan Landers (6-foot-10), Cedarburg, Wisconsin; F Maximus Edwards (6-5), Our Saviour Lutheran Schoool (Bronx, New York).
Others: Trey Harris is walking on at Kansas State.
Potential starting lineup: McGuirl, Pack, Bradford, Smith, Nowell.
Why?: Pack and McGuirl will be paired in the backcourt again, and that gives the Wildcats their top two scorers from a year ago. The pair combined for more than 23 points per game. Pack should improve from distance (and he was 40 percent from the 3-point line last year), and if McGuirl can improve to about 35-36 percent, that helps the Wildcats all the more. Bradford could take some significant steps this season, and the Wildcats would love to see him double his rebounding average from a year ago (4.3 per game last year). Smith and Nowell were brought in to play right away, and while they'll make the Wildcats' lineup small, they both have a productive track record. Smith averaged more than 10 points per game in his final three seasons at Mizzou. Nowell, meanwhile, averaged 14.3 points and six assists a year ago. He's not in Manhattan to back up Pack. He's there to complement him.
The bench: Massoud, Kasubke, Miguel, Linguard, Ezeagu
Why? The Wildcats should use Linguard and Ezeagu to manufacture whatever depth they can behind Bradford. Massoud looks like he could cook off the bench, as he doubled his scoring average at Wake Forest last season (8.3 ppg). Miguel played with the Angolan national team during Olympic qualifying this summer, so he got some experience on the international stage. Kasubke is a player the Wildcats are high on, even though he barely played last year.
The wild card: Lewis. He feels like the fourth forward off the bench right now. But he has solid athleticism and he could push Linguard and Ezeagu for playing time.
By Big 12 Play?: Kansas State head coach Bruce Weber can tinker with this group a little bit. Miguel was a near-full time starter a year ago, and the influx of transfers will likely put him on the bench. But, if he improves his 3-point shooting (he was just 22 percent last year), he can push Smith for more playing time. Same for Massoud, who showed great improvement at Wake Forest. Weber could start as many as seven or eight different players by the start of league play. But, once Big 12 play begins, I suspect the three incumbent starters — McGuirl, Pack and Bradford — will set the pace, but Nowell may end up being the team's leading scorer.
Previous Roster Analysis: Baylor | Iowa State
You can find Matthew Postins on Twitter @PostinsPostcard.
**Want to win a $20 gift card? Go sign up here and join our conversation! The best poster each week wins a gift card to your favorite establishment!**