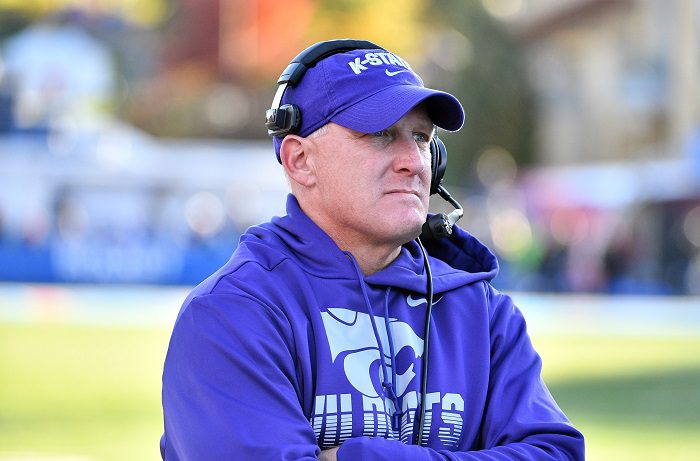 Kansas State finished the non-conference portion of their schedule undefeated by beating Stanford, Southern Illinois, and Nevada in impressive fashion. The Wildcats were so impressive that they received enough votes to earn a No. 25 ranking in this week's AP poll. They'll try to keep the winning streak intact when they play Oklahoma State in Stillwater on Saturday. The Cowboys are also undefeated, but they have played an easier non-conference slate than K-State has.
Oklahoma State opened as an eight-point favorite. Eight points seems a little high to me, but it's less than a touchdown when you account for home-field advantage. My primary question going into the game is if K-State can run the ball against Oklahoma State as successfully as they have against their non-conference opponents. A secondary concern is the Wildcats' ability to stop or slow down Oklahoma State's running game. That sounds odd to say since the Cowboys' passing game has been a huge concern in the past, but this season they've relied on their running game a lot more than usual.
The Wildcats ran for 269 yards on the ground Saturday against Nevada while only passing for 129. Sixty-eight of those passing yards came on a touchdown pass to tight end Daniel Imatorbhebhe on the second play of the game. K-State ran the ball 48 times and passed it 13 in the game. Nevada knew the run was coming and could not stop it. It's apparent to me that Chris Klieman doesn't feel comfortable with either of his backup quarterbacks airing the ball out. While Skylar Thompson is out injured, they are going to live or die with the run.  They've been successful thus far, but the offense has to be much more balanced if they want to find success during the Big 12 conference portion of the schedule.
Stop the Run
Will K-State be able to run the ball effectively enough to beat Oklahoma State on Saturday? A look at the numbers thus far into this season seems to suggest that it is possible.
K-State ranks number 20 in the country in rushing offense at 225.7 yards per game. Oklahoma State's rush defense ranks 30th in the country, giving up 95.3 yards per game. Out of all the team offensive and defensive yardage statistics, Oklahoma State's run defense is the strength of their team and is their highest national statistical ranking. It's not going to be as easy for K-State to run the ball against the Cowboys as it was in the first three games. For comparison purposes, Stanford ranks 115th in rush defense and Nevada ranks 103rd.
This game may hinge on the K-State defense continuing its stellar play stopping the run. The Wildcat defense ranks 6th in the country in rush defense at 54.7 yards per game. Oklahoma State averages 147 yards a game on the ground. Oklahoma State running back Jaylen Warren rushed for 223 yards on 32 carries against Boise State on Saturday, and quarterback Spencer Sanders added 52 yards on the ground on 15 carries. It may sound simple, but slowing these two down is the key to victory against Oklahoma State. The task just got more difficult with Chris Klieman's announcement that starting defensive end Khalid Duke is out for the season with a lower leg injury sustained in the Nevada game. It is a big loss, and we may quickly find out just how big.
Deuce and Depth
A quick note about K-State's rushing game. Deuce Vaughn rushed for 128 yards and a touchdown on Saturday, and he has rushed for over 100 yards in five straight games. He has already rushed for more than 1,000 yards in his career, with 1,014 yards. Joe Ervin added 82 yards on 11 carries, and Will Howard had 60 yards on 12 carries. Jacardia Wright did not record a carry for the Wildcats, but Chris Klieman mentioned in his news conference today that he would like to get Wright more involved in the offense. Even though Vaughn is still the main cog to the running game, getting other backs involved remains the key to success.
While the rushing attacks have been the strength of both teams, neither team has found much success passing the ball. K-State ranks 117th and Oklahoma State ranks 101st in the country in passing yards per game. The team that can find the most success airing it out may be the team victorious come Saturday. Even though both teams want to run the ball, their passing game efficiency may end up telling the story in this one. I think this game could go either way, but I am picking the Wildcats to get the victory in a close game.
*If you like what you've read from Joe Mathieu, find more on his personal K-State site: https://www.kstatejoe.com/*