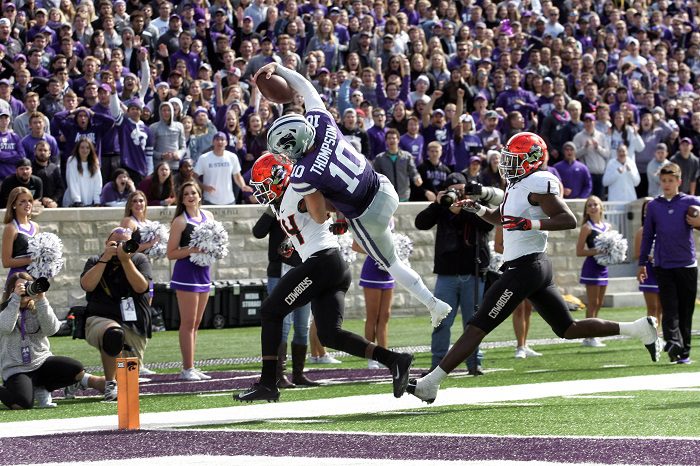 Here's everything you need to know about the upcoming Big 12 conference game in our Oklahoma State vs. Kansas State preview and prediction.
Game Info
6:00 p.m. CST, Saturday, September 25, 2021; Boone Pickens Stadium, Stillwater, Oklahoma.
TV: Big 12 Now/ESPN+ (Shawn Kenney, Ryan Leaf, Shane Sparks)
Radio: Cowboy Radio Network (Dave Hunzinker, John Holcomb, Robert Allen; K-State Sports Network (Wyatt Thomson, Stan Weber)
Spread: Oklahoma State -6
Rankings: Oklahoma State #22 in the Coaches Poll; Kansas State#25 in the AP Poll
Fun Fact: This will be the 65th meeting between these two teams. Since the series began in 1917, the two have combined to score 1,683 points, but there have been eight shutouts in the series, five for Oklahoma State and three for K-State.
Key Players
Kansas State
QB Will Howard
Howard will make his ninth career start in place of Skylar Thompson; however, it will be his first start on the road facing a raucous capacity crowd. How well Howard handles the stress of his first hostile environment is critical for K-State to have success on Saturday.
Howard wasn't asked to throw the ball much in last week's 38-17 win over Nevada, but he did connect with TE Daniel Imatorbhebhe for a 68-yard TD strike on the second play of the game. He also added 56 yards and two touchdowns on the ground. More importantly, Howard didn't turn the ball over against Nevada.
More of the same will be needed in Stillwater. K-State doesn't want or need miracles from Howard, just complete a few passes over the top, contribute to the run game, and maintain ball security. With K-State's offensive line paving the way for two dangerous rushers in Deuce Vaughn and Joe Ervin, Howard simply needs to be a competent game manager.
The Offensive Line
K-State's O-line, led by center Noah Johnson and left tackle Cooper Beebe, put on a clinic against Nevada that paid huge dividends in the fourth quarter as the devastating Cats' O-line broke Nevada's will and took over the game. The O-line also had its first game this season without allowing a sack.
Keeping the pressure off Howard when he does throw will be paramount against Oklahoma State as Howard's decision-making under pressure is still a question mark. However, it is no mystery that K-State will rely heavily on a run game that has been clicking all season. K-State is a smash-mouth football team, and that all starts with the offensive line.
DE Felix Anudike
With DE Khalid Duke out for the season with lower-body injury, Anudike's importance to K-State's pass rush has grown. Anudike is currently tied for first in the Big 12 with three sacks, and he has been a disruptive force all season for the Wildcats. In addition to his three sacks, he has seven quarterback hurries, seven tackles, and has made eight drive-ending stops.
Nate Matlack and Spencer Trussell will fill the spot left by Duke's injury and have played well thus far this season, but Anudike needs to step up his game even more to provide the pass rush with sizzle, hush the crowd, and contain OSU's mobile QB Spenser Sanders.
LB Daniel Green
Linebacking was the biggest question for K-State entering this season, and the answer has been Green and Cody Fletcher. With 22 tackles, one sack, and a forced fumble, Green is now the de facto leader of a swarming K-State defense and will line-up at the left, right, and middle of the attack.
Green needs to continue his knack for getting to the football, particularly in the run game, where he is the most dangerous, to keep OSU RB Jaylen Warren from running wild. Like Anudike, Green has made eight drive-ending stops while only missing one tackle on the season. His motor and sure tackling will be tested by a rising Oklahoma State run game, and he must answer the bell for K-State to win.
Oklahoma State
QB Spencer Sanders
Kansas State has been dominant against the run, allowing only 54.7 yards per game, which is sixth-best in the nation, but there are opportunities in the passing game. Oklahoma State is not going to have success against K-State being as one-dimensional as it was in Sanders' first two games after he sat out the season-opener due to Covid protocols, and it will be up to Sanders to make and extend plays in the passing game in order to create room for the running game.
Sanders' ability to run the ball when passing plays breakdown should be a big asset for the Cowboys, but Sanders must make good decisions when that happens. While K-State gave up over 300 yards passing to Nevada's Carson Strong, the coverage has been good all season, and errant throws and jump balls are likely to result in turnovers. Sanders must maintain ball security, a problem for him in the past, and take what the defense gives him.
RB Jaylen Warren
Warren was a revelation against Boise State as his 218 rushing yards and two TDs breathed a hurricane of life into a Cowboys' run game that had been on a ventilator through the first two games of the season. If he can provide half of that production against a stingy K-State defense, Oklahoma State is going to be in a good position to win the game.
Given the way both sides of the line of scrimmage have played so far this season, Warren will need to be both patient and decisive Saturday night. He will also need to continue his habit of breaking tackles and fighting for extra yards.
Over half of Warren's rushing yards this season have come after contact (145 or 262), but he didn't notch a carry for over 15 yards until the Boise State game when he had three such carries for a total of 118 yards. This is where the patience and decisiveness mentioned above will be key. For Warren to spring big runs against a K-State defense that doesn't allow many big plays, he is going to have to be deliberate and keep at it all game long.
LB Malcolm Rodriguez
Rodriguez is Oklahoma State's leading tackler with 36 on the season, and he has come up with an eye-popping 17 drive-ending stops – yes, over half of Rodriguez's tackles have gotten his defense off the field. His presence must continue to be felt Saturday night for the Cowboys to have success.
For Rodriguez to have the impact the Cowboys are accustomed to, he will need to make sure he's wrapping up K-State's running backs. If there is a knock on Rodriguez's game, it's that he's missed at least two tackles per game this season. Against Deuce Vaughn, any flaw in Rodriguez's tackling is likely to be exposed. Saturday night will present a big challenge and a big opportunity for one of the Big 12's best defenders.
DE Brock Martin
Martin leads the Cowboys with 2.5 sacks and has applied pressure on opposing quarterbacks a stunning 13 times. K-State's Will Howard has proven to be mistake-prone when under pressure, so Martin can potentially have a huge impact on the game if he can put the heat on Howard.
Martin will also be tasked with policing the left edge of the line against a team that loves to run jet sweeps and get playmakers outside the box. If Martin can be disruptive and get off blocks when K-State runs to his side, he can throw a lot of sand into the gears of K-State's ground machine.
Key Storylines
Kansas State Wildcats
Just as in 2019, K-State begins Big 12 play at 3-0 with a game in Stillwater, where wins have been hard to come by for the Cats. K-State's success thus far has come due to strong defensive performances and a rushing offense that's gaining over 225 yards per game, and the Cats will hope those trends continue while trying to get more out of the passing game.
Two of K-State's wins this season have been impressive, Stanford (24-7) and Nevada (38-17), but it has yet to play a true road game and is missing two of its most important pieces in QB Skylar Thompson and DE Khalid Duke. A win of any sort in Stillwater would be the Cats' most impressive so far.
Oklahoma State Cowboys
After struggling to run the ball through their first two games, the 3-0 Cowboys' rushing offense sprung to sudden life right when it was needed the most against Boise State last week. The 21-20 win in Boise was perhaps even more narrow than the one-point differential suggests as an inadvertent whistle on a Boise fumble recovery took a Boise TD off the scoreboard and an ensuing blocked FG were the real difference in the game.
To put it another way, the Cowboys have not exactly been themselves this season, particularly on offense, as this has been the shakiest 3-0 start the team has had in quite some time. But 3-0 is 3-0, and now the Oklahoma State has the chance to wipe many of the doubts surrounding the team away with a win over a solid K-State team that has opened the season hot.
Prediction: Kansas State 24, Oklahoma State 20
While I wouldn't be surprised if this score is flipped, I have to go with the team that has played better football thus far this season. Both defenses are good, and both offenses are dangerous if rather one-dimensional. However, K-State's offense has been the most consistent of the two, and the Cats have played the better schedule with more convincing results. More importantly, I still don't trust Oklahoma State's offense against a defense that's been flying to the ball all season long. A potential wild card in this game, however, is Oklahoma State's home crowd. If the crowd can help the Cowboys' defense force Howard into making mistakes, OSU might be able to not only win but cover the six-point spread.