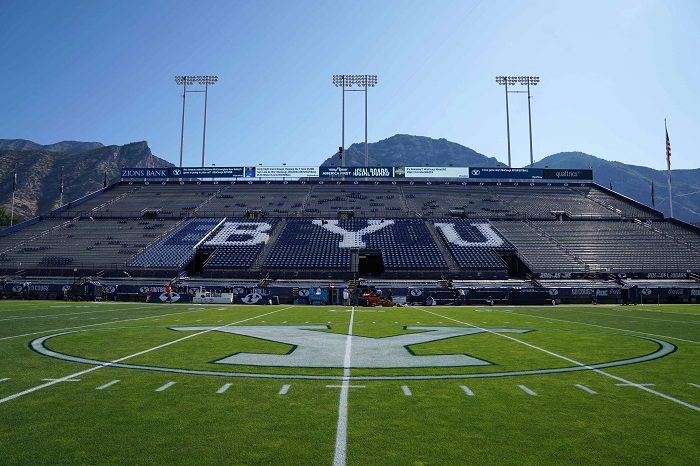 Here is everything you need to know about the upcoming match up between BYU and South Florida.
Game Info
8:15 p.m. MDT, Saturday, Sept. 25, 2021, LaVell Edwards Stadium, Provo, Utah
TV: ESPN2 (Beth Mowins, Kirk Morrison, Dawn Davenport)
Away Radio: 1250 AM WHNZ in Tampa, Fla. (Jim Louk, Sam Barrington, Joey Johnson)
Home Radio: BYU Sports Network, Sirius XM 143, BYU Radio, BYUCougars App, KSL 1160 AM in Provo (Greg Wrubell, Riley Nelson, Mitchell Juergens)
South Florida Head Coach: Jeff Scott (1st season other than 2020, same overall)
BYU Head Coach: Kalani Sitake (Other than 2020, 30-25 in 5 seasons, same overall)
Series History: South Florida leads 1-0. The only time these two schools met was in 2019 at Raymond James Stadium in Tampa. It was Jaren Hall's first start at quarterback.
Opening Line: BYU -23
Over/Under: 52 1/2
Fun Facts: BYU is one of 10 times to not trail at any point this season. They've done this against three Pac-12 teams, a conference which shun them. Thus, opening the door for the Big 12 Conference to bring the Cougars aboard.
Key Players
SOUTH FLORIDA (1-2, W 38-17 VS FLORIDA A&M)
WR Xavier Weaver
Despite working with a freshman quarterback, the junior wideout has averaged over 70 yards per game. That's not just based off one or two games either. He has consistently reached the 68-yard mark in every game no matter how many times he's targeted or receptions he brought in. Weaver has the only receiving touchdown this season.
LB Andrew Mims
Mims is the team's leading tackler. He is the only player thus far to record double digit tackles in a game. In the opener against North Carolina State, he recorded 12 tackles. His current total is 22. The team has recorded three interceptions and a fumble. The offense has scored 10 total points off these turnovers. All of them came against Florida. In the other two games, the offense ended up punting after both turnovers.
BYU (3-0, W 27-17 VS. ARIZONA STATE)
QB Jaren Hall
Who says BYU isn't a Power Five Conference team? Jaren Hall is 51 of 85 for a completion percentage of 60 against three Pac-12 teams. Guess what. BYU defeated all three Pac-12 teams, including in-state rival Utah. Hall has two primary targets in Gunner Romney and Neil Pau'u, who've been on the receiving end of five of Hall's seven touchdown passes.
LB Keenan Pili
A 6-foot-3, 233 pound sophomore is currently No.10 in the nation for tackles. He notched 17 in the opener against Arizona, including 10 solo tackles. Pili is averaging more than 1 tackle for loss per game. Two of those were recorded last week against Arizona State. At the pace Pili is going, he will be playing on Sundays soon.
Key Storylines
BYU
The Cougars are looking to crash the New Year's Six Party, if not pull off a miracle by crashing the College Football Playoff. Hey! They've done crazy things before, like winning a National Championship in the 1980s or coming back from a 20-point deficit with four minutes remaining to defeat SMU's young Pony Express. Before any of this talk continues, they'll need to blowout South Florida. BYU will not receive any benefit of the doubt by the committee. If this game is within 20 points, it will be extremely difficult to convince the Committee of any conversation, much less a spot in the playoffs.
SOUTH FLORIDA
Jeff Scott is trying to improve his young team before conference play. It's a massive rebuild after a Charlie Strong era which saw the Bulls football program basically go six feet under. Five years ago, South Florida would likely be considered by the Big 12 Conference. Today, this programs in shambles. Scott is picking up the pieces. Coaches hate moral victories, but Scott has to take what he can get right now.
Prediction: BYU 49 South Florida 7
After three victories over Pac-12 teams to start the season, I fully expect BYU's offense to find this matchup easy. It should be a lot like a practice to BYU, assuming the Pac-12's competition is at Power Five caliber. South Florida is struggling mightily, which is normal for a coach in transition. This is the first year Jeff Scott has had an offseason to work with his team. He started a true freshman at quarterback against Florida A&M in Timmy McClain. The competition is getting tougher. BYU is currently tied for 21st in team interceptions with four and 40th in sacks with eight. Remember, all three games have been against Pac-12 teams.