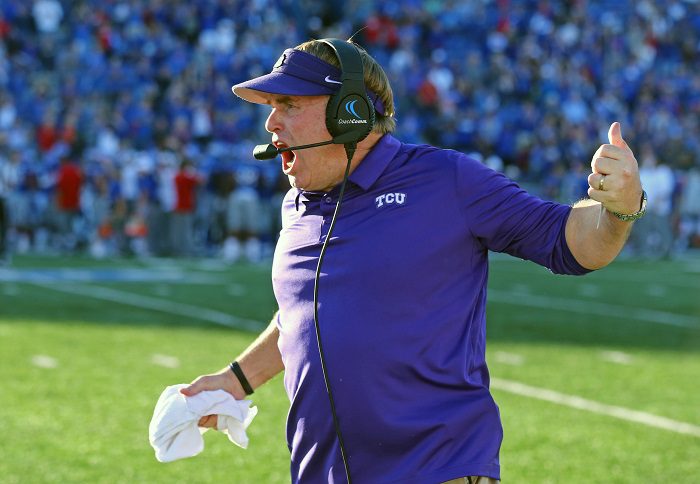 The TCU Horned Frogs host SMU on Saturday, as the two teams meet up for the first time since 2019, when the Mustangs pulled off a three-point upset.
And with the Iron Skillet on the line for the first time in a couple of seasons, TCU head coach Gary Patterson seems as locked in as ever. He certainly doesn't come across like a coach whose team is favored by nearly double digits.
Patterson was asked if he had watched any other Big 12 teams since his team had a bye week this past weekend. Patterson simply said, "No. I watched one team."
Patterson then went on to express frustration with some people who were discussing when next week's Texas game was set to kick off. He called that "upsetting", adding, "because we have a ball game this week. We can worry about that on Sunday."
Patterson added, "The only way you get to win 12 ballgames, which we need to get back to winning, is you have to do it one at a time. This game is just as important, or more important, than playing Texas next week."
Here's the video:
This also comes after SMU wide receiver Rashee Rice claimed TCU was afraid to play SMU last season.  Last year's game was supposed to be the only non-conference game for TCU during the COVID-shortened season, however TCU had to postpone the game due to the program's issues with COVID. The two teams both attempted to make up the game late in the season, but it was not feasible, due to SMU's AAC schedule.
So with all that being said, if I may make a prediction?
TCU by a million.