Baylor Bears
Is Iowa State vs. Baylor Budding Into One of the Big 12's Best Rivalries?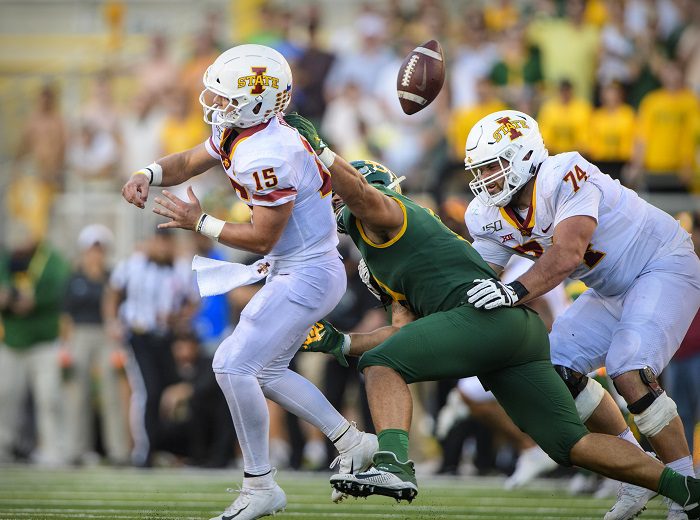 In the last few years it feels as if the Baylor Bears and Iowa State Cyclones have been building towards somewhat of a heated rivalry within the conference. Not only on gridiron, but on the hardwood as well. However, today, we are just going to focus on the football teams and save the basketball analysis for the winter. 
Since 2016, we have seen incredibly close games between the two games every year. We've had the infamous "Smack at the Jack" game in 2018, the 2019 Big 12 opener down in Waco where it was well over 90 degrees on the field and Baylor refused to give Iowa State shades for the sideline, even though they had shades. It was so hot that day that fans didn't sIt on one whole side of the stadium to avoid the sun. Then, even last season, Baylor was up big at half after three first half turnovers from the Cyclones, yet the Clones came back to win. One of my personal favorite parts of the series is the photo of Matt Rhule and Matt Campbell shaking hands with each other after the Smack at the Jack game in 2018 and they refuse to make eye contact with one another (You can view that photo here courtesy of our friends at Cyclone Fanatic).
If you look back on their last five meetings, the games have been decided by an average of 7.2 points per game, with three of five decided by a touchdown or less.
2016: Baylor Wins 45-42
2017: Iowa State Wins 23-13
2018: Iowa State Wins 28-14
2019: Baylor Wins 23-21
2020: Iowa State Wins 38-31
Contrast this to the five meetings from 2011 to 2015 when Baylor won four of five and the games were decided by 28.2 points per game, including a 71-7 Baylor win in 2013, and you realize how this showdown has steadily progressed in recent years.
In fact, one of the good things about the Big 12's set up the last decade with a round robin, where every team plays every team each season, is that it allows for new rivalry to brew, and we're seeing exactly that between Baylor and Iowa State. Previously, the teams would not meet on a yearly basis, given that Iowa State was in the Big 12 North and Baylor in the Big 12 South.
Granted, I liked the odds of the rivalry growing more when Matt Rhule was still coaching the Bears, because the coaches appeared to have more disdain for one another. While I think the games will continue to be close, I can't see the very melo personality of Dave Arranda growing into much of a rivalry with Coach Campbell. 
Just like in 2019, Iowa State opens up Big 12 play in Waco. For those that don't remember, redshirt freshman John Mayers kicked what would be the game winning field goal with 21 seconds left to beat Iowa State 23-21. Similar to last season, Iowa State completed a 20-point comeback that day too. 
This has been a very fun series within the conference over the last few years, and expect these close games to continue. Hopefully with the addition of BYU, Houston, Cincinnati, and UCF coming to the conference in a couple of years, it will be nice to have another natural, true Big 12 rivalry within the conference.
Baylor and Iowa State always compete, even when one of the two teams isn't very good. Make sure you are sitting on your couch, tuned into Fox this Saturday afternoon at 2:30 pm to see what the newest chapter to the rivalry will be.