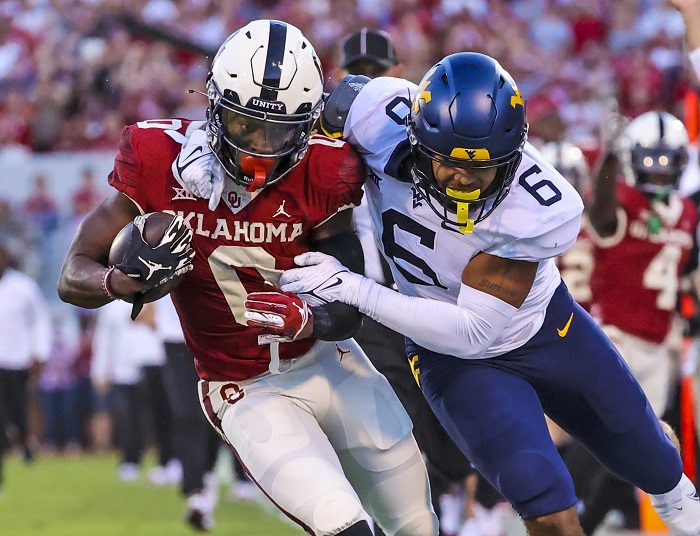 The Big 12 Conference schedule started for Oklahoma and West Virginia on Saturday night in Norman. The Sooners came in as the No. 4 team in the country, but for those who have watched the games, it's been an underwhelming start for OU. Meantime, West Virginia came in at 2-1, but the Mountaineers had just won a huge game over a Top 15 Virginia Tech team last week in Morgantown.
And to kick off conference play on Saturday night, a defensive slugfest broke out, as the Sooners beat the Mountaineers at home 16-13 on a walk-off field goal by Gabe Brkic.
1. Oklahoma's Offensive Line Continues to Struggle
The Sooners struggled all night in the running game. There's no doubt that West Virginia's run defense deserves a ton of credit for that (more below), but still, this OU offensive line, which has a ton of talent, still has a long ways to go to perform like a National Championship contender. Oklahoma finished the night with just 60 rushing yards on 25 carries, good for 2.4 yards per carry. OU's longest rush of the night was nine yards from Spencer Rattler. This unit, which has been one of the best in the country in previous season, had a lot of turnover from 2020, but regardless, it needs to play better to open things up for the passing game.
2. West Virginia Deserves Credit
Some might want to look at this and simply say it's Oklahoma continuing through a season in which they aren't going to be as good as advertised. They've barely beaten Tulane, Nebraska and now West Virginia. But to go into Norman in prime time and nearly pull off the win is a continued step in the right direction under Neal Brown in Year 3. WVU is 2-2 on the season, but the last two weeks are reason to believe the program is improving. The win against Virginia Tech was huge, while playing OU down to the wire in Norman is worth recognizing as progress. There's no doubt this one pains WVU fans, who haven't seen their team beat Oklahoma since they joined the Big 12 in 2012, but when you're rebuilding a program, these are the kinds of games that can be built upon, even in a loss.
3. Spencer Silliness
Oklahoma fans, or a portion of Oklahoma fans, were chanting for QB Spencer Rattler's back up Caleb Williams after an interception in the second quarter. To those OU fans, just stop. There's no question that this offense has a ways to go and needs to improve for Oklahoma to reach its goals of not just making a College Football Playoff, but winning one game and having a shot to play for a National Championship. However, that's not all on Rattler. He found himself constantly on the move in the pocket thanks to a great WVU defensive front and a mediocre OU offensive line. And plus, his wide receivers weren't exactly finding themselves in a ton of space.
OU football fans are undoubtedly spoiled about the offensive riches that they have had in recent years, so just remember, this year might not be as explosive, as quickly. But the good news is that this year's defense is the best OU defense in a decade.