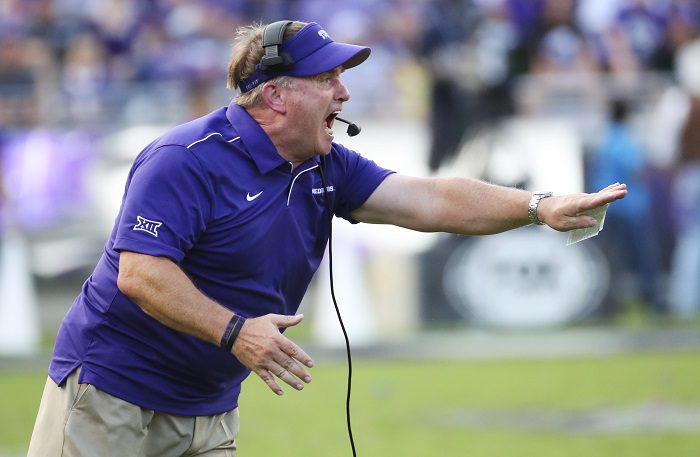 The TCU Horned Frogs hosted the SMU Mustangs on Saturday, with the winner picking up the Iron Skillet. The two teams didn't meet last season because TCU had COVID-19 issues, and despite both team's attempting to make it up at the end of the season, the scheduling never worked out. The last time they met, in 2019, SMU picked up a 41-38 road win. And for the first time since 1993, the Mustangs have won back-to-back games against the Horned Frogs. Here are three thoughts on the game.
1. TCU's Putrid Run Defense
Gary Patterson is one of the best defensive minds in college football and that typically plays out on the field with the Horned Frogs having one of the best defenses in the Big 12 Conference, year-in, year out. So to see TCU's defense get carved up, and simply out-manned, in the run game was a stunner. The Horned Frogs gave up over 300 rushing yards, to the tune of nearly seven yards per carry. That's unfathomable for TCU. Ulysses Bentley IV piled up 153 yards on 20 carries and a score, while Tre Siggers had 18 carries for 110 yards. This 1-2 punch made it look easy against TCU's run defense. Gary Patterson will have to get that fixed, especially given the fact that the Big 12's best running back, Texas' Bijan Robinson, is on deck next week.
2. Zach Evans is the Real Deal
The bright spot for TCU remains former five-star running back Zach Evans, who came on late last season and has continued his impressive play so far this year. On Saturday against SMU, he finished with a team-best 113 rushing yards on 15 carries for 7.5 yards per carry. He also was second on the team in receiving yards with 70 on three grabs, including this touchdown catch.
Evans had 190 rushing yards two weeks ago in the team's win over Cal, giving him over 300 in his last two games combined. He will need to remain the workhorse if this team is going to win some games in conference play, which as we noted starts next week against the Texas Longhorns.
3. SMU Capitalized Better Off Mistakes
What do you do with the other team's mistakes? Well in this game, SMU did a much better job than TCU. The Horned Frogs had a fumble to start the second half deep in their own territory that SMU turned into a quick touchdown. Meantime, TCU picked off Tanner Mordecai three times, but only mustered six points out of those turnovers. Granted one was at the end of the first half, but that's still not doing enough damage with the opportunities you're given as a team. If you told me before the game that TCU would win the turnover battle and score 34 points, I would've predicted a fairly comfortable win, but that didn't happen, and how the turnovers played out is a big reason why.
Also, the Horned Frogs were the sloppier team with nine penalties for 61 yards, compared to just four penalties for 30 yards by SMU.
All in all, it was a sloppy and hugely disappointing day for TCU, especially given that they had an extra week to prepare. Now the Horned Frogs have to look ahead and prepare for Texas next week.