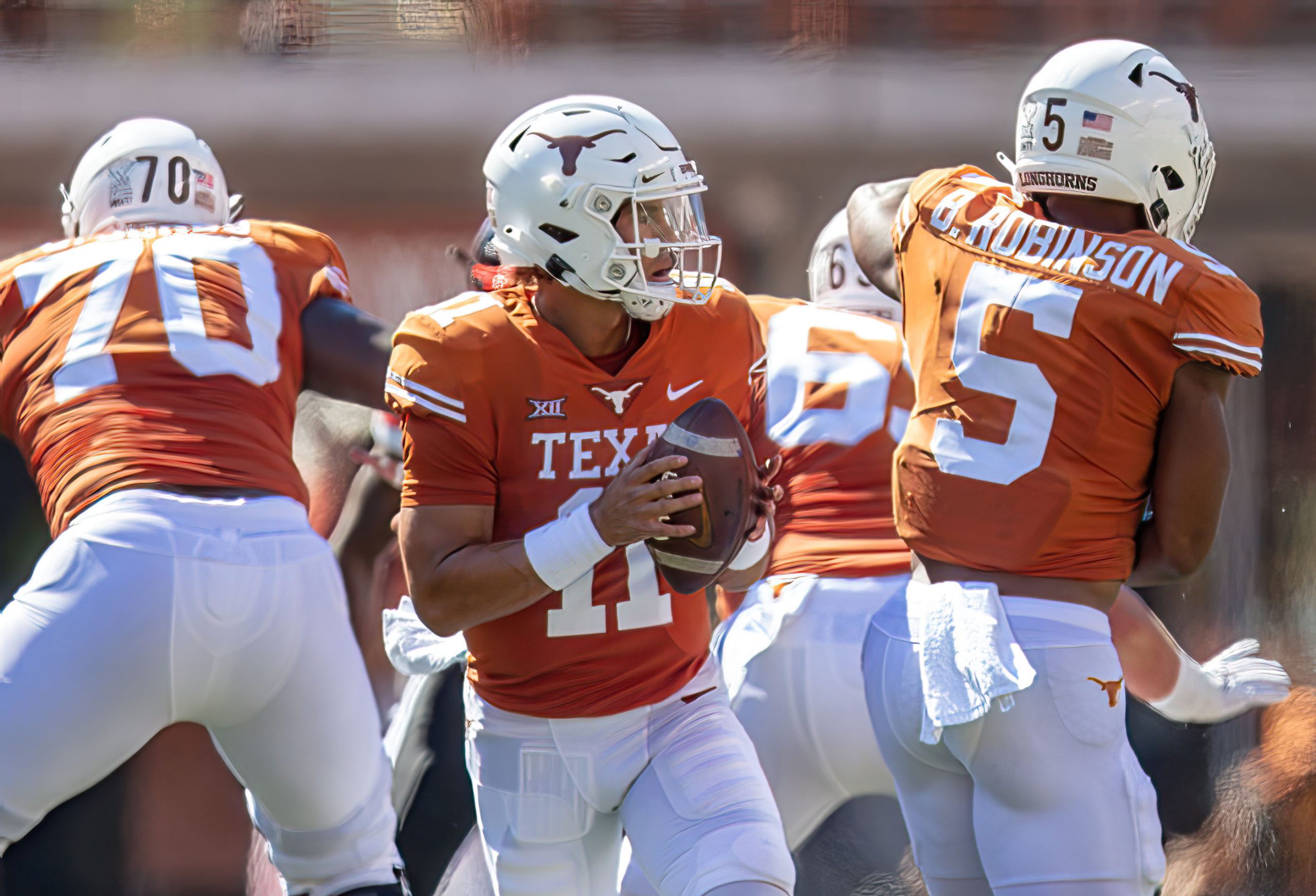 This was supposed to be a good game on paper, but it didn't turn out that way in Austin. The Texas Longhorns absolutely demolished the Texas Tech Raiders on Saturday afternoon to an easy 70-35 victory.
It was Steve Sarkisian's first Big 12 conference win at Texas and his offense put on quite a show. As for Texas Tech, they drop their first game of the year falling to 3-1 and 0-1 in conference play.
Longhorn fans can be happy for the weekend but if you are a Red Raider fan, it may feel more like a nightmare. Either way, I want to share my three thoughts from the game.
1. Casey Thompson is the Guy at Quarterback
Looking back to week one, I am not sure how Hudson Card won the starting job. Maybe he took care of the football better in camp, but Casey Thompson is the guy making the plays elevating this offense. Thompson went 18/23 as he threw for over 300 yards and had five passing touchdowns on the day. He was fantastic running the offense at quarterback as he looked extremely confident and comfortable out there. The Texas offense got the ball five times in the first half and every single time they went for six. That is about as productive as you can get and moving forward there is no doubt in my mind that Casey should remain the starter at quarterback. The Hudson Card/Casey Thompson debate should be put to bed.
2. This is What Texas Should Have Looked Like
We heard all offseason just how different this Texas team would be and today we got a glimpse of what they can do. Everyone had their grievances with Tom Herman, and I get it, his team would always seem to play down to their competition. That was not the case today with Steve Sarkisian. His offense put the petal to the metal and never once looked back as Texas racked up over 600 yards of offense. They stayed aggressive on offense and so did the defense. This was not the same team I watched two weeks ago in Fayetteville getting smacked around by Arkansas. It's no secret the Longhorns have some talent out there and today was a great example of what this Texas team is capable of. I know Tech doesn't look too good right now but at least Texas did not let them hang around.
3. Texas Tech is in Trouble
I truly thought Texas Tech could hang around with Texas and that simply wasn't the case. The offense got put into a 14-0 early and then tried to crawl back. Tyler Shough would lead Tech to a score but then threw a pick six to make it a 28-7 game before he left the game due to an injury. Henry Colombi stepped in a made a few plays, but it was not nearly enough.
In the end, this game falls on the shoulders of the defense. I know the offense gave up seven to the pick six, but you can't give up 63 points on the road and expect to win a football game. The defense gave up over 300 yards on the ground and got smacked around up front. When the game was done, the Longhorns put up 639 yards of offense. I have said it before and I will say it again, Texas Tech defensive coordinator Keith Patterson's seat should be on fire. I have yet to see this defense make big strides during his time in Lubbock and if Matt Wells doesn't make some changes soon, he won't even have a seat in Lubbock to get hot because he will be gone too.