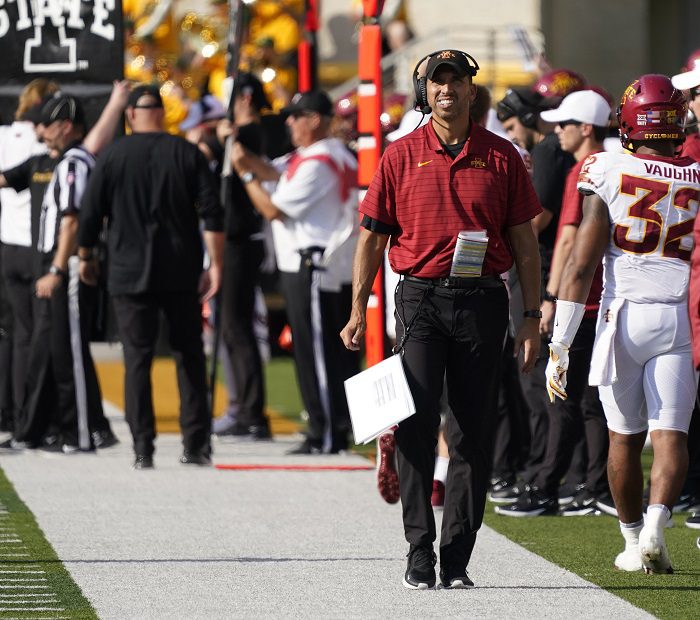 This past summer, I wrote that probably the wisest prognostication for the Big 12 in 2021 was a total blood bath – a red mist rising the field as carnivorous dark horses cannibalize each other on Fox's Big Noon Kickoff. Now, from the Sunday morning side of Week 4, it appears the blood bath I expected in the Big 12 this season has begun.
Defensive Woes
There were two non-conference games in Week 4, and the Big 12 defenses we saw in both were about as stout as butter in a boiler room.
TCU surrendered 595 yards of offense in a 42-34 loss to SMU. The Mustangs have featured an explosive passing offense all season, but it was SMU's running game that slayed the Horned Frog with 350 yards on 52 carries, good for 6.7 yards per rush.
In Durham, NC, where Kansas staged its best effort of the season against Duke in a 52-33 loss, the Jayhawks surrendered 607 yards of total offense. However, there was a clear silver lining as Kansas put up 530 yards of offense, nearly doubling its season average entering Week 4 of 273.7 yards per game.
The defensive bleeding wasn't exclusive to the non-conference portion of the schedule. There was plenty of bloodshed in Austin as Texas took it to Texas Tech, 70-35.
The Red Raiders' defense gave up 639 yards of total offense and nine touchdowns (Texas' defense also scored a touchdown when Josh Thompson intercepted Tyler Shough). But before we start giving Texas too much credit, let's not overlook that Texas Tech had 520 yards of total offense and Tech QB2 Henry Colombi posted 14.1 yards per pass in relief of Shough.
Sure, the final score with 70 points for Texas makes the Longhorns look good, but Texas' defense didn't play very well with Colombi on the field.
Elsewhere, one of the biggest defensive disappointments came in the first half of Oklahoma State's 31-20 win over Kansas State. K-State entered the game with a defense that appeared to be one of the most improved in the league, but the Cats' D got shredded in the first half against the Cowboys, surrendering 24 points (the OSU defense also scored by recovering a Will Howard fumble in the endzone) and only forcing one Oklahoma State punt.
To its credit, K-State's defense recovered after halftime to blank the Cowboys in the second half, but the damage was already done as K-State's offense could do next to nothing against the Cowboys' defense.
Finally, Baylor's defense didn't play as well as some may have hoped in a 31-29 victory. While Baylor got the win, it was outgained by the Cyclones 479 yards to 282 yards.
As with Texas, winning makes everything look better, but Baylor giving up nearly 500 yards against an offense that has struggled to move the ball against anyone not named UNLV may be cause for concern. Baylor's nine penalties for 100 yards is another area the Bears will need to clean up moving forward.
DEFENSIVE TRIUMPHS
While there were a lot of bad defensive performances in Week 4, there were a handful of good ones as well.
Oklahoma State shutdown K-State's run game, limiting Deuce Vaughn to a meager 22 yards on 13 carries and holding the Cats to 62 rushing yards on the day. Time and time again, every rushing lane was filled by Cowboys defenders, and the OSU secondary broke up pass after pass.
In Norman, Oklahoma and West Virginia put on a defensive slugfest that came down to the final seconds when Oklahoma used a chip-shot field goal to take its first lead of the game and win 16-13. The two defenses combined to allow a total of just 124 rushing yards all night, and the home crowd in Norman was chanting for QB Spencer Rattler's backup, Caleb Williams, to take the offensive reins.
While Rattler's performance thus far this season hasn't come close to meeting his preseason hype, credit should go to WVU's defense as opposed to blaming Rattler.
Meanwhile, Oklahoma's defense has received its share of criticism this season, but the Sooners' D hung tough all night against West Virginia and kept its team in a position to win.
For my taste, Oklahoma and West Virginia put on the best game of the night thanks to the sterling efforts by both defenses.
CONTENDERS, PRETENDERS, AND BOTH
Again, I've thought all along that this season would see a lot of blood spilled, and while Baylor, Oklahoma, Oklahoma State, and Texas are currently sitting in the driver's seat in the Big 12 race, I expect a lot more blood to be spilled before the conference championship game, and I do not expect any team to make it through unscathed.
At this point, I wouldn't count many teams out of the race. Kansas probably doesn't have a chance of doing anything in the conference race, but it might be able to make an impact by playing spoiler for a team or two.
TCU's defensive woes against SMU are cause for serious concern, but RB Zach Evans should give TCU fans some hope. The Horned Frogs are the only team that has yet to play a conference game, but they'll need to try to get the defense right before the Longhorns come to town this Saturday. On the other hand, the Longhorn defense should be plenty worried about Evans.
Iowa State and Kansas State found themselves in early holes that they couldn't dig out of on the road, but ISU's offense is starting to click, and Kansas State will get QB Skylar Thompson back sooner than later, perhaps even this weekend. By the time the Cyclones and Cats meet in Week 7, both teams could look a lot better than they did in Week 4.
Texas Tech's defense got humiliated by the Longhorns, but the offense did enough to show that the Red Raiders will not be easy-outs most Saturdays.
So buckle up, Big 12 fans. Conference play has just begun, and it is likely to be something like the fight scenes from the film Gladiator week after week – bloody.
The Big 12 is not a normal Power 5 conference with a few teams at the top and a whole lot of dead weight elsewhere. The Big 12 is a blood cauldron of parity, and no team is invincible or safe on any given Saturday.