Trending Now
Three Thoughts on BYU's 35-27 Win Over South Florida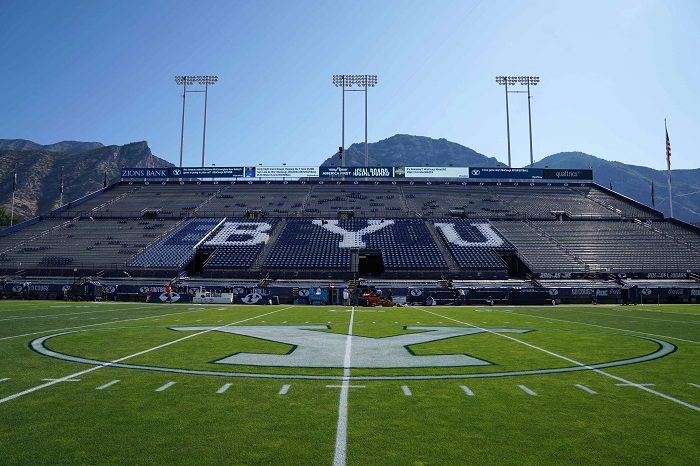 BYU is now 4-0 after defeating South Florida 35-27. The Cougars darted out of the gates to a quick 21-0 lead in the first quarter. As injuries started piling up and adjustments were made, South Florida started climbing back into the game. BYU was able to hold off a massive comeback and what would have been a stunning upset. Cameron Brock provides three thoughts on what he took from the game. 
1. Baylor Romney is an excellent back-up.
Jaren Hall was ruled out this week after sustaining a hit to the ribs late in the Arizona State game. BYU didn't miss a beat. Baylor Romney stepped right in and commanded the offense to touchdowns in each of its first three drives. The Cougars took a 28-6 lead into halftime. Romney finished 20-of-25 for 305 yards and 3 touchdowns This is also the first game BYU eclipsed the 30-point mark. Granted, BYU's first three games were against Power Five opponents. USF is currently in shambles after an era which Charlie Strong took the program from conference title contenders to cellar dwellars.
2. Injuries are starting to mount
BYU has a solid defense. Sadly, injuries started mounting. This may be part of the reason South Florida was able to climb back into the game. BYU was already down two defensive lineman. A third seems to have gone down tonight. At one point, it seemed that a fourth went down, but Caden Haws returned to the game. In the secondary, Kaleb Hayes, an Oregon State transfer, left the game twice.
On the offensive side of the ball, right tackle Harris LaChance and tight end Masen Wake were seen going back to the locker room. 
3. Chess Game is a vulnerability
South Florida clearly made better adjustments throughout the game than BYU did. After the Cougars went up 21-0, they were outscored 27-14. South Florida started to extend drives and gain yardage little-by-little. After two field goals, South Florida scored three touchdowns. If South Florida had figured this out just a little earlier, they might've pulled the upset.