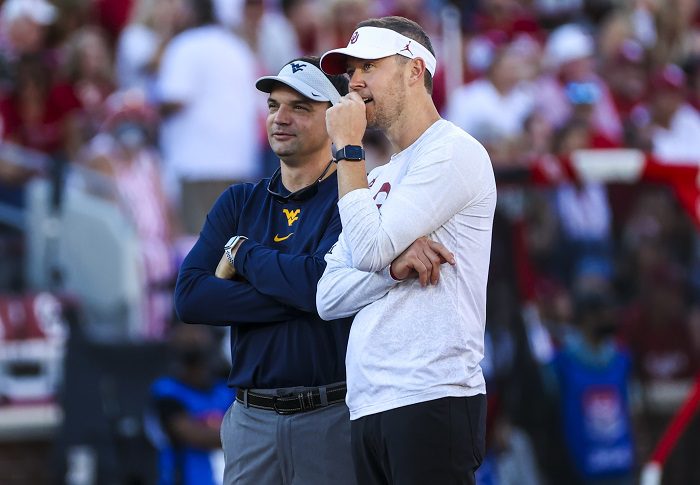 Week 4 of the Big 12 football season is in the books, and there is once again a ton of movement in our Big 12 Power Rankings. And to think the full Big 12 conference slate hasn't even started yet. What a wild first semi-full week of conference play with close games and upsets, along with surprises in the non-conference portion of the schedule as well. A weekly reminder that these rankings can fluctuate greatly on a week-by-week basis, based on how teams have performed in their most recent games and who they've beaten, not what we predict the final Big 12 standings to be and not what the preseason rankings were.
So with all that being said, here's a look at our Big 12 Football Power Rankings heading into Week 5 of the season.
1. Oklahoma (Last Week: 1)
The Sooners haven't looked good in the process, but they're 4-0 and they beat a solid West Virginia team on Saturday night. Plus, they get the edge over Baylor since they do have a non-conference Power 5 win (Nebraska), which Baylor does not have. And let's be honest, when you've won six-straight Big 12 titles in a row, I think it's fair to give the Sooners the benefit of the doubt until they, ya know, actually lose a game.
2. Baylor (Last Week: 7)
Here you go, Baylor Nation. I said I would gladly eat crow if your team proved it on the field against better competition, and they did just that on Saturday beating Iowa State 31-29. The Bears were outgained by 200 yards, but they did the little things better (for the most part). They also had key special teams plays that helped make the difference, and held ISU to field goals instead of touchdowns. I saw what I needed to see to believe Baylor is a team that can be heard from in the wide-open 2021 Big 12 race.
3. Oklahoma State (Last Week: 8)
The Cowboys beat the No. 1 team in our rankings last week, rolling Kansas State 31-20. Oklahoma State still hasn't looked great on offense, but this defense has the ability to carry this team far this season. The Cowboys' offense got going in the first quarter with 21 points, and then went scoreless for a second-straight game in the second half, but the Pokes are 4-0, which can't be overlooked. Now they get a second-straight Top 25 match up with the Baylor Bears in the most-anticipated Big 12 game of Week 5.
4. Texas (Last Week: 3)
Suddenly, the Arkansas loss isn't looking so bad, but it helps that Texas has scored nearly 130 points in their last two games against Rice and Texas Tech. Casey Thompson is playing like a dude who has zero interest in giving up his starting job, and Bijan Robinson remains an absolute stud in the backfield for the Longhorns. The defense is still spotty and inconsistent, but this is a Texas team gaining more confidence. Oh, and if you don't know the name Xavier Worthy (wide receiver), learn his name ASAP. I know, Texas drops even though they won, but those above them have better wins thus far.
5. West Virginia (Last Week: 4)
The Mountaineers picked up a Top 15 win last week against Virginia Tech and then went to Norman, Oklahoma and nearly scored a Top 5 win over the Sooners. This West Virginia defense remains legit, as they gave OU's offense issues all night. But the offense remains the Achilles heel of the program. If that unit doesn't improve, notably the passing game led by Jarret Doege, this team will be in a lot of 20-17 type of games and will find itself in the middle of the pack in the Big 12.
6. Iowa State (Last Week: 6)
Iowa State got outmanned by Baylor, got held to too many field goals and got burnt on special teams in their loss in Waco on Saturday. The Cyclones are 2-2 on the season, which is not close to what the expectations were when the season began and there were hopes of this team possibly vying for a spot in the College Football Playoff, if things broke just that. That isn't happening as another slow start has hurt this team. Slow starts are OK if your goal is to make a bowl game, or even compete for a Big 12 title, but based on this season's expectations, that couldn't happen. Yet it did. And here we are.
7. Kansas State (Last Week: 1)
Kansas State's offense is going to be an issue in conference play. Will Howard struggled before an apparent injury and Jaren Lewis didn't look much better. The defense is stout, but at some point the offense needs to spell the defense with sustained drives and points. Even though Oklahoma State has a really good defense, I have a hard time seeing that happening going forward with any consistency, at least not until Skylar Thompson is back at QB. And up this weekend is Oklahoma, who also brings in a really strong defense.
8. TCU (Last Week: 5)
The Horned Frogs' lost to SMU was a huge letdown over the weekend. TCU was a 9.5-point favorite and has now lost two in a row to SMU for the first time since 1993. While the offense performed well, it's the defense that has unusual concerns for a Gary Patterson team. This weekend, TCU plays Texas, who Patterson always performs well against, but if this defense doesn't get figured out, Casey Thompson and Bijan Robinson are going to have a field day on Saturday.
9. Texas Tech (Last Week: 9)
Giving up 70 points to Texas? That is the kind of loss that takes your seat from warm to hot if you're Matt Wells. The defense showed no fight, and as Derek Duke noted in his "Good, Bad and Ugly" piece, Keith Patterson returning at DC was a skeptical move this year as is. It doesn't look any better today. Now QB Tyler Shough is out as well, for at least a few weeks. These are turning out to be some tough times in Lubbock.
10. Kansas (Last Week: 10)
However, Kansas remains in the No. 10 spot. Kudos to KU for leading Duke at halftime, but the wheels fell off in the second half of this game and Duke rolled to an easy win and a cover as well. KU is slowly showing progress, but it's going to take time. That's nothing new to any of you paying attention to the Big 12 Conference.