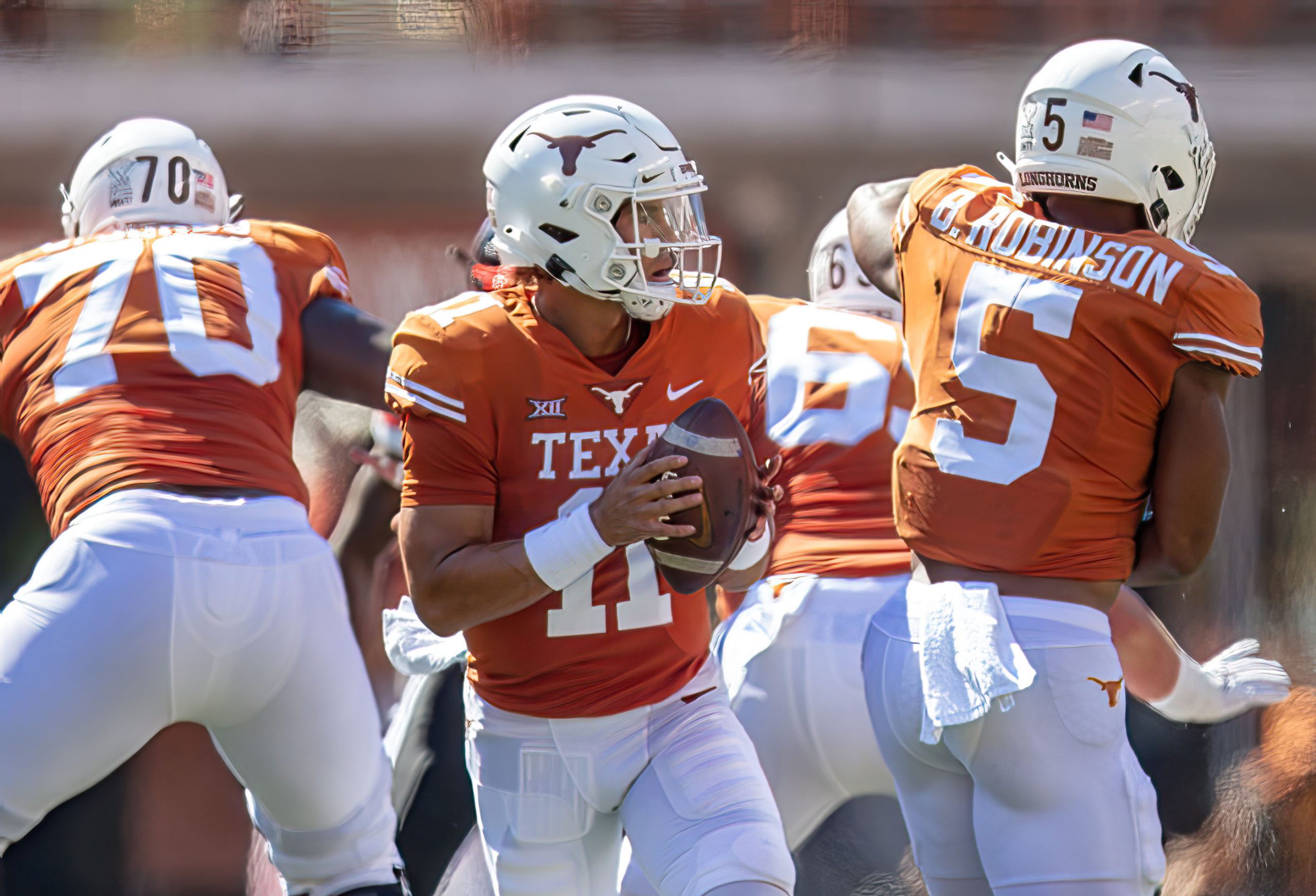 It was another crazy week in the Big 12 from the off-field news to the on-field play. There was plenty of excitement on Saturday and I will break it all down here for you as I share the good, bad, and ugly from week four in the Big 12.
The Good
Texas (Beat Texas Tech 70-35)
This is the Texas team I was waiting for all along. They didn't play down to Texas Tech and kept their foot on the gas and never looked back. The offense was on fire throughout the entire game as they had a whopping 639 yards of offense. Casey Thompson played extremely well and so did Bijan Robinson. It was also nice to see Xavier Worthy and Jordan Whittington help the offense too. It seemed like every time Texas touched the ball on offense, they scored. They beat Texas Tech in every single phase of the game and putting up 70 points is not something I saw coming.
Baylor (Beat Iowa State 31-29)
Despite not running the football well, Gerry Bohanon helped the offense. Once again, he was efficient completing 14 of his 19 passes and threw for two touchdowns. Sure, he had one fumble, but it would be hard for me to criticize his play so far this season. Also, special teams were huge in this game. Trestan Ebner had a big day scoring on a kickoff and had one big punt return in the fourth quarter.
The effort and energy were there on Saturday and despite having nine penalties, they still found a way to win. Iowa State is a good team and Baylor has now launched themselves as a serious Big 12 title contender. So far, my biggest surprise this season has been the team in Waco.
Oklahoma State (Beat Kansas State 31-20)
This is now two games in a row where the Cowboys don't score a single point in the second half and still managed to win the game. I don't know how they do it, but they make it work. They played well defensively and did a great job shutting down the Kansas State rushing attack. Their defense is legit and will keep them in any game. Offensively, Spencer Sanders had a big day throwing for well over 300 yards but consistency from this offense has been an ongoing issue. If the Cowboys could play like they do in the first half in the second half, this team could make some serious noise. But hey, they are 4-0 and have a Top 25 match up with Baylor next weekend.
Oklahoma (Beat West Virginia 16-13)
The good thing from this game is that Oklahoma won and remains undefeated at 4-0. Despite being 4-0, there are still plenty of questions on offense. Forget about the defense because they were great, this falls on the offense. Spencer Rattler looks like a totally different guy this year. He had his struggles early last season, but he has not looked like this through a four-game period. The run game wasn't working for the Sooners, so it was up to this passing game to get it done and they simply did not. Thankfully for Oklahoma, kicker Gabe Brkic kicked three field goals and won them the game. People will talk about the boo birds at the game and a section of people wanting the backup quarterback, but unless Oklahoma losses a couple games, it is Spencer's job. There is a certain level of expectation for a Lincoln Riley offense and this team is not meeting that. There's no historical precedence for an offense looking like this under Lincoln Riley, and if not for this defense and Gabe Brkic, this team could easily be 2-2 instead of 4-0.
The Bad
Iowa State (Lost 31-29 to Baylor)
It has been a rough year for Iowa State and we are just four games in. I did not think the defense played that badly as they were put into tough spots at times. In fact, I thought they played well in the second half and made some good adjustments.
Offensively, it was all about Breece Hall, who had a monster day scoring three times and rushed for almost 200 yards. The Cyclones actually outgained the Bears 479 to 282. The difference in this game was special teams. They allowed a kickoff return for a score and gave up a big punt return that helped Baylor put three on the board. The two-point play was a disaster from the start, but they had a chance to tie the game up and couldn't do it. Brock Purdy doesn't look like the guy from 2019 or 2020 and I still am not sure what is happening there. Iowa State needs to work on a few things, and while they can still compete in the Big 12, we can put the Iowa State playoff hopes to rest after suffering their second loss of the season.
Kansas State (Lost 31-20 to Oklahoma State)
Losing Will Howard early was tough and when he came back later in the game, he really didn't do much. The run game was not working for Kansas State and that put pressure on the passing game which is something Kansas State struggles with. Speaking of the passing game, the defense did not have their best day either. They gave up nearly 350 yards through the air, but they did shut out the Cowboys offense in the second half. The Wildcats just did not have enough offense in this game and when they aren't able to run the football, they will struggle because that is their bread and butter.
West Virginia (Lost 16-13 to Oklahoma)
Let me start by saying the defense did their part in this game. Going on the road to Norman and holding the Sooners to 16 points is not easy. They played their tails off on defense and deserve some credit for the Sooners struggles. The run game was a non-factor for the Mountaineers and that meant is was up to Jarret Doege to play well. That didn't happen for West Virginia as Doege continues to struggle this season. The pieces on offense are there for West Virginia, but if this team is going to go anywhere this season, they need to figure out the quarterback situation or else they will be a fringe bowl team. I have seen enough of Jarret Doege to say that he is not going to take West Virginia to where they want to be. Is he their best option at quarterback right now? I don't think he is.
The Ugly
Texas Tech (Lost 70-35 to Texas)
I am almost at a loss for words here because what I saw on Saturday was pathetic. The effort wasn't there, and it felt like this team had no heart. Letting Texas score 70 points on you? That's embarrassing and I have said it before, but defensive coordinator Keith Patterson should have been gone after last season. The defense is not improving at all. This defense gave up over 300 yards on the ground and through the air. As for the offense, Tyler Shough got injured and will be out for some time but now it's Henry Colombi's job. If Texas Tech is going to be competitive in this conference they better wake up on defense or else it will be an extremely long year in Lubbock and could result in someone getting fired.  
TCU (Lost 42-34 to SMU)
I didn't see a result like this coming, but I will not criticize the offense too much here. They scored 34 points at home which should be enough to win a ballgame, but when you play so poorly defensively, 34 points is not enough. I cannot remember a game where TCU looked so helpless trying to stop the run. SMU rushed for 350 yards against TCU's defense. Look no further as to why the Horned Frogs lost the game. If you can't stop the run, then your chances of winning are slim. TCU was fortunate enough to get some turnovers, but it wasn't enough to stop the SMU offense. I don't know if TCU was looking ahead at Texas or what, but SMU talked smack early in the week, kicked TCU's butt and then planted their flag at midfield. They got beat before, during and after the game.  
Kansas (Lost 52-33 to Duke)
Somehow Kansas managed to have a three-point lead at halftime, but once again, they got outscored badly in the second half. Duke outscored Kansas 31 to 6 in the second half and took control of the game in the third quarter. I don't know what happens at halftime for Kansas, but this is the second game in a row where they are ahead or playing close only to get blown out in the second half. The defense was bad throughout the game, which is not shocking due to the fact the Jayhawks have yet to stop anyone all season long. Playing bad defense is a recipe for disaster and when you give up over 600 yards of offense, you simply have no chance. Offensively, they ran the football well, but between turnovers and going 3 for 14 on third down, it is going to be hard to win games like that.