Baylor Bears
Kirk Herbstreit Lists Dave Aranda as a Top Coaching Performance of Week 4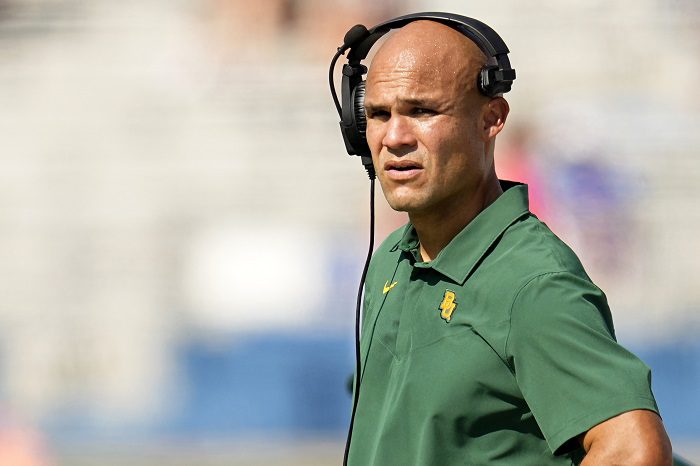 The Baylor Bears seem to be nice and fresh after what seemed like a hibernation year last season. Bears Head Coach Dave Aranda looks to have turned his team around in his second season in charge and people are starting to take notice. That is what happens when you knock off a top 15 team like Baylor did last week in their 31-29 win over #14 Iowa State.
The win caught the eye of ESPN's Kirk Herbstreit as he listed Dave Aranda as one of his top coaching performances from Week 4. Here's what Herbstreit had to say on Aranda:
"Aranda's first season as the head coach at Baylor wasn't pretty. The Bears went 2-7 with wins over Kansas and Kansas State. Through four games in 2021, Baylor is 4-0 and 2-0 within the conference. Last weekend, the Bears took down a top-15 team in the Iowa State Cyclones. Aranda appears to have Baylor on the right track after a rough debut season."
Baylor's win over Iowa State moved them into the AP Poll's Top 25 as they are now ranked 21. They are also ranked in the Coaches Poll at 24.
The Bears are now 4-0 for the 6th time in the last 9 seasons after having started 4-0 each year from 2013-2016 and in 2019. The turnaround for the Bears is particularly impressive this season after such a rough first season for Dave Aranda.
Next up for Baylor is a conference matchup at #19 Oklahoma State. The Cowboys are also 4-0 on the season and are 1-0 in the conference after a 31-20 win over Kansas State last Saturday.
Kickoff from Boone Pickens Stadium in Stillwater, OK is at 6pm CT on Saturday, Oct. 2nd.