Big 12 News
Mike Gundy: 'I'm a Typical Politician' on Voting in Coaches Poll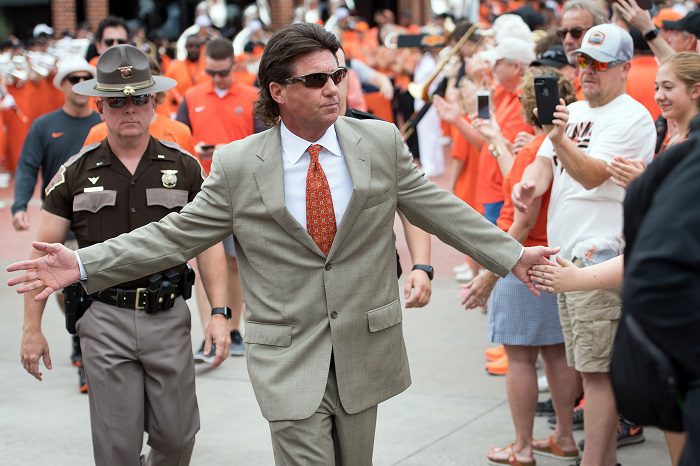 Mike Gundy remains a quote machine this season, heck every season, but he's been on real fire the last couple of weeks. Maybe it's because he's coached this team, despite its issues, to a 4-0 record and a Top 25 ranking this week.
Anyway, Gundy had another epic quote on Monday when he was talking about Top 25 rankings. Gundy was asked about if he has a feel for which teams are good, and which teams are not good, in the Big 12 this season.
He said in part, "The [Big 12] conference? I'll give you one better than that. I'm a voter for — what do I vote for? … I'm a typical politician. What did I just vote for? I know these lobbyists told me to do it, so that's what I voted for. I didn't read the bill, but. So anyway, Coaches Poll. I vote for the Coaches Poll."
Gundy did add, "The first thing I do on Sunday mornings is try to be as diligent and do a good job. If you're going to do something, don't just throw something together. So I try to look at scores, see where everybody's at, who played who, which we know those comparisons are out the window more so now than ever in football."
Overall, is there anything more useless and meaningless than the Coaches Poll? Talk about archaic. And as usual, no one says it more eloquently than Mike Gundy.
I hope Mike Gundy coaches at Oklahoma State for a long time. But if for whatever reason he doesn't, the guy would be the next Lee Corso, except be able to string together coherent sentences and he wouldn't just be funny when he put on ridiculous head gear.