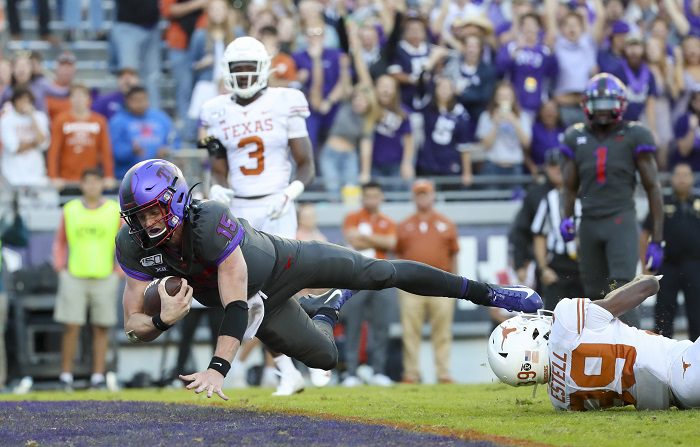 Here is everything you need to know about the Texas Longhorns and the TCU Horned Frogs in our Texas vs. TCU preview.
Game Info
11 a.m. Central Time, Saturday, Oct. 2, 2021, Amon G. Carter Stadium, Fort Worth, Texas
TV: ABC
Radio: Texas: Longhorn IMG Radio Network; TCU: Horned Frogs Radio Network.
Records: Texas, 3-1 (1-0 in Big 12); TCU, 2-1.
Ranking: Texas: None; TCU: None.
Last week: Texas def. Texas Tech, 70-35; SMU def. TCU, 42-34
Fun Fact: TCU has won seven of the last nine meetings with Texas. Well, that's not a fun fact for Texas, I guess. Plus, TCU has won the last three meetings in Fort Worth.
Key players
Texas
RB Bijan Robinson: If the sophomore isn't careful he's going to worm himself into Heisman consideration. With his powerful running style and open-field speed, he's reminding long-timers of former Texas backs like Earl Campbell and Ricky Williams. Now, let's not get ahead of ourselves. But, after four games Robinson has rushed for 446 yards and five touchdowns. He's fueled the Longhorns' rise to the No. 7-rated run game in FBS. Robinson had 137 yards and a touchdown last week against Texas Tech. If you look back at last year's game against TCU, he didn't get a carry. That won't be the case on Saturday.
QB Casey Thompson: The Longhorns have been insanely efficient since Thompson took over at quarterback in the second half against Arkansas. How efficient? This puts it in perspective. Thompson has led 22 drives this season and the Longhorns have scored 19 times, with 18 touchdowns. In his last three games, Thompson has completed 38-of-49 passes for 524 yards and seven touchdowns while rushing 16 times for 80 yards and three scores. He's converted 16-of-23 third downs and 4-of-4 fourth downs this season. He accounted for six touchdowns against Texas Tech, tied for the second most in program history.
LB Demarvion Overshown. On Monday, head coach Steve Sarkisian highlighted Overshown's early work this season and for good reason. He's emerged as the pulse of this defense after recording 21 tackles in the first two games of the season, the most tackles for a Longhorn in the first two contests of the season since Cedric Reed had 24 in 2013. He helped hold Texas Tech to 128 total yards rushing last week and he patrols the field relentlessly.
TCU
WR Taye Barber: Maybe it's time for the Horned Frogs to get Barber the ball more, and that's not just because he needs one more catch to get to 100 for his TCU career (making him the active leader for the Horned Frogs. It's because in the Horned Frogs' loss to SMU, Barber caught five passes for 114 yards, along with his touchdown reception. He's also the active leader in 100-yard receiving games for TCU. He's tied for second in receptions after three games this season.
QB Max Duggan: TCU has to like the fact that Duggan is completing 60 percent of his passes and has 717 yards passing, with seven touchdowns and just two interceptions. Duggan is still the second-leading rusher for the Horned Frogs with 110 net yards rushing, but the emergence of Zach Evans has alleviated Duggan's rushing load. Duggan threw three touchdowns and had no interceptions against SMU last week. He'll face a much tougher defense in Texas.
S TJ Carter. Carter isn't getting a ton of attention, perhaps because he's just in his first year in Fort Worth (he transferred to the Horned Frogs from Memphis). But he's making an impact, as he's second on the team in tackles with 15, along with a quarterback hurry. He's proven to be a nice complement to the rest of the secondary, including Tre'Vius Hodges-Tomlinson.
Key storylines
Texas
The Longhorns' 70-35 win over Texas Tech was more dominant than the score indicated. Texas Tech was never in the game and the Longhorns were able to put in second- and third-stringers by the end of the third quarter. It was the first time Texas scored 70 or more points in a game in more than 15 years, when the Longhorns hung that number on Colorado in the 2005 Big 12 Championship game. You also got a full view of what head coach Steve Sarkisian calls 'All Gas, No Brakes,' on offense, as the Longhorns played at a furious pace that the Red Raiders simply couldn't keep up with. It sounds strange to say, just two weeks after that debilitating loss to Arkansas, but Texas MIGHT be the best team in the Big 12 right now.
TCU
TCU, frankly, should be undefeated going into their Big 12 opener with Texas. And their inability to slow down SMU's offense, led by quarterback Tanner Mordecai, should concern head coach Gary Patterson. SMU had 595 yards of total offense, including 350 yards on the ground. That's troubling when you consider the Longhorns running back coming to town on Saturday. TCU was able to get Mordecai to throw three interceptions, but the Horned Frogs weren't able to keep SMU out of the end zone enough to win. So what has to change? The run defense has to get better and the offense must continue to evolve and get just a little more explosive.
Prediction: Texas 37, TCU 29
I'm ignoring Texas' poor record against TCU in Big 12 play when it comes to a prediction. Yes, TCU head coach Gary Patterson is one of the game's true masters of game-to-game adjustments, and I don't think the Longhorns are going to walk into Fort Worth and hang 70 points on the Horned Frogs. But TCU's inability to stop the run, coupled with the dominant running of Texas back Bijan Robinson (and don't forget the change-of-pace back Roschon Johnson) will be what wins the day for Texas.
You can find Matthew Postins on Twitter @PostinsPostcard.
**Want to win a $20 gift card? Go sign up here and join our conversation! The best poster each week wins a gift card to your favorite establishment!**