Big 12 News
Gary Patterson Rips SMU for Flag Plant, Alleges It Was Planned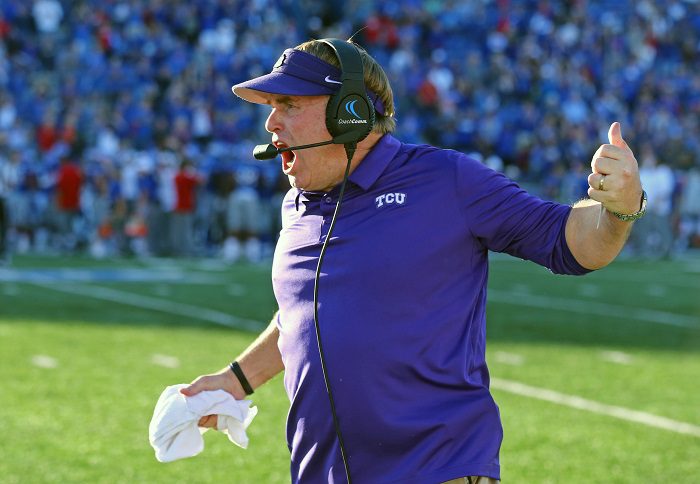 TCU's loss to SMU on Saturday has followed with plenty of drama. After the game, SMU "planted the flag" at midfield at TCU, which resulted in a scuffle. And in his weekly press conference, TCU head coach Gary Patterson ripped into SMU for its antics, which resulted in assistant coach Jerry Kill getting a concussion.
"I cannot substantiate that it was a SMU or TCU person, but it did happen," Patterson said on Tuesday. "If we wouldn't have had the flags, it wouldn't have happened. OK?"
Patterson then alleged it was all planned on the SMU side, as he went on to say, "You don't think it was planned? They had a media person from their office that was out filming the flag getting set in the middle of the field. It's OK. But don't tell me there wasn't a plan somewhere there."
Patterson wasn't done there, adding, "A guy [Kill] got hurt. Why I'm upset about it, a guy got hurt that things like that usually cause seizures. A guy got hurt. He got pushed down by our kids once on film in the middle of it and he got hit because I've got the proof to show it. At the end of the day, whether it's SMU, TCU, I can't substantiate it. But at the end of the day it wouldn't have happened if we didn't have the flag situation."
SMU did respond in a statement, denying these claims about the flag planting being planned, saying, "This is a complete fabrication. I can state unequivocally that there was no such plan."
SMU won the game 42-34 on Saturday, which is the first time since 1993 that the Mustangs have beaten the Horned Frogs two-straight times.
Needless to say, the 2022 battle for the Iron Skillet should be an incredibly intense match up.