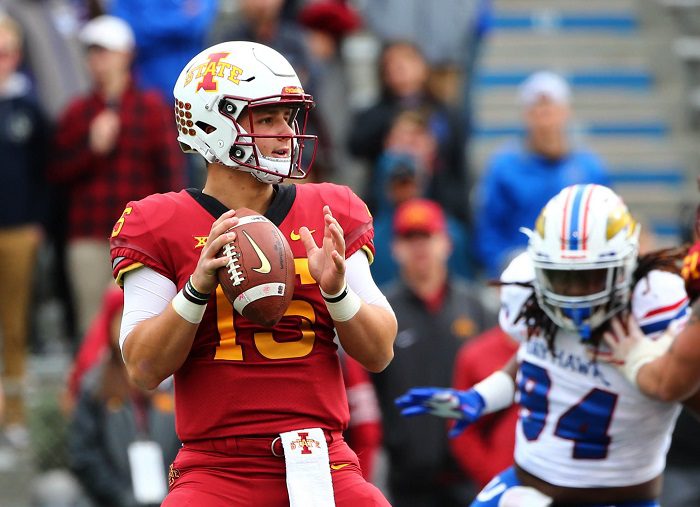 Here is everything you need to know about the Kansas Jayhawks and the Iowa State Cyclones In our Kansas vs. Iowa State preview.
Game Info
6 p.m. Central Time, Saturday, Oct. 2, 2021, Jack Trice Stadium, Ames, Iowa
TV: FS1
Radio: Iowa State: Cyclone Radio Network; Kansas: Jayhawk Sports Network.
Records: Iowa State: 2-2 (0-1 in Big 12); Kansas: 1-3 (0-1).
Ranking: Iowa State: None; Kansas: None.
Last week: Iowa State lost to Baylor, 31-29; Kansas lost to Duke, 52-33.
Fun fact: Iowa State has won six straight games against Kansas, ISU's longest series win streak vs. the Jayhawks.
Key players
Iowa State
RB Breece Hall: The Cyclones have had issues with consistency on offense, but Hall hasn't been one of them, at least when it comes to scoring touchdowns. Hall enters the game with a streak of 16 straight games with a rushing touchdown, which is the nation's longest active streak. It's also a school record and Big 12 record. Hall passed Corby Jones' ISU record last weekend against Baylor. For the season, Hall has 428 yards rushing and six touchdowns in four games. Hall is also second on the team in receptions with 14.
WR Xavier Hutchinson: He's the Cyclones' leading receiver through four games, with 24 receptions for 285 yards and two touchdowns. But he's seeking a bounce-back game against Kansas. Last week, Hutchinson caught just four passes for 42 yards against Baylor. The week before, he caught 10 passes for 133 yards and two touchdowns, and he's hoping to recapture that stat line against Kansas.
DE Eyioma Uwazurike: Through four games, Uwazurike leads the Cyclones in sacks with three, and had 4 1/2 tackles for loss. He's also tied for the team lead in quarterback hurries with three. The senior has been a model of consistency on the pass rush, as he's had a sack in each of the Cyclones' last three games and has at least one tackle for loss in the same span.
Kansas
QB Jason Bean: The North Texas transfer is set up to have a big statistical season for the Jayhawks. After four games he's the leading rusher (270 yards and two touchdowns) and the leading passer (732 yards passing, five touchdowns and two interceptions). The Jayhawks haven't had a consistently dynamic performer at the position in the past few seasons, and it seems his transfer is giving Kansas something to feel good about this season.
WR Trevor Wilson: The wide receiver's head-turning play against Duke — one that made SportsCenter — wasn't the only good thing about his performance against the Blue Devils. The redshirt sophomore had five receptions for 122 yards in the game, the second time this season he's had five catches in a game (he did the same against South Dakota). Through four games, Wilson has 12 catches for 216 yards and a touchdown.
LB Gavin Potter: Through four games, Potter is having a significant impact on the Jayhawk defense. He has 29 tackles (second on the team), including 16 solo tackles. The junior is coming off his best game, with nine tackles against Duke. But he's also been consistent. In four games this season, Potter has had at least six tackles in every game.
Key storylines
Iowa State
The Cyclones are having trouble finding consistency a month into the season. While the loss to now-Top 5 Iowa is understandable, the loss last week to Baylor — now in the national Top 25 — showed that the Cyclones may not quite be the team that we thought they would be when the season began. Losing that game to Baylor hurt, as the Cyclones outgained the Bears by nearly 200 yards and lost in the final seconds. The Cyclones' defense ranks in the Top 10 nationally in yards per play (3rd, 3.89), total defense (4th, 216.0), yards per rush (5th, 2.09) and rushing defense (8th, 67.5). If the Cyclones' offense can just find more consistency, the Cyclones might be on to something.
Kansas
Despite its loss to Duke, Kansas put together an auspicious game against the Blue Devils. Quarterback Jason Bean threw for 323 yards, running back Devin Neal rushed for 107 yards and receiver Trevor Wilson had five catches for 122 yards. In doing so, Kansas had a 300-yard passer, 100-yard rusher and 100-yard receiver in the same game since Sept. 26, 2009, against Southern Mississippi. That has to be something to build on for the Jayhawks, who have now lost three straight games. While the Jayhawks have lost three straight games, in two of them they scored 22 points against Coastal Carolina and 33 against Duke. So, the Jayhawks can score points. But the defense has to improve. The unit has given up at least 45 points in each of its last three losses.
Prediction: Iowa State 45, Kansas 22
Iowa State is coming off a loss and will be looking to get back into a positive rhythm, and the Jayhawks are the perfect remedy. Kansas will score points, but it will likely come after the Cyclones have built a big lead.