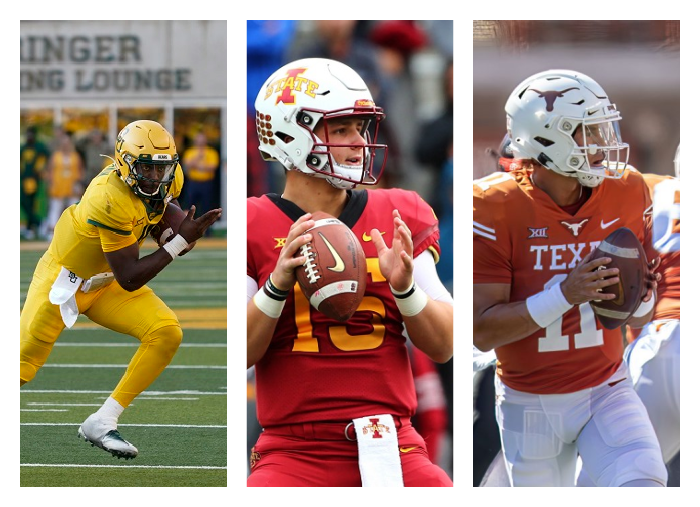 There is no position in all of sports that is more important than the quarterback. A good quarterback can help hide other areas of weakness on a team while bad ones can bring down even the best of teams. Either way, having good quarterback play is crucial for any team that hopes to make it all the way. Just like with team power rankings, I wanted to do a weekly quarterback power ranking after every weekend. Here you will find out who is trending up or down depending on their play on the field.
1. Baylor QB Gerry Bohanon
He may not also give you that wow factor, but he sure is consistent with is play. Gerry has a knack for making the right throw and extending plays when necessary. In fact, he is the only starting Big 12 quarterback not to throw an interception this season. He takes care of the football by making smart decisions which is also why he is completing over 73% of his passes. I was critical of his game before the season, and he has completely made me regret anything negative I had to say about him. I know Charlie Brewer was loved by many in Waco, but Gerry Bohanon is an upgrade.
2. Texas QB Casey Thompson
Despite only starting two games, Casey is already tied for the Big 12 lead in passing touchdowns with eight. He has elevated the Texas offense that desperately needed help after the Arkansas game. Casey is currently completing over 70% of his passes and has done a great job moving around and making plays. Perhaps if he had been the starter from day one, he could have taken the number one spot on this list.
3. Oklahoma State QB Spencer Sanders
One could argue he doesn't belong this high but after his performance on Saturday, he finally showed some glimpses of what he can do. He threw for over 300 yards on a good Kansas State defense and did not turn the football over. I know Spencer is limited as far as a passer goes but his legs are a big part of his game as well. Do I think Spencer is an elite quarterback? No but I do believe he can be a solid game manager and that pairs well with Oklahoma State's defense.
4. Oklahoma QB Spencer Rattler
His team may be 4-0 but I am not sure if I have seen a Heisman hopeful fall off like he has this year. Outside of the Western Carolina game Spencer Rattler has thrown for three touchdowns and three interceptions in the other three games combined. While his completion percentage is fine, he just looks rattled out there and has not looked like he did last season. I don't know if it is a confidence issue or what, but Spencer is just not same player this season.
5. Iowa State QB Brock Purdy
Just like with Spencer Rattler, I am not too sure who this guy is in 2021. He had a slow start last year, but he finished the year strong but this year he looks like a completely different quarterback. Outside of the UNLV game, Purdy has thrown for just one touchdown pass in the other three games combined. I thought he looked better on Saturday than he did in the first two weeks, but I just need to see Brock cut loose and play like he has before. He is a good quarterback, but I just have yet to see that this season.
6. TCU QB Max Duggan
Max is actually on pace to have a career year in terms of passing but I think he still has some work to do. While his touchdown numbers are up from where he was a year ago, his completion percentage is still under 61% and against SMU on Saturday he completed just 57.1% of his passes. One could argue he belongs in the top three on this list, but I wish he could do as much damage through the air as he could on the ground. I am still a believer in Max, and I am sure he will climb up this list.
7. West Virginia QB Jarret Doege
I have made myself pretty clear on several occasions that Jarret Doege is what is holding West Virginia from taking that next step under Neal Brown. Doege has been fairly average this season and has yet to wow me in any game against a power five opponent this season. Can he be a decent game manager? Maybe but he is still a huge liability to the Mountaineer offense and if they have to rely on his arm to win them a game, I would be worried.
8. Texas Tech QB Henry Colombi
I know he didn't play the full game, but Henry moved the offense better when he was in the game against Texas. He was able to throw for over 300 yards and led the Red Raiders to a few scores. Now how much did that matter in garbage time? Probably not much but I have more faith in him as a passer than I do the guys behind him on this list.
9. Kansas State QB Will Howard
Sometimes being a game manager is a good thing but sometimes you simply need more from your quarterback. Will Howard is capable of making plays with his feet, but his arm has always been questionable at best. In the three games he has played, he has yet to throw for over 150 yards in a game and I know he doesn't attempt many passes, but he also doesn't complete many either.
10. Kansas QB Jason Bean
Jason finally had a big game this past weekend against Duke, but he turned the football over twice. That was the first time this season that he threw for over 200 yards, but they lost the game anyways. Jason may be the fastest Big 12 quarterback, but he still has a ways to go in the passing game. It also doesn't help that his offensive line has played poorly so far this season.