Big 12 News
Boise State, San Diego State Inform Mountain West on Plans to Remain in Conference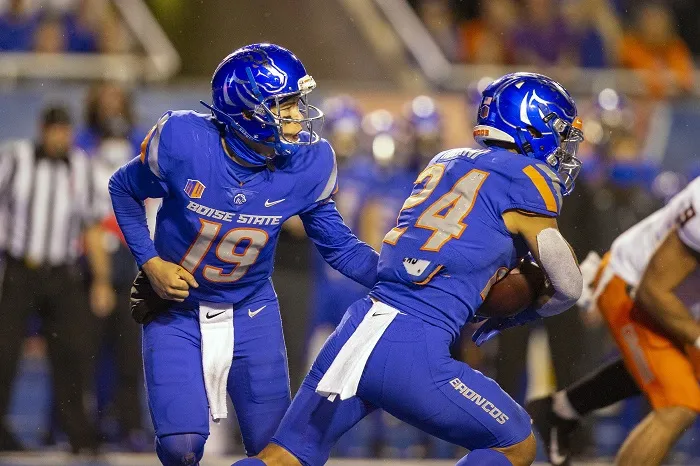 As the conference realignment game continues in the Group of 5, Boise State has informed the Mountain West that it plans to remain in the conference, as first reported by Pete Thamel.
This comes just days after it was reported that the American Athletic Conference tried to poach Boise State, but the University is reportedly holding out hope for an invite to the Big 12.
Boise State has long been talked about as a potential fit in the Big 12, but obviously that did not happen, as the league decided to add four teams in BYU, UCF, Houston and Cincinnati.
This report also comes two weeks after we learned that Oklahoma State's President was set to visit with Boise State's President and discuss expansion when the two teams met in Boise two weeks ago.
Voice of the Cowboys, Dave Hunziker, told K101 Radio in Woodward, Oklahoma, during their Friday Night Quick Scores program that Oklahoma State President Kayse Shrum is heading out to the Boise State game to visit with Boise State President Marlene Tromp, and expansion will be part of their discussion.
Meantime, San Diego State may also have it sights set on the Big 12 Conference. It may seem like a geographical stretch, but as our Robert Graves noted, San Diego State is a worthy consideration for the Big 12.
Graves wrote in part:
"Beyond San Diego State's big market, commitment to building its football future, and rivalries with schools in the western states, it also offers two unique advantages not available with any other expansion candidate: California recruiting and the Pacific Time Zone.  
[Since the] Big 12 added Cincinnati and UCF, it will plant flags in two more of the nation's biggest recruiting hotbeds, Ohio and Florida. Texas, of course, is already well staked out for the Big 12. That leaves a few recruiting hotbeds without flags, and the largest of those is California."
Needless to say, the Big 12 is finally being aggressive, with the league even potentially having its eyes set on some Pac-12 teams. And you can count Boise State and San Diego State as two of those programs hoping they will also get on the Big 12's wish list sooner rather than later.