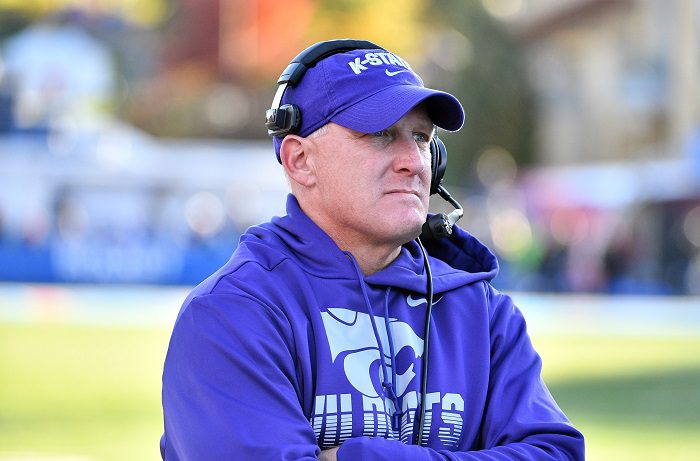 The Chris Klieman era began at K-State on Saturday, August 31st, 2019. Nobody quite knew what to expect. How would this team look compared to Bill Snyder's Wildcats? Would they be better? Worse? I was skeptical of the hire because Klieman had no FBS head coaching experience.
He was a good coach, but could he recruit at a high FBS level? Would he be able to take over the roster and win some games? Despite my skepticism of the hire, I was looking forward to witnessing a new era of Kansas State football.
Hot Starts
K-State beat Nicholls State 49-14 that day, and they looked great doing so. Granted, Nicholls is an FCS team, but K-State cruised to victory. The following week they beat Bowling Green 52-0. Then came a trip to Mississippi State. Klieman's Wildcats beat the SEC team by a touchdown.  K-State fans were pretty darn excited. This Klieman hire was going to work out well! Then reality hit the following week in a 26-13 loss to Oklahoma State followed by a 31-12 loss to Baylor. Were the first three victories of the season a smokescreen? Not necessarily, as K-State went on to an 8-4 record, a trip to the Liberty Bowl, and a loss to Navy.
K-State started the 2020 season with a loss to Arkansas State before rolling off four straight conference wins, including a win over number three Oklahoma, to sit in first place in the Big 12. Fans were once again excited. I wrote my first column for Heartland College Sports titled "Kansas State Wildcats: Contenders or Pretenders?"  The Wildcats looked so impressive at the time that I labeled them as contenders to win the conference title.
Boy, was I wrong.
They went on to lose the last five games of the season to finish at 4-6. Skylar Thompson was injured and out for the season, but most fans, along with the coaching staff, excused the losses as COVID-related. I was skeptical of that reasoning, but there wasn't a solid argument to be made either way.
2021 a Mirror Image of 2020?
The 2021 season began with Skylar Thompson returning as the team's starting quarterback, leading them to a great win against Stanford. Thompson was injured in the second game against Southern Illinois, but K-State still won all three non-conference games. Fans were excited once again. Klieman told everyone who would listen that Will Howard is the best backup quarterback in the country and K-State would be just fine with him running the team. Then reality set in on Saturday in a 31-21 loss to Oklahoma State. The loss looked eerily similar to the last five losses of the 2020 season. I saw the same issues at quarterback, the same issues on defense, and the same issues at other positions on the offense as I saw last season.
Chris Klieman's K-State teams have started each season on a roll. There was the aberration of the Arkansas State game to start last season, but the Wildcats quickly moved on from that close loss. After the hot starts, K-State fans get excited because the team looks really good. Then something happens and the Klieman train goes off the rails.

What's the old saying?  "Fool me once, shame on you. Fool me twice, shame on me. Fool me three times, shame on both of us."
The explanation for this could be as simple as match-ups against certain teams not favoring the Wildcats. Klieman has now lost to Oklahoma State three times. I think it's fair to say he was out-coached on Saturday, particularly in the first half. Klieman also has yet to beat West Virginia, Baylor, or Texas, and it looks like he won't this season, either. I believe there is more to the story than match-ups.
Figuring Out QB
K-State has a real problem at quarterback. There are other issues with the team, but it all starts with the quarterback. I don't see any improvement in Will Howard from last season to this season. The third-string quarterback, Jaren Lewis, does some good things but is not ready to be a starting quarterback in the Big 12. And what of Jake Rubley? Is he hurt? Why isn't he mentioned as an option? I understand that he's a true freshman, but true freshmen need to be ready to go, especially when you're a highly rated recruit like Rubley. Chris Klieman had his weekly press conference and said that he was going to get Max Marsh and Jake Rubley ready to play in case they need an emergency quarterback on Saturday should both Howard and Lewis get injured. It's highly likely we're going to see the Howard/Lewis show again on Saturday.

I don't want to overreact to one loss, but I do question if and when K-State football will take a step forward. K-State was down a few players on Saturday, with Khalid Duke and Daniel Imatorbhebhe out, among a few others. Those losses hurt, but injuries happen on every team and you have to overcome them. There's still a long way to go this season, but what I see from Will Howard is the same thing I saw from him last year when the Wildcats went 4-6. I don't think they're going to win many of their remaining games with him at the helm. They need Skylar Thompson back and healthy. And they need him to stay healthy. If not, it's going to be another long season as a K-State football fan.