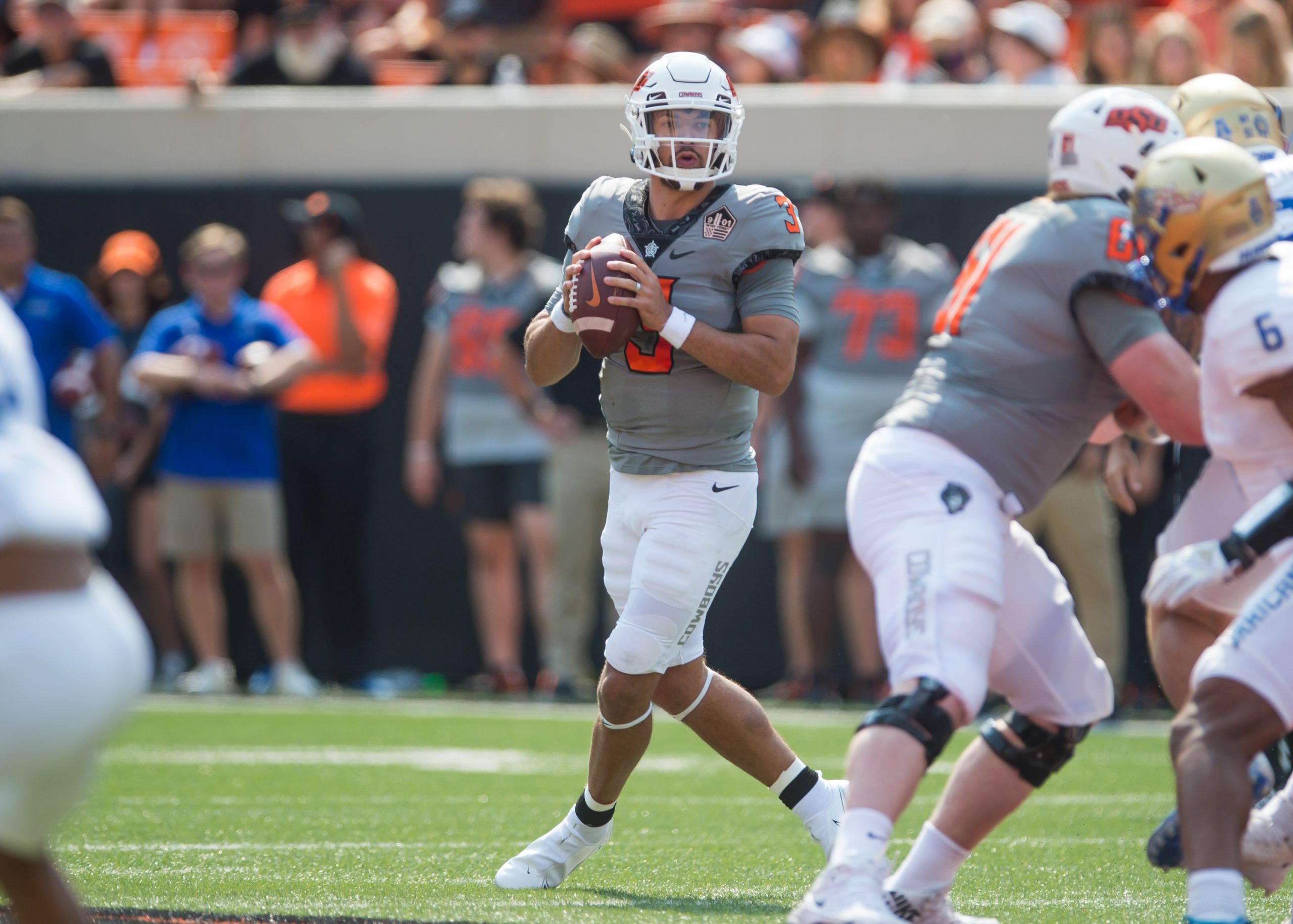 I would assume most fans and critics wrote off the Oklahoma State Cowboys after a lackluster first three games to start the season. Games that saw the OSU offense struggle to move the ball consistently against the likes of Missouri State and Tulsa, barely squeaking out wins in both games. Then, they went to Boise State and had to hang on late for a victory over the Broncos on their blue turf.
But after an unusually aggressive first half performance against a ranked Kansas State team where the Cowboys put up 31 points through the first two quarters (more than they've scored in any game so far this season), Oklahoma State may be a team to keep an eye on when looking at the Big 12 title race.
OSU looked competent on offense for the first time all season, scoring at will while maintaining a steady balance in the running and passing game. Spencer Sanders had perhaps his best game of his Cowboy career, going 22-34 for 344 yards and two touchdowns while throwing no interceptions. A complete 180 from last week's win over Boise State, where Sanders completed only six passes for 82 yards and no touchdowns.
Jaylen Warren picked up right where he left off after his 218-yard, two touchdown performance at Boise with a 123-yard day versus the Wildcats. He also added 82 yards receiving on four catches, most of which came off of halfback screens.
Predictably, Mike Gundy and coordinator Kasey Dunn took their foot off the gas and sat on the 31-13 lead they held going into halftime, reverting back to the skeleton offense we have become accustomed to and scoring zero points in the second half. The Cowboys allowed one score the rest of the game, winning 31-20 in the most impressive performance we have seen from the Pokes thus far this season. 
The question is, if the Cowboys keep up the aggressive offensive play we saw in the first half Saturday, would they become serious contenders to win the Big 12? With Oklahoma and Iowa State struggling at the moment, could OSU sneak their way into the top two spots and into Jerry's World come Dec. 4? 
Gundy and Dunn will have to extend that promising offense into the second halves of games if they want to be real contenders this season. Creating a lead and sitting on it for two quarters won't work against better offensive teams.
We'll know more this weekend when the Cowboys take on No. 21 Baylor at home. The Bears' defense will be the best Oklahoma State has faced this season, so a similar performance to the first half versus K-State in this game would be a great sign for Cowboy fans.
Mike Gundy's team still has to prove they can hang with the top contenders in the Big 12. OSU has yet to play Oklahoma, Iowa State and Texas, with the Longhorns looking like the strongest of the three after a 70-35 bashing of Texas Tech.