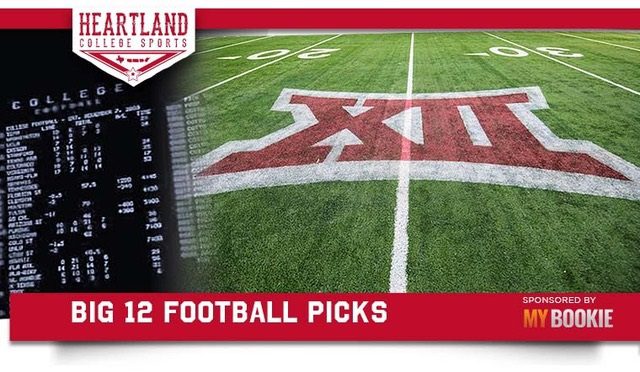 Well it's a new season of college football and that means a fresh slate for my Big 12 football picks against the spread. As they have been for several years running, our friends at MyBookie.com are the sponsors of the picks, and with our promo code "BIG12" you get to DOUBLE your first deposit, no questions asked! Support them to support us at Heartland College Sports and get your picks in.
Our Week 4 picks went 2-4, so we are 11-14 on the season, and now it's on to Week 5 with five games to pick.
Texas at TCU
I know TCU has owned this series. Gary Patterson is 7-2 vs. Texas since joining the Big 12 Conference. But this year feels different. Gary Patterson has had mediocre teams the last three seasons, but the defense was stout. That doesn't appear to be the case this year, giving up over 70 points to SMU and Cal their last two games, while Texas comes in with Steve Sarkisian's offense humming along under Casey Thompson, dropping 128 points in their last two match ups.
TCU's offense is better, but I don't see how it can keep up with Texas. Gary Patterson surprises in this game quite a bit, but this doesn't feel like the year for that.
The Pick: Texas -5
Kansas State vs. Oklahoma
I've been on the wrong side of Oklahoma in every game this season, with close games against Tulane, Nebraska and West Virginia. But this feels like the game they finally break out, mostly because their defense will force so many three-and-outs against K-State's inept offense without Skylar Thompson that it will wear down KSU's defense to the point it will eventually fold. K-State's only chance is to win on the ground, but OU is second in the Big 12 in rushing yards allowed per game (76), so that won't be happening for the Cats.
The Pick: Oklahoma -10 (buy 1/2 point if you have to)
West Virginia vs. Texas Tech
The Mountaineers are the better team, but they aren't built to blowout teams and these two have historically played close games in recent seasons. Four of the last seven match ups have been decided by eight points or less. Henry Colombi looked decent at QB last week, replacing the injured Tyler Shough for the Red Raiders. He might surprise WVU on Saturday, as the Mountaineers could still be suffering a bit of a hangover from their near-miss at OU, while Tech has got to be seething after getting smoked by UT. WVU should be the favorite to win, but I don't see this offense blowing out anybody.
The Pick: Texas Tech +7.5
Iowa State vs. Kansas
Kansas games against the spread are pure feel. The line is so big, you have to go with your gut. There's not a ton to analyze. Kansas got its offense going a bit last week against Duke, a team they led at halftime. No doubt, Iowa State is a much better team, and the defense is really good, but if I can get five touchdowns for the Jayhawks, I'm doing it. I though this line would settle in the high 20's, so for that reason alone, I feel I need to go with KU. Plus, Iowa State's offense is still in a funky place, so asking them to cover a number this big feels like too much.
The Pick: Kansas +35 (buy 1 point, if needed)
Oklahoma State vs. Baylor
This is the game of the week in the Big 12 with a Top 25 match up in Stillwater. The Pokes and Bears have impressive defenses that should make this a close, low-scoring game. This one will come down to who blinks in the red zone. Baylor comes in with the third-best red zone offense in the Big 12, while Oklahoma State's is seventh. Also, BU is ranked first in the Big 12 in passing efficiency and second in pass defense efficiency. This one will be a field goal either way, so I'm taking the Bears and the points.
The Pick: Baylor +4