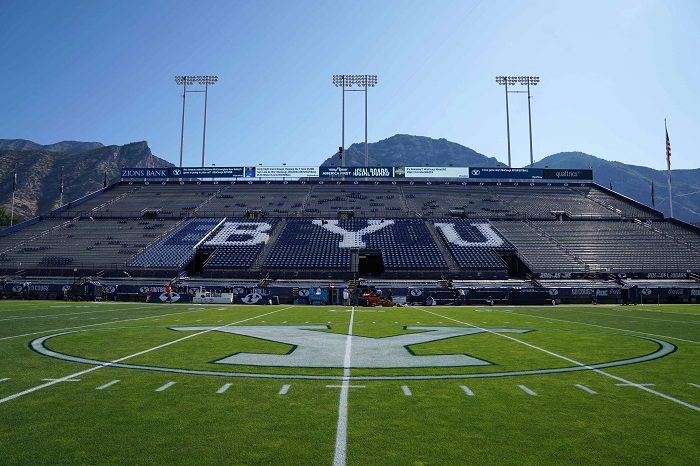 Here is everything you need to know about the Battle for the Old Wagon Wheel between BYU and Utah State.
GAME INFO
7 p.m. MDT, Friday, Oct. 1, 2021, Maverik Stadium, Logan, Utah
TV: CBS Sports Network (Rich Waltz, Aaron Taylor, Jenny Dell)
Away Radio: Aggie Sports Network, XM 382, Sirius XM app 972, 1280thezone.com, tunein.com (Scott Garrard, Kevin White)
Home Radio: BYU Sports Network, Sirius XM 143, BYU Radio, BYUCougars App, KSL 1160 AM in Provo (Greg Wrubell, Riley Nelson, Mitchell Juergens)
Utah State Head Coach: Blake Anderson (3-1 in 1st season at Utah State, 54-38 overall)
BYU Head Coach: Kalani Sitake (Other than 2020, 31-25 in 5 seasons, same overall)
Series History: BYU leads 49-37-3. The Cougars currently have the Wagon Wheel after winning 42-14 in 2019.
Opening Line: BYU -10
Over/Under: 50 1/2
Fun Facts: BYU is one of six teams to not trail at any point this season. They've done this against three Pac-12 teams, a conference which shun them. Thus, opening the door for the Big 12 Conference to bring the Cougars aboard.
KEY PLAYERS
UTAH STATE (3-1, L 27-3 VS BOISE STATE)
WR Devan Thompkins
Utah State ranks 13th in the nation for passing. A big reason why is Thompkins, who is third in the nation with 128.5 yards per game. Even more impressive is that he's 24th in the nation in all-purpose yards, despite the average only being 3.5 points higher than his receiving average. Thus, he's gaining more yards through receptions than most running backs do on the ground and in the air combined.
LB Justin Rice
One week ago, Jaren Hall was out for BYU. Masen Wake also left the game, taking away one of Baylor Romney's go-to options. Rice could wreak havoc on a young quarterback. He's third in the nation for interceptions with three. He's forced one fumble. Rice has also racked up 40 tackles, 5.5 of which are for loss. Rice is a 6-foot-2, 225 pound graduate transfer from Arkansas State. Whoever plays quarterback for BYU will want to know where he is at all times.
BYU (4-0, W 35-27 VS. SOUTH FLORIDA)
RB Tyler Allgeier
BYU has two solid quarterbacks. One might be held out due to injury concerns. Regardless of who plays at quarterback, Allgeier is a fine option to turn to. The Aggies are giving up just shy of 200 yards per game on the ground. Allgeier is averaging over four yards per carry and has four touchdowns on the season. If Utah State can't plug up the holes, Allgeier might have a field day.
DL Tyler Batty
Batty has struggled with injuries recently. He missed much of the odd anomaly that was called the "2020 season", and also missed last week. One of the key takeaways a week ago was how depleted the defense seemed to be by the end of the game. Having the 6-foot-5, 265 pound freshman back in the trenches should be a massive gain for BYU. The question is, how healthy is he? If he's healthy and ready to go, it might be a long night for the Utah State offensive line.
KEY STORYLINES
BYU
Injuries. BYU must remain healthy. The Cougars are undefeated thus far, but they nearly blew a 28-6 halftime lead against a horrible South Florida team at home a week ago. If BYU can stay healthy, the Cougars could crash the College Football Playoff. BYU is currently at No.13. They play a total of seven Power Five teams and are 3-0 against the Pac-12 so far. Two more Pac-12 teams remain on the schedule in addition to Baylor and Virginia. If BYU isn't healthy though, all of the hard work could come crashing down to a disappointing season.
UTAH STATE
The Aggies suffered their first loss in the Blake Anderson era at the hands of Boise State last week. The offense will be looking to bounce back after only managing a field goal against the Broncos. That will not be an easy task as BYU's defense, when healthy, has held all Pac-12 opponents to under 20 points.
Prediction: BYU 28 Utah State 17
I still think BYU has some health problems. It will be interesting to see how the defense plays. I have no doubt the offense will be able to put some solid drives together. Another issue I saw against South Florida was coaching adjustments. How will each of the two teams respond after halftime? South Florida outscored BYU 21-7 in the second half. Yes, I'm picking BYU to cover this week. There are definitely some concerns, most notably how healthy BYU is.