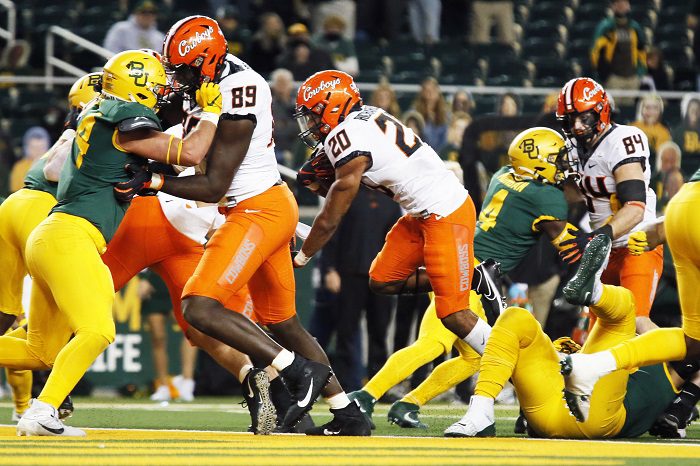 It's time for a little roundtable as the Heartland College Sports crew went around the horn and picked the best Big 12 game on the schedule in Week 5 of the 2021 college football season. There's not an obvious choice here, as conference play is kicking off and there are still lots of unknowns about the Big 12 this season. So with that being said, let's dive into everyone's picks for the upcoming week.
Pete Mundo: Oklahoma State vs. Baylor
Both these teams have a 4-0 record and are, rightfully so, thinking that they can be the surprise team in the Big 12 Conference, which looks as wide open as it has in a few seasons. It's still Oklahoma's to lose until further notice, but Baylor and Oklahoma State should be looking in the mirror and thinking, "Why not us?!" Both teams have stout defenses. Yes, you read that right, national media tools. And having this game at night on ESPN2, might just draw a few more of those national viewers than it would at 11:00 a.m. It feels like a 24-21 type of game to me, and if it lives up to those expectations, we are in for a good one on Saturday night.
Matthew Postins: Kansas State vs. Oklahoma
The Sooners have to have revenge on their mind after their loss at home to Kansas State a year ago. The Sooners got the chance to avenge their loss to Iowa State last season in the Big 12 Championship game. But, in hindsight, one could argue the loss to K-State did more damage to their chances to reach the College Football Playoff. Having been to home games in Manhattan I can tell you it's going to be a terrific atmosphere and those fans are going to give the Sooners grief. Now, the Wildcats are down, personnel-wise, to be sure. But K-State seems to have a way of making OU's life difficult, no matter the circumstance. And, after last week's near-loss to West Virginia, I could see the Sooners struggling again. And you can only get lucky for so long …
Derek Duke: Oklahoma State vs. Baylor
A Top 25 matchup in the Big 12? Sign me up because that is my game of the week. Both teams are undefeated and who ever wins this game will have the inside track to the Big 12 title race. Years ago, this would have been a high scoring shootout but not this year. Baylor and Oklahoma State love to run the football and play great defense and both can do just that. This may look more like a Big Ten game than a Big 12 game but make no mistake, there is going to be some hard-hitting football in Stillwater on Saturday. The difference in this game will come down to quarterback play because everything else will likely cancel itself out. The question is who is going to be better on Saturday, Gerry Bohanon or Spencer Sanders? I can't wait to find out.   
Robert Graves: TCU vs. Texas
Whoo! Gary Patterson is hopping mad! And while we've all got to see him shake his fist at the SMU Fighting Flag Planters, I don't even want to know how bad it's been for TCU's defense. The TCU D has been licked like a psychedelic frog in a hippie commune over the last two games as both Cal and SMU lit the Horned Frogs up for a combined 1,037 yards. Ugh. Meanwhile, Texas has been doing its best to outscore the Longhorns basketball team this season, hanging 128 points since getting smacked by the Razorbacks in Week 2. The Hogs exposed Texas' run defense, and though Texas won last week, 70-35, the Red Raiders hung 520 yards of offense, mostly through the air, on the Longhorn D. Longhornedfrog story short, this is a game with two rocking offenses and two defenses that have to start playing better. I expect hard hits and fireworks all game long. But wait, there's more! Don't forget about the special kind of hate between these two in-state rivals. TCU has had Texas' number by the count of 7-2 since 2012 and don't think for a second that Texas isn't aware of how that record was scoffed at when UT's president was dragged before the Texas legislature this past summer regarding Texas' exit to the SEC. Speaking of Texas' exit to the SEC, the Longhorns once again found a way to put TCU's status as a member of a power confernce in doubt. This game is already about to burst at the seams and it hasn't even kicked off yet. I can't wait.