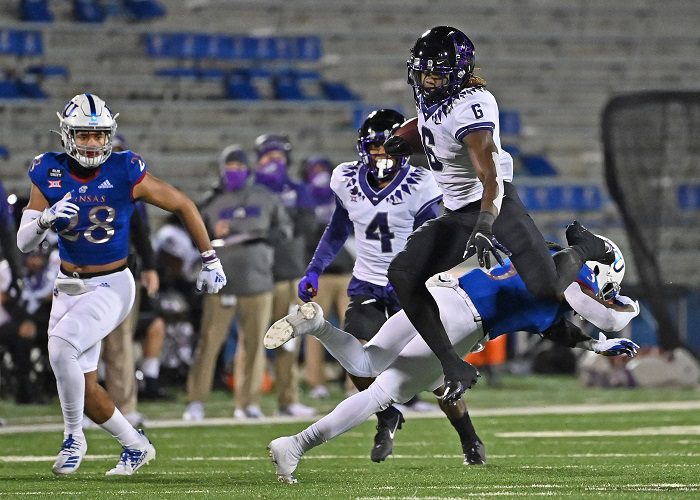 Zach Evans does it all. 
The TCU Horned Frogs running back shows patience, speed, and elusiveness whether he's rushing for a 50-yard touchdown or catching a ball off a screen pass. 
Evans can even pick up a pass rush and give quarterback Max Duggan more time in the pocket.
As a freshman last season, Evans carried the ball 54 times for 415 yards and four touchdowns over nine games. Those numbers only hinted at what the former five-star recruit could produce with a proper offseason and complete trust from the coaching staff.
Now, he's an offensive catalyst and a major reason the Horned Frogs rushing attack (206 yards per game) ranks third in the Big 12. 
Evans has 42 carries, 330 rushing yards, two touchdowns and a 7.9 yards per rush average through three games. Not only should he blow past the 2020 numbers, Evan is also on pace to become TCU's first 1,000-yard rusher since Kyle Hicks in 2016.
The Horned Frogs might need all those rushing yards as the passing offense works through some issues.
Duggan completed zero passes to No. 1 wide receiver Quentin Johnston during Saturday's 42-34 loss against SMU. The duo only produced yards off a defensive pass interference call in the end zone. 
Wide receiver Taye Barber stepped up with five receptions for 114 yards and a touchdown. Evans caught a season-high three passes for 70 yards in addition to posting 113 rushing yards on 15 touches.
TCU's offense looked on track after scoring 21 first-half points, including a 45-yard touchdown from Evans off a screen pass.
Then the scoring and ball movement slowed down until a late fourth-quarter touchdown drive.
Duggan needs time to get in sync with Johnston and the other wide receivers. He has shown improvement from last season, though, with 717 passing yards and seven touchdowns through three games, compared to 1,795 yards and 10 touchdowns over 10 games.
Evans can help alleviate some pressure if TCU keeps him as involved as possible in the offense. Create more pass-catching opportunities, increase the number of carries, and let him block on passing downs. 
Just keep Evans on the field.
Opposing defenses know when he touches the ball, the field somehow opens up. A single missed tackle might result in a touchdown.
The Horned Frogs have used the running back by committee approach the past couple seasons. That should change with Evans.
The coaching staff is slowly adjusting the game plan accordingly. Duggan's 31 carries rank second behind Evans while running back Kendre Miller has 17 touches.
Like any good, elite athlete, Evans will adapt to an increased workload. This is a strange approach for a TCU program that had not landed a five-star recruit before Evans.  
Usually, the Horned Frogs recruit three and four-star athletes and transform them into all-conference level players by their junior or senior years. Evans has the talent now and needs the touches. 
TCU found the featured running back it lacked in recent seasons.
It's time to let Evans take off.