Trending Now
Three Thoughts on BYU's 34-20 Win over Utah State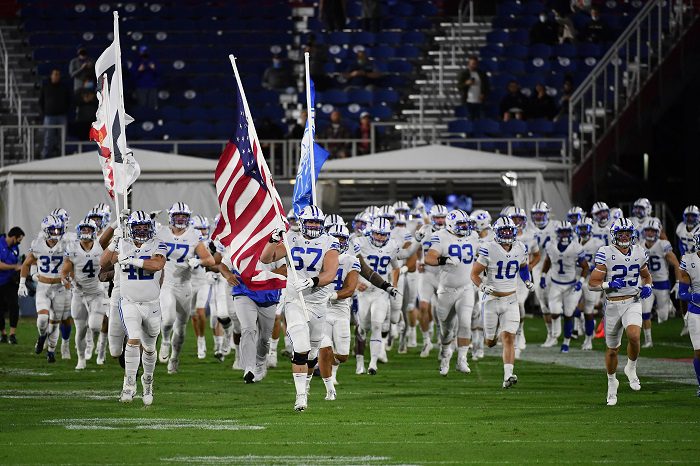 Through five games, BYU has yet to trail. The Cougars extended their unbeaten streak to five games and retained the Wagon Wheel with a 34-20 road victory over rival Utah State. Despite not having Jaren Hall and Masen Wake, BYU's offense continued to roll. Meanwhile, the defense kept yet another offense to 20 points or fewer. That is four in five games.
1. Tyler Allgeier could be a future Heisman Trophy winner
Whoa! Whoa! Whoa! I didn't say it would happen this season. Allgeier is just a sophomore. However, a 200-yard plus rushing day helps anyone's narrative. Allgeier racked up 107 yards on the ground in the fourth quarter alone. By halftime, he had 98 yards thanks to a 59-yard touchdown. Not only can he run, but he gets open on pass plays. Allgeier hauled in five receptions for 22 yards. The odd thing about this is that he had 27 yards after the catch. Allgeier is a playmaker, but the true tests are coming in the weeks ahead. He will have be tested next week against Boise State. Baylor is also coming up later in the season.
2. The offense operates as a team
Jaren Hall goes down, bring in Baylor Romney. Tyler Allgeier racked up over 220 yards on the ground. Without Masen Wake, eight different players still hauled in receptions. Six different players had at least two receptions. Starting quarterback Baylor Romney had multiple receptions too. Three different players attempted passes. Jacob Conover finished 5-for-8 for 46 yards. Neil Pau'u completed both of his passes. This offense can pick its poison.
3. BYU wins the second half
The Cougars didn't have this game sewn up by halftime. The lead was 24-13 which is a smaller margin than what BYU had against South Florida at halftime. BYU outscored Utah State 10-7 in the second half. This is a good sign heading into their game against Boise State. Halftime adjustments will be key against the Broncos. This will likely be BYU's toughest game this season. Yes, even tougher than the three Pac-12 teams. Remember, it is widely rumored the Big 12 will expand again. That expansion is almost guaranteed to include Boise State. This might as well be considered a Power Five game.