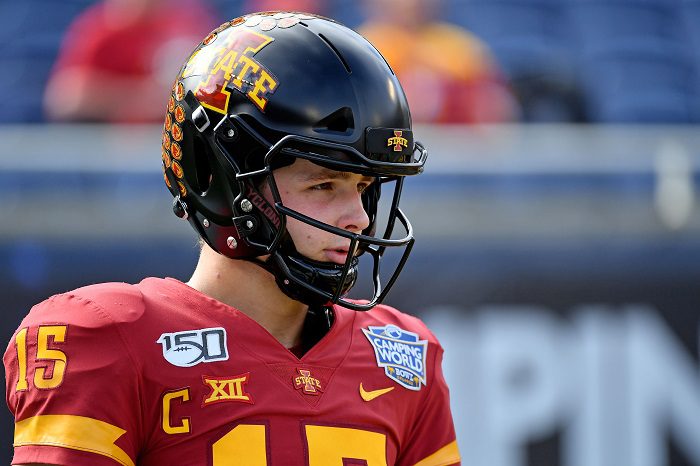 The Iowa State Cyclones came home after a loss in Waco to the Baylor Bears and hosted the Kansas Jayhawks, who they took their frustrations out on in a 59-7 win over KU. With the win, Iowa State turns the page on a bad September and improves to 3-2 on the season and 1-1 in Big 12 play, while the Jayhawks fall to 1-4 overall and 0-2 in conference action.
So with the game in the books, here are three thoughts on Iowa State's win.
1. A Brutal First Quarter
If you missed the first few minutes of this one because you were busy watching Oklahoma State vs. Baylor or wrapping up a previous game from around college football, it was over by the time you got there. Iowa State jumped out to a 28-0 first quarter lead thanks to an efficient offense, plus some disastrous mistakes by KU. Here's how the first quarter unfolded in Ames: Iowa State goes 70 yards in six plays for a touchdown, KU then fumbles on its second play. Iowa State responds three plays later with a Brock Purdy to Charlie Kolar six-yard touchdown. On the ensuing drive, KU went for a 4th and 1 on their own 45-yard line and did not get it, giving Iowa State prime field position. Then, Iowa State's only play of the drive was a 44-yard touchdown pass from Burdy to Joe Scates. For KU, their next drive resulted in a blocked field goal attempt, and then, once again, Iowa State punched it in the end zone again with Jirehl Brock catching a seven-yard touchdown from Brock Purdy.
This first quarter was as ugly a first quarter as you will see for the Kansas Jayhawks, and this game felt like it was over with just a few minutes gone by. Yikes.
2. Is Brocktober Here?
As we know, Brock Purdy and the Cyclones always pick up their game come October, hence the phrase "Brocktober" that has taken over in Ames the last couple of seasons.
Is this the start of "Brocktober"? Not so fast. Don't get me wrong, Purdy had himself a game, completing 17/22 passes for 245 yards, with four touchdowns to zero interceptions. He also had five carries for 37 yards. It was a great game, but unfortunately, it's hard to take too much for this game, given that they were playing Kansas.
This is exactly what I said for Baylor, when the Bears got off to a 3-0 start, with their last of those three wins over KU. I had to see more. And when it comes to Iowa State, given their September slump, I need to see them put it together against Kansas State and Oklahoma State in their next two games before we declare "Brocktober" as being back for 2021.
3. The Long Road Continues
It's not getting any easier from here for Kansas. The issues are across the board and on both sides of the ball. This is nothing new for KU fans, but you're just looking to see a team that continues to fight, steadily improve and make gradual improvement in Lance Leipold's first season.