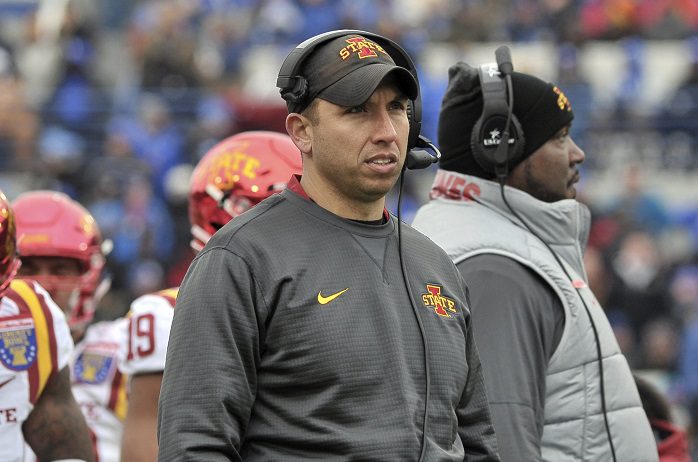 The Iowa State Cyclones improved to 3-2 on the season and 1-1 in Big 12 play after rolling the Kansas Jayhawks 59-7 on Saturday in Ames. Iowa State jumped out to a quick 28-0 first quarter lead over KU and never looked back, to win their first conference game of the season.
And while Iowa State is certainly still in the Big 12 Conference hunt, then again who isn't outside of Kansas, congratulations are most certainly not yet in order.
After the Kansas game, head coach Matt Campbell said he felt like this players were 'starting to play their style of football', as the Des Moines Register noted. Campbell said, "I felt really confident leaving Baylor that we're playing our style of play the right way. I feel really confident in how our kids are playing right now. I just saw that continue from Baylor."
He also added the following about quarterback Brock Purdy, saying, "I felt like Brock has really started to really play Brock Purdy-style football. I'm really proud of him. You got to strengthen through struggle, and when your best players have the ability to do that, I think your team has the ability to do that. I thought he was really outstanding for most of the game."
All of that is true. Every player and every team will hit roadblocks during a season and during their careers, and it's how you overcome them that defines you as a team and as a player. And yes, maybe Iowa State rips off wins in six of their next seven games, or heck, they close the season with seven wins in a row on their way to a second-straight Big 12 Championship Game appearance.
That would be incredible as Matt Campbell continues to cement his legacy as the greatest football coach in Iowa State history. He has accomplished things that were previously unthinkable in Ames. And that includes the hype leading into the 2021 college football season.
But the reality is the start of the season will leave a sour taste in the mouth of this team and fan base. As it should.
Yes, the Iowa Hawkeyes look like legitimate College Football Playoff contenders, which no one necessarily predicted heading into Week 2. And Baylor is vastly improved. But given the fact the fact that Iowa State brought back one of the most veteran-laden teams in the entire country, should it have taken five games (at least) for this team to find its style of play?
It's the same group of guys who finished out an outstanding 2020 season that was capped off with a Fiesta Bowl win over Oregon. So many of them passed on a chance to go play in the NFL to return for one more magical run in Ames.
If this was a team full of sophomore and juniors who tasted success last season and then possibly rested on their laurels in the offseason and took things for granted coming into this season, I might have understood it. That's not what this team is. Many of them, along with Campbell, were the faces of the rebuild of Iowa State football. They all came here with a vision, followed it down to a T, and saw it succeed beyond possibly their wildest imaginations.
Yet when the chips were on the table, and there was a chance to solidify College Football Playoff legitimacy, the slow start, once again, got the best of the Cyclones.
None of this is to damper what can still be an outstanding season in Ames. Look at the Big 12, it's as wide open as it's been in years. If Iowa State goes on to win a Big 12 Championship, the statue of Matt Campbell should be up before Christmas, of this year.
But I keep thinking back to my question to Matt Campbell at this past summer's Big 12 Media Days. The question was regarding his slow starts and going from the "hunter" to the "hunted". At the time he said, "It's been an area for us where I think we've kind of tried to look at that from a holistic approach in saying, man, where do we have to get better.… So I think I would put any issue that we've had on my shoulders because it's probably been a failure of mine that we just haven't been able to get off to a good start at times throughout our tenure here, but I think it's certainly something we've looked at holistically, and it's always, man, how do we give our kids the opportunity to be the best version of themselves they can be."
No one in Ames is going to go around blaming Matt Campbell for much, nor should they. What he has done remains one of the great coaching jobs in modern college football history. Heck the fact that we even spent the summer talking about "Iowa State" and "College Football Playoff" in the same sentence is incredible.
But if Iowa State does carry another strong "Brocktober" into a "November to Remember" and another chance at a Big 12 Title in AT&T Stadium, there will undoubtedly be the "What If" conversation thinking back to September. This will especially be the case given how drunk this college football season has been, with three more Top 10 teams losing on Saturday.
And if we get to that "What If" conversation, while drinking Busch Lights outside Jerry World on a brisk December day in Arlington, Texas, Iowa State fans can only hope that the next time the Cyclones find an offseason with this kind of hype, they'll have figured out the slow starts.
If there is a next time.