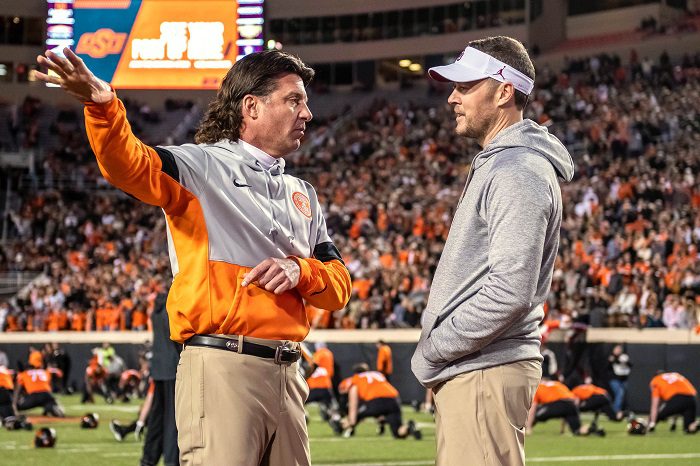 Week 5 of the Big 12 football season is in the books, and there is once again a ton of movement in our Big 12 Power Rankings. And to think the full Big 12 conference slate just started in full force this past Saturday. What a fun first full week, as several games went down to the final few minutes of the fourth quarter, and if you're into the spread, there were some late back-door covers as well. A weekly reminder that these rankings can fluctuate greatly on a week-by-week basis, based on how teams have performed in their most recent games and who they've beaten, not what we predict the final Big 12 standings to be and not what the preseason rankings were.
So with all that being said, here's a look at our Big 12 Football Power Rankings heading into Week 6 of the season.
1. Oklahoma State (Last Week: 3)
There is a new No. 1 this week as the Oklahoma State Cowboys now have two Top 25 wins under their belts after taking care of Baylor on Saturday 24-14 in Stillwater. How are the Pokes doing it? Good old fashioned hard-nosed defense and the running game. This is not your father's, or more like older brother's, Oklahoma State Cowboys. The Pokes don't have the high-flying sexy offense, but Jaylen Warren is proving to be the toughest roughing back in the Big 12, which is complementing the defensive style very well.
2. Oklahoma (Last Week: 1)
The Sooners drop a spot, despite their win over Kansas State this past weekend. They looked to have figured some things out, especially on offense, but still, OSU has two Top 25 wins, OU has zero, so for now, the Cowboys get the nod for the No. 1 spot. Spencer Rattler looked better than he has all season on Saturday, which is a huge key for OU to try and start to look like the National Championship contender they were billed as before the season began. Defensively, this team is stout, and remains the only reason the Sooners are still undefeated.
3. Texas (Last Week: 3)
The Texas Longhorns went on the road and beat TCU for the first time since 2013. It's hard to fathom that, but Gary Patterson has had Texas' number since he joined the Big 12. But Patterson has not had to face a running back like Bijan Robinson until this past week, when the sophomore went off for over 200 rushing yards on the afternoon. Steve Sarkisian is doing what Tom Herman should've done all last season, which is feed the young man the ball and watch the magic happen. Had Herman done that prior to the Kansas State game late in the season, who knows, he just might still be employed in Austin.
4. Baylor (Last Week: 2)
The Baylor Bears lost to the Oklahoma State Cowboys on Saturday night, for their first defeat of the season. Oh, and Dave Aranda was not happy after the game. I still like the potential for this Baylor team since the defense brings a lot to the table. The offense could be problematic, as the unit faces more solid defenses around the league. It might be a lot of 17-14, 21-17 type games for the Baylor Bears as conference play continues. But no doubt, the idea that anyone would look past this team this season would be silly.
5. Texas Tech (Last Week: 9)
The Texas Tech Red Raiders went to Morgantown and picked up a win over the Mountaineers. After jumping out to a 17-0 first half lead, they had to hang on later and knock through a field goal in the final seconds for a 23-20 victory. But regardless, it showed that Matt Wells' team still has plenty of fight left it them after getting blown out at Texas the week prior. This program still has a ways to go, but at least for a week, they should and have every right to feel good about themselves.
6. Iowa State (Last Week: 6)
Well the Cyclones got back above .500, following up their Baylor loss with a huge win over Kansas. Congrats, I guess, but let's be honest, Kansas still has a long road ahead. It's always hard to take too much out of a team like Iowa State beating KU by more than 50 points. So I don't know how much to analyze, but in a wide-open Big 12, despite their slow start, why not Iowa State? They just need to start clicking.
7. Kansas State Wildcats (Last Week: 7)
The Kansas State Wildcats brought back QB Skylar Thompson and Saturday, but still came up short against Oklahoma. But without Skylar, that game might have been a bloodbath. He's that important to this team. So that's why, even though they're 0-2 in Big 12 play, Kansas State will be in every game it plays the rest of the way thanks to Skylar and the defense, which keeps things in front of them and plays a bend-but-don't-break style that is working effectively thus far.
8. West Virginia (Last Week: 5)
The West Virginia Mountaineers had their worst lost of the season on Saturday against Texas Tech. Woof. This was a Tech team that just gave up 70 points to Texas, and the Mountaineers put up a big goose egg (zero points) in the first half at home. That can't happen. They came back in the second half, but the uphill climb proved to be too much. WVU has the defense to stay in games, along with Leddie Brown, but how far that carries them in a jam-packed Big 12 remains to be seen.
9. TCU Horned Frogs (Last Week: 8)
The Horned Frogs opened up Big 12 play with a loss to Texas, something Gary Patterson hasn't had to say much of during his time in Fort Worth. But that makes it two losses in a row for TCU, a team that many thought would be a Big 12 dark horse this season. Instead, it's the defense that looks like it's not quite up to the level of what Patterson has done during most of his tenure with the Frogs. They were gashed by SMU last week, and then got lit up by Bijan Robinson for over 200 rushing yards on Saturday. TCU has allowed an average of over 35 points per game in their last three match ups. That needs to turn around.
10. Kansas Jayhawks (Last Week: 10)
The Kansas Jayhawks remain in the basement after a horrible first quarter (28-0) led to a thrashing by Iowa State (59-7). While KU fans should generally feel good about the early direction under Lance Leipold, Saturday is one of those games that makes you want to bury your head in the sand, or just drink a bottle of bourbon. The grind continues.