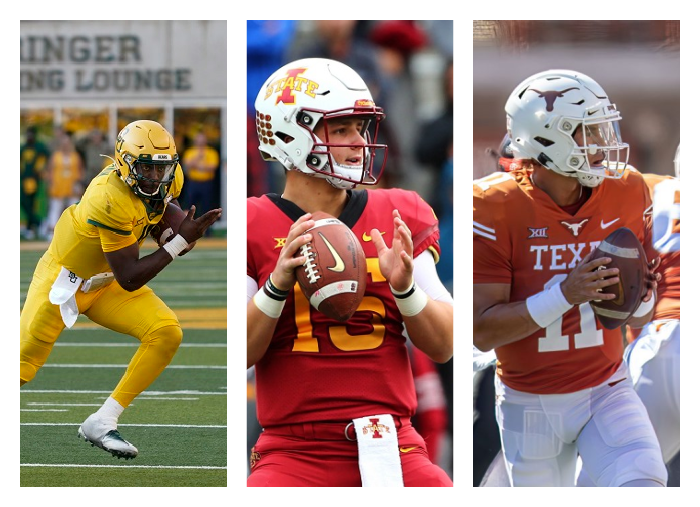 There is no position in all of sports that is more important than the quarterback. A good quarterback can help hide other areas of weakness on a team while bad ones can bring down even the best of teams. Either way, having good quarterback play is crucial for any team that hopes to make it all the way. Just like with team power rankings, I wanted to do a weekly quarterback power ranking after every weekend. Here you will find out who is trending up or down depending on their play on the field.
1. Oklahoma QB Spencer Rattler (#4 Last Week)
Oklahoma needed a bounce back performance on offense and they certainly got one on Saturday. Oklahoma scored on nearly every single drive against Kansas State as Spencer went 22/25 for 243 yards and a touchdown. For the first time nearly all season, Spencer Rattler looked like himself and it showed on Saturday in Manhattan, Kansas.
2. Iowa State QB Brock Purdy (Last Week: 5)
I know it was against Kansas, but Brock Purdy also had a good performance as well. Much like Spencer Rattler at Oklahoma, Brock had struggled for most of the season, and he looked much more comfortable out there on Saturday night. Purdy completed 17 out his 22 passes and had four touchdown passes in the first quarter.
3. Kansas State QB Skylar Thompson (Injured Last Week)
The Kansas State offense got a much-needed boost against Oklahoma due to the return of starting quarterback Skylar Thompson. Skylar threw for over 300 yards and 3 touchdowns against a good Oklahoma defense. Without him, Kansas State would have likely been blown out but instead they hung in there with the Sooners.
4. Texas QB Casey Thompson (Last Week: 2)
Casey had his worst game as a starter against TCU but there aren't many quarterbacks who have a great day against a Gary Patterson coached defense. Thompson only went 12 of 22 passing but he did not hurt his team as much as some of these other quarterbacks on the list.
5. Texas Tech QB Henry Colombi (Last Week: 8)
It's not easy going to Morgantown but somehow Texas Tech walked out with a thrilling 23-20 victory. Henry had an excellent first half leading his team to a 17-0 lead at halftime. Then to finish the game, he led the offense down the field to help seal the deal with a late field goal. Perhaps his biggest accomplishment of the day was not turning the football over.
6. TCU QB Max Duggan (Last Week: 6)
I am still waiting for Max to have that big breakout game this season, but it just hasn't happened yet. He threw for just 182 yards and a score against Texas, but I did see him be more accurate. The run game wasn't working for him and when he can't run then he is very limited as far as what he can do as a passer.
7. West Virginia QB Jarret Doege (Last Week: 7)
Much like Max Duggan, I am waiting for Jarret Doege to wow me this season and he has yet to do that. While he may have thrown for a lot of yards, he doesn't have much to show for it. Against Texas Tech, Doege had an abysmal first half as the Mountaineers did not score a single point in the first two quarters. He ended the day with over 300 yards, but I am not so sure he should have been out there in the second half.
8. Oklahoma State QB Spencer Sanders (Last Week: 3)
Oklahoma State won on Saturday, but it was not because of Spencer's arm. He threw three interceptions against Baylor and those turnovers were what kept Baylor in that ballgame. Fortunately, he was able to do some damage on the ground, but he can't keep turning the football over like that moving forward.
9. Baylor QB Gerry Bohanon (Last Week: 1)
Gerry was my number one quarterback last week, but he does not deserve to be in the top five after his performance against Oklahoma State. He went 13 for 27 and threw for 173 yards and no touchdowns. He never looked comfortable at all on Saturday and the offense was stagnant for nearly the entire game.
10.  Kansas QB Jason Bean (Last Week: 10)
Kansas got completely obliterated against Iowa State as they lost 59-7. Bean completed just 50% of his passes and threw for just 120 yards along with having an interception. He is under pressure often and he struggles to throw the football. Without his running ability, I am not sure he would be the starter at Kansas.