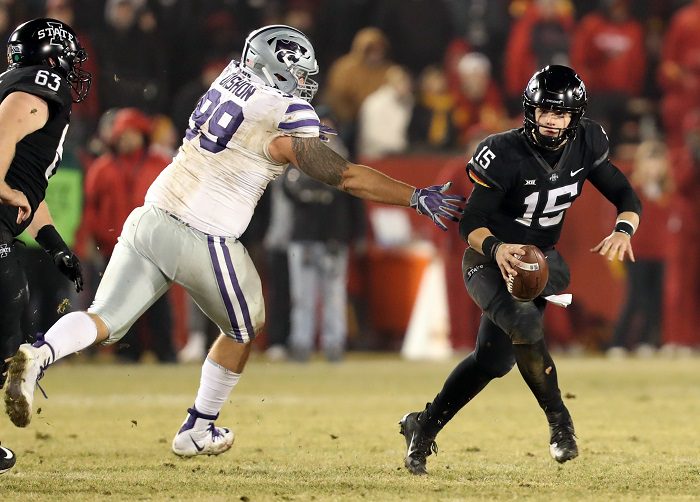 Welcome to the HCS Big 12 mailbag! This mailbag is for all you football junkies out there who root for a Big 12 school who not only have questions about your team, but other teams in the conference as well. So, join me, grab your favorite drink, and relax as I answer all your Big 12 questions. For those interested, I will send out a tweet (@Derekduke25) every Monday until 8 PM CT for you to send in your questions to be answered every Tuesday right here at Heartland College Sports.
I want to thank each one of you who submitted a question this week and for those reading, I am glad you could join me. I am doing this on a Monday night and of course it would not be a proper mailbag without a drink next to me. Tonight's drink of choice is a Weller Special Reserve.
@clonesjer asks: Are Texas and Oklahoma are going to lose some games?
Duke: Well one of them is going to lose this weekend as they square off in Dallas at the Cotton Bowl on Saturday. I still have Oklahoma as my favorite to win the Big 12 and after the Texas game, their next three games are against TCU, Kansas, and Texas Tech. If they beat Texas on Saturday, then they should be 9-0 going into their bye week. Maybe they slip up against Iowa State or Oklahoma State to end the year but right now I don't know about that. As for Texas, I can see them going 2-2 in their next four games. They have Oklahoma this weekend and then Oklahoma State, Baylor, and Iowa State. That's a pretty tough four game stretch.
@TylerGuest1 asks: Have your opinions changed on Oklahoma State since preseason? I'm still struggling to figure out where they realistically sit in the pecking order of the Big 12.
Duke: That would be tough for me to answer because coming into the season, I had the Cowboys finishing fourth in the Big 12. That could very well happen still but right now they belong in the top three conversation in the conference. I wouldn't say my opinion on them has changed much compared to the start of the year because I probably had them higher than most going into the season. I love the way the play defense and if Spencer Sanders can limit those big mistakes, they have a shot to play in Jerry World come December.
@TheBenBoothShow asks: Is name, image, likeness only for student athletes? Asking for a friend.
Duke: To my knowledge they are only for student athletes but if you have any eligibility left, I encourage you to find a school and go chase your dreams. If not, maybe try and get a sponsorship for your show. As for me, I would be happy with a beer or whiskey sponsor. I am not sure if Pete would allow that, but I am also not sure if some company out there is looking to sponsor a below average Big 12 blogger. If someone is, you know where to find me.
@strawny asks: Is Texas Tech that good or is West Virginia that bad?
Duke: Another great question here and man that was one weird game I watched in Morgantown. After Texas Tech lost Tyler Shough due to injury, I did not think they would win another game outside of the Kansas game for the rest of the year. I picked Texas Tech to finish ninth before the season started and now, I could see them jump up a spot or two. Heck, they have a good shot to make a bowl game as they sit at 4-1 right now. As for West Virginia, I was never a big believer in them. I think they have a good defense and some nice pieces on offense but the problem for the last couple years has been quarterback play. That is still an issue with Jarret Doege and as long as he is the starter, I think the Mountaineers are also a fringe bowl team.
@aaronIwall asks: Have you tried Evan Williams yet?
Duke: As a bourbon drinker, of course I have. I always have a bottle of Evan Williams Bottled in bond in my liquor cabinet at all times. It's cheap and is a great budget bourbon to sip on in my opinion. Occasionally I will also drink it while doing this mailbag. I always enjoy when others talk about bourbon and if you are on Twitter, don't be shy to share your favorite bourbons with me. Sometimes it is nice to know what others are enjoying as well.
@MBraun6860 asks: Do the Cyclones go 4-0 in Brocktober?
Duke: They have quite the October schedule coming up after their bye week. Kansas was an easy win of course but they have to go to Kansas State next weekend and then host Oklahoma State before going to Morgantown to take on West Virginia. While Morgantown is a tough place to play, I don't see the Cyclones having any issues there. However, I am up in the air with the Kansas State and Oklahoma State games. If they beat Kansas State with ease, then I could see them go 4-0 in October but right now I think I would have to say they finish this month going 3-1. I am not sure if I am confident enough to say they will go undefeated this month.