Baylor Bears
Baylor vs. West Virginia: Preview and Prediction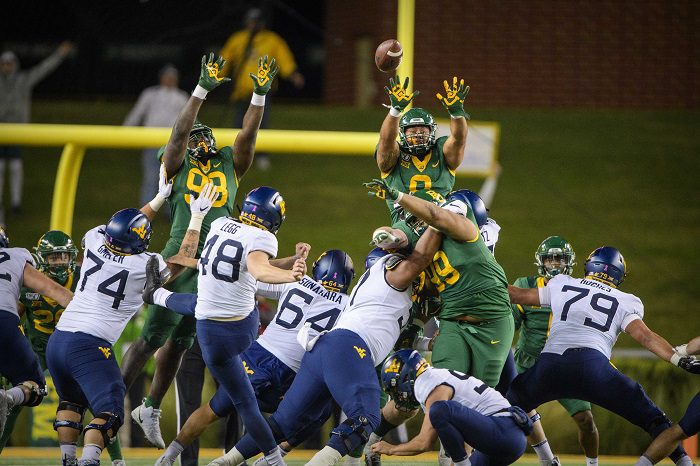 Here's everything you need to know about this upcoming Big 12 conference game in our Baylor vs. West Virginia preview and prediction.
Game Info
Saturday, October 9, 2021; 11:00 a.m. CST; McLane Stadium, Waco, Texas
TV: FS1
Radio: Mountaineer Sports Network/Baylor Sports Network
Spread: Baylor -3
Fun Fact: West Virginia has only one win in Waco in the nine-game history of this series, which began when WVU joined the Big 12 in 2012.
Key Players
West Virginia Mountaineers
RB Leddie Brown
While others and I have criticized QB Jared Doege's immobility in the pocket this season, conference play has revealed that what is truly ailing West Virginia's offense is a lack of a running game. The Mountaineers enter Week 6 dead last among Big 12 teams in rushing offense with 560 yards (112 yards per game). Worse, WVU is averaging just 81 rushing yards per game in Big 12 play.
Brown can turn that around in a hurry, however, against Baylor. The Bears' defense has been solid this season, but not great. Over the last two weeks, Iowa State and Oklahoma State have combined for 435 rushing yards against Baylor (217.5 per game), and ISU's Breece Hall, who is somewhat similar to Brown in style and size, ran for 190 yards in Waco two weeks ago.
Last season, Brown averaged 5.1 yards per carry, but this season he's averaging just 4.6 yards per carry and 3.5 yards per carry in conference play. If Brown can break out just a little and get going against Baylor, West Virginia's dangerous passing game will open up, and the Mountaineers will be able to sustain drives and eat-up clock.
DT Dante Stills
Stills enters the game leading the Mountaineers with four sacks, good for a second-place tie in the Big 12. He'll need to make his presence known up front again as the Mountaineers take on a Baylor offensive line that has been surprisingly potent all season long.
The Bears are second in the Big 12 in rushing offense with just under 1,200 yards on the ground this season to go along with 14 rushing TDs. Moreover, while Baylor is a run-first team, the passing game is efficient, and Baylor QB Gerry Bohanon has been sacked just four times all season.
This means that for West Virginia to be successful, it's going to have to win some battles up front to limit the run game and put pressure on Bohanon. As the senior leader of the defensive line, Stills must have a big game.
However, he won't have to do it all by himself. . ..
B Jared Bartlett
Barlett plays WVU's "bandit" position, essentially a linebacker/defensive end hybrid, which is critical to head coach Neal Brown's defensive scheme, and Bartlett has filled the role well since last season. Bartlett was the defensive hero of WVU's 27-21 win over #15 VA Tech earlier this season as he collected three sacks, the most by a WVU defender since Darius Stills, Dante's brother, collected three against who else and where else but Baylor in Waco.
To tie together everything that's been said about the players above with Bartlett, if WVU can get the running game going, the biggest roadblock between WVU and its second win ever in Waco will be Baylor's potent offensive line, and Bartlett's hybrid abilities to compliment Stills in the pass rush, absorb blockers, stop the run, and even make plays in pass coverage will be critical to the game within the game that will ultimately decide the winner.
If Barlett and Stills can create havoc against Baylor's offensive line, the rest of the West Virginia defense runs and tackles well enough to slow and contain the Bears' offense.
Baylor Bears
QB Gerry Bohanon
Bohanon has played well for most of the season, throwing for 996 yards and 7 TDs without a single interception, and he has only taken 4 sacks on the season. However, all four of those sacks have come in the last two games against Iowa State and Oklahoma State, and last week's game vs. the Cowboys was Bohanon's worst performance of the season as he completed just 48.1% of his passes.
After beginning the season facing three soft defenses, West Virginia will provide the third straight contest against one of the best defenses in the Big 12, and how Bohanon responds will be a huge factor in the outcome of the game. If the Bears are to win, Bohanon cannot have another game like he had against Oklahoma State. In fact, he will likely need to outperform the game he had against Iowa State as that contest was decided by a big kickoff return for a touchdown by RB Trestan Ebner.
RB's Trestan Ebner and Abram Smith
Ebner and Smith have provided Baylor the kind of one-two punch at running back that most teams can only dream about. Combined, the two have rushed for 858 yards this season, but the duo has slowed considerably over the last two contests.
Against Iowa State, Ebner was held to 31 yards on 8 carries while Smith gained 47 on 10 carries. In last Saturday's loss to Oklahoma State, Ebner had 0 yards on 8 carries while Smith had 97 on 10.
West Virginia currently ranks 3rd in the Big 12 in rushing defense, ahead of Iowa State (4th) and Oklahoma State (5th), so this game poses a crossroads of sorts for the Baylor backfield. Either Ebner and Smith will shift gears and start to be more effective against better defenses, or the team will be forced to lean more heavily on Bohanon and the passing game.
If the team is forced to turn more to the passing game, West Virginia's pass rush, which leads the Big 12 with 17 sacks, could make Baylor's offense miserable all day long. Whether or not Ebner and Smith are able to have an impact and loosen up the WVU defense will be critical to the Bears' success.
CB Raleigh Texada
Texada is typically a shutdown corner, but he has struggled in his last two games against Oklahoma State as last week he was targeted nine times and allowed seven completions for 124 yards and a touchdown. In 2020, he was burned by OSU WR Dillon Stoner on several plays.
While Texada has a history of struggling against Oklahoma State, he also has a history of playing with his hair on fire against West Virginia. Last season, Texada logged a sack against the Mountaineers and didn't allow a single completion in coverage. In fact, his coverage was so good in Morgantown last season that he was only targeted once in the passing game.
If Baylor is going to right ship this week, it will need Texada to return to form.
WVU QB Jarret Doege is not mobile, and he doesn't have the arm to accurately stretch the field, but he can be deadly accurate in the short-to-medium passing game. Baylor needs Texada to not only consistently shut down Doege's top target but also take advantage of any opportunities in the pass rush.
With Texada's speed, Doege's immobility can become a huge liability for WVU if Texada can get off blocks when blitzing and get into the backfield. Moreover, if Texada has his man blanketed in coverage, Doege will be forced to hold the ball longer, giving Baylor a better opportunity to put pressure on him.
Key Storylines
West Virginia Mountaineers
Suddenly, it feels like the wheels are about to come off for the Mountaineers (2-3, 0-2). After falling to Oklahoma (5-0, 2-0) in Norman by just three points, it felt like West Virginia was making strides and might be a force to be reckoned with in the Big 12 race this season. But then the Mountains found themselves in a big hole at home last week against Texas Tech (4-1, 1-1) and couldn't dig their way out.
Texas Tech came into last week's game in Morgantown in a similar position to West Virginia this week: it felt like the wheels were about to come off after the Red Raiders were eviscerated by Texas (4-1, 2-0), 70-35 the week before. West Virginia found itself in the midst of a storm as the Red Raiders fought to not only save their season but their dignity.
Now, West Virginia has the opportunity to pay it forward against Baylor (4-1, 1-1), a team that has every reason to feel good about itself despite losing in Stillwater last week. West Virginia has reached a fork in the road: it can either bounce back with a win, or it can see its season begin to truly unravel with a fourth loss.
Baylor Bears
The Bears were riding high until last week's game in Stillwater. The offense was clicking, the defense was doing enough to blow out bad teams, and Baylor had just notched its first win against a ranked foe since 2019 by beating #14 Iowa State (3-2, 1-1), 31-29.
Oklahoma State (5-0, 2-0) put an end to the good times by handing the Bears a 24-14 loss on an overall bad day for Baylor's offense. While any loss is disappointing, Baylor's season is still very much on track. The Bears have already doubled their win total from last season, and a bowl game and possibly much more is very much in reach.
However, a second loss in a row against a reeling West Virginia team in Waco would sap much of the positive energy currently surrounding the Bears. Baylor must channel Al Davis and "just win, baby." A bounce-back win, no matter how small the margin, will put Baylor on the cusp of bowl eligibility and in the thick of the Big 12 race. While a loss a week before #10 BYU visits Waco might foreshadow much darker skies ahead.
Prediction: Baylor 24, West Virginia 21
I just don't see a lot of points being scored in this one, although both offenses are capable of slipping into a hidden gear. If it becomes more of a shootout, I think West Virginia's chances to win increase greatly due to its superior defense. As it stands, I just don't know where WVU's head is or how confident the team is feeling while Baylor should be both fired-up to avenge last week's loss and confident in its abilities.
The battle in the trenches between Baylor's offensive line and WVU's defensive front should be fantastic and make this game well worth the price of admission. I doubt that either side of the line will be able to dominate the other, and so it will come down to a battle-by-battle fight for the upper hand.
When West Virginia has the ball, it will be interesting to see if Leddie Brown can get going and if Doege can find some windows in Baylor's pass coverage. If both happen, the Mountaineers might be able to crack the game open with a few big plays and turn its season around in the process. On the other hand, if Baylor can force WVU into some turnovers, the Bears may roll.