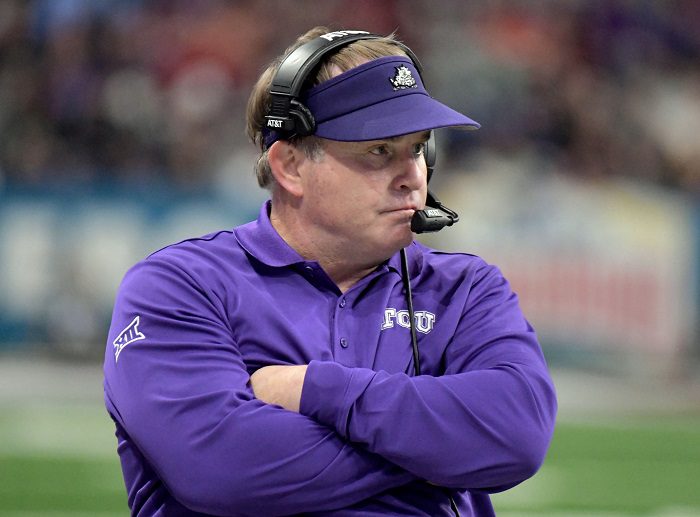 Watching the end of the TCU's game against Texas on Saturday felt like Déjà vu.
The TCU offense scored a touchdown with just over 4 minutes left to make it a one-score game. If the defense forced a punt, then maybe the offense could put together another touchdown drive.
Instead, Texas running back Bijan Robinson picked up two rushing first downs in what felt like the blink of an eye. A couple kneel-downs ran out the clock and then a University of Texas flag found a temporary home flying over the field at Amon G. Carter Stadium.   
Almost the exact scenario played out a week earlier against SMU.  
The typically stout TCU run defense, which gave up 1,275 yards over 10 games last season, suddenly showed massive holes.
The defense has already surrendered 874 rushing yards over four games, or 204 yards per game. At that rate, 2020's numbers will be surpassed in two weeks and likely keep the Horned Frogs as the conference's No. 9 ranked rushing defense above Kansas.
Over the last two weeks, the Horned Frogs have allowed 622 yards on 105 carries (5.9 yards per rush) and three 100-yard rushers. Robinson single-handedly posted 216 of those rushing yards. TCU yielded over 200 total rushing yards in a game just once last season.
TCU's passing defense remains steady at 193 yards given up per game. A couple blown assignments have led to long touchdowns, but overall the secondary has done its job.
Even the red zone defense looked solid versus Texas. The Horned Frogs stopped the Longhorns on fourth-and-goal from the one-yard line and forced three field goals after three fumbles provided short fields.  
Yet, outside the 20s, the rushing defense disappeared. TCU's secondary adjusted personnel against Texas when safety TJ Carter was ejected for targeting. The ejection did impact how the Horned Frogs approached run defense. However, the results mirrored the previous game when the secondary did not have a major in-game change.
That's where the concerns arise.
TCU was a dark-horse, Big 12 title game contender entering the year, which seemed reasonable. The conference's No. 4 overall defense and No. 3 rushing defense in 2020 returned eight starters while the offense brought back 10 starters.  
The Horned Frogs had a proper offseason to prepare for 2021, but the defense has not met expectations. Something must change if TCU wants a shot at playing in AT&T Stadium.
Oklahoma, Oklahoma State, Texas and Iowa State have emerged as the early title game favorites. Each team has shown flaws that might prove costly, leaving the door open for other teams.
The Horned Frogs have eight conference games remaining, so nothing is technically out of reach right now. Repeat performances, though, will snuff out those dreams.
TCU can reset its rushing defense this weekend on the road against a Texas Tech team averaging 144 rushing yards per game. TCU is 3-1 in Lubbock since joining the Big 12, but only one victory came by more than three points.
With a road trip to Oklahoma looming the following week, the Horned Frogs need an answer for their run-defense woes.
Otherwise, the tough endings will continue.