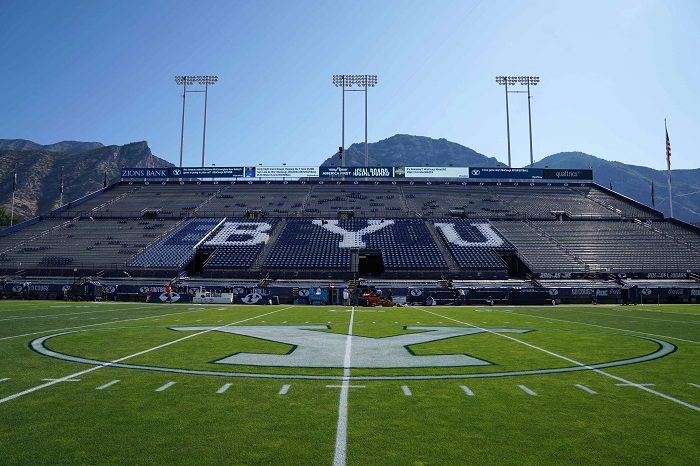 Here is everything you need to know about the matchup between BYU and Boise State.
GAME INFO
1:30 p.m. MDT, Saturday, Oct. 9, 2021, LaVell Edwards Stadium, Provo, Utah
TV: ABC (Dave Pasch, Dusty Dvoracek, Tom Luginbill)
Away Radio: Bronco Radio Network (Bob Behler, Pete Cavender)
Home Radio: BYU Sports Network, Sirius XM 143, BYU Radio, BYUCougars App, KSL 1160 AM in Provo (Greg Wrubell, Riley Nelson, Mitchell Juergens)
Boise State Head Coach: Andy Avalos (2-3 in 1st season at Boise State, same overall)
BYU Head Coach: Kalani Sitake (Other than 2020, 31-25 in 5 seasons, same overall)
Series History: Aside from a 2020 meeting, Boise State leads the series 7-3
Opening Line: BYU -2 1/2
Over/Under: 57 1/2
Fun Facts: BYU is one of four teams to not trail at any point this season. They've done this against three Pac-12 teams, a conference which shun them. Thus, opening the door for the Big 12 Conference to bring the Cougars aboard. The other three teams are Alabama, Georgia and Michigan.
KEY PLAYERS
BOISE STATE (2-3, L 41-31 VS NEVADA)
WR Khalil Shakir
Boise State is a heavy pass team. 14 different Broncose have recorded a reception this season. Shakir leads the crowded pack, and it's not even close. Shakir has 13 more receptions than the No.2 Bronco receiver. He's averaging over 100 yards per game and nearly 17 yards per reception. Entering the game, Shakir will have 31 receptions for 518 yards and 4 touchdowns.
Safety JL Skinner
Skinner has forced two fumbles and recovered one. The San Diego native is also the Broncos' leading tackler, which isn't even close. Skinner has 51 tackles, 41 of which are unassisted. He has more unassisted tackles than the next two leaders combined. It's a bit surprising he hasn't scored an interception, but three teammates have multiple picks. It might be in the scouting report for quarterbacks to throw near Skinner by all means necessary. On the other hand, he does lead Boise with 4 pass break-ups.
BYU (5-0, W 34-20 AT UTAH STATE)
RB Tyler Allgeier
Feed this man! Allgeier was the player to watch last week too. He wound up rushing for over 200 yards, over 100 in the fourth quarter alone. His longest was a 59-yard touchdown in the second quarter. Allgeier is currently at 564 yards this season. He is in the top 10 for rushing yards and yards per game. The sophomore is also No.12 for rushing touchdowns. He's not quite into the Heisman race yet, but he is on the Doak Walker Award Watch List. This time, he will be featured on a major network.
CB D'Angelo Mandell
Honestly, it will be the entire secondary, but we'll go with the 6-foot-1 junior cornerback from San Diego. Boise State is not a team who rushes a lot. They pass a lot. As mentioned earlier, the Broncos have 14 different receivers with receptions. One of them averages over 100 yards per game. If BYU wants to win this game, the secondary will not quality coverage so the front seven can have more opportunity to pressure Hank Bachmeier.
KEY STORYLINES
BYU
This is the last Group of Five school BYU faces before it takes on three consecutive Power Five schools. Boise State doesn't typically have a losing record this late in the season, but they do right now with a new head coach. It's unlikely BYU will look ahead as Boise State is generally considered more of a national darling than BYU is. However, if there is a year someone may overlook the Broncos, it's this year. BYU is ranked at No.10 in two polls. They are looking to crash the New Year's Six Bowls party, if not slip into the College Football Playoff. Add in the fact that it's Homecoming, there is plenty of distraction to knock the Cougars off course. Focus is the storyline this week. BYU must focus on defeating Boise State.
BOISE STATE
The Broncos haven't lost four games since 2015. They've only lost four games three times this millennium. It's a rare feat. Boise State has a new head coach, and he might already be feeling the heat. Additionally, BYU has a target on its back for being added to the Big 12 Conference. Boise State has been trying to get into a Power Five Conference and has provided, in some cases, a better argument to be added. There is zero lack of motivation for the Broncos going into this game. If BYU isn't focused, it might not just be an upset. Boise State could embarrass BYU on Homecoming if the Cougars do not have the right mindset.
Prediction: BYU 38 Boise State 35
I think BYU will be focused, but Boise State is going to hit the Cougars in the mouth early and often. Boise State has a chip on its shoulder entering this game. BYU is the better team, but they have to learn how to play as the hunted instead of the hunter. Sure, you could say that BYU was the hunted against Utah State and South Florida, but Boise State truly wants to send a message. In the end, Boise's offense is too one-dimensional. Tyler Allgeier will wear out the Bronco defense. BYU comes from behind to win.