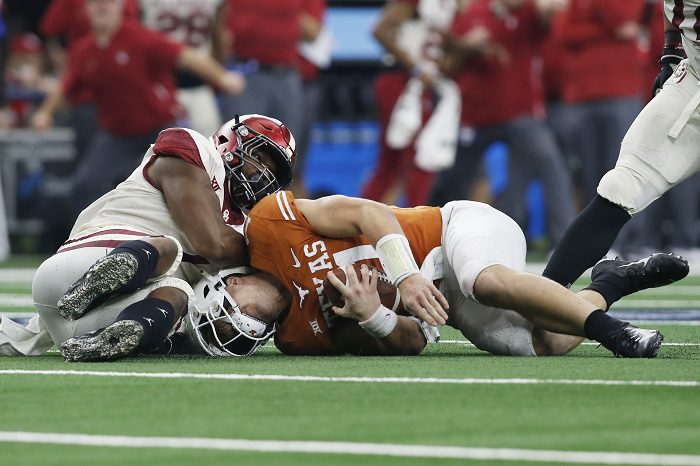 It's time for a little roundtable as the Heartland College Sports crew went around the horn and picked the best Big 12 game on the schedule in Week 5 of the 2021 college football season. There's not an obvious choice here, as conference play is kicking off and there are still lots of unknowns about the Big 12 this season. So with that being said, let's dive into everyone's picks for the upcoming week.
Derek Duke: Oklahoma vs. Texas
You smell that? The smell of Fletcher's corny dogs and stale beer. It must be heaven or the Texas State Fair. While I would love to talk about the beer in the wax cups or the taste of those delicious corny dogs, this fair is all one thing, football. Texas and Oklahoma will square off for the 117th time on Saturday as half the Cotton Bowl will be in crimson while the other burnt orange. Normally this is a game where the records don't matter but both teams are 2-0 in Big 12 play. That is not usually the case but that means besides bragging right and the golden hat, the winner of this game will be in the driver's seat in the Big 12. The stakes are high and I can not wait to see who will come out on top on Saturday.
Robert Graves: Texas Tech vs. TCU
All eyes will be on the Red River, and I can't wait for that game, but don't sleep on the other two Big 12 games: West Virginia at Baylor and TCU at Texas Tech. I think all three are going to be great games, but something tells me that the game in Lubbock is going to be a war. The Red Raiders are at home looking to move to 5-1, 2-1 and their best start since 2013, a start that would all but lock-up bowl eligibility for the Red Raiders with a trip to KU on tap for next week. Meanwhile, TCU has to be feeling some desperation after falling to 2-2, 0-1 last week against Texas with a trip to take on the Sooners in Norman coming up next week. Both defenses have struggled this season, and both offenses have shown considerable fire power. I predict that the Frogs and the Raiders will put on an old fashioned Big 12 shootout on Saturday, and I'm stoked to watch it.
Pete Mundo: Baylor vs. West Virginia
This might shock you, but here's why: Oklahoma vs. Texas is going to be great, but the stakes aren't as high. If OU wins, they're right where we thought they would be in the CFB Playoff race. But heck, they've lost this game in recent years and still went on to make a Playoff. Steve Sarkisian is coaching in his first RRR, and has some leeway.
In Waco, this feels like as much of a must-win game for Neal Brown as he can have in early October. WVU has lost their two Big 12 games by a total of six points, but fans are frustrated. IF the Mountaineers go lose to Baylor, with TCU, Iowa State and Oklahoma State on deck, it's possible WVU could go 0-6 to start Big 12 play. That would be disastrous. IF Neal Brown is able to win this one, things will calm down in Morgantown. Meantime in Waco, after a huge win over Iowa State, Baylor went on to lose to Oklahoma State last week. If the Bears lose, the shine will have worn off from two weeks ago. With a win, Baylor remains in the Big 12 race.
Matthew Postins: Texas Tech vs. TCU
Texas-Oklahoma is the obvious answer. But I'm actually looking most forward to that TCU-Texas Tech game in Lubbock. I was, frankly, surprised that the Red Raiders were able to steal one in Morgantown last weekend. Now, they host TCU, coming off its close loss to Texas. The chess match between Texas Tech offensive coordinator Sonny Cubmie and TCU head coach (and de facto defensive coordinator) Gary Patterson should be intriguing. Plus, for the Red Raiders, a win means they're one step closer to getting back to a bowl game, which should lessen the pressure on head coach Matt Wells. All in all, it could be a really fun game to watch with intriguing storylines.