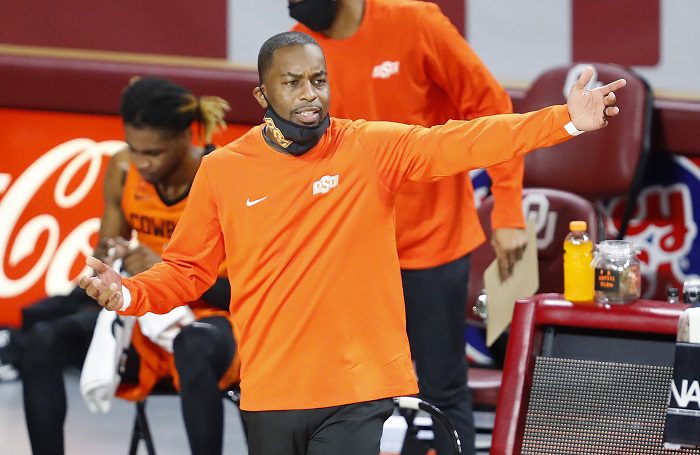 Mike Boynton told the Tulsa World that it's "unfathomable" to him that the Oklahoma State Cowboys are still waiting for a decision on their NCAA infractions appeal.
Boynton spoke to the World on a wide range of issues as the Cowboys began workouts in earnest for the 2021-22 season. But the lack of closure on the Cowboys' basketball-related penalties still hang over the program, 16 months after the athletic department turned in their appeal.
"It's unfathomable to me," Boynton told the World's Eli Lederman. "It's been way too long. I wish there was an update."
The NCAA placed Oklahoma State on probation before the 2020-21 season as a result of infractions committed by a former OSU assistant coach, Lamont Evans, which were discovered as part of the FBI's probe into college basketball. There are several other schools that are awaiting rulings from the NCAA that are related to that original FBI investigation, including Kansas.
OSU's penalties included a 2020-21 postseason ban. Because of the appeal, and because there was no decision about the appeal before the NCAA Tournament, the Cowboys were allowed to play in the Big 12 Tournament and in March Madness. The Cowboys won their first game in the NCAA Tournament, which was their first appearance since Boynton took over.
That team included Big 12 Freshman of the Year and Player of the Year Cade Cunningham, who was the No. 1 overall pick in the 2021 NBA Draft.
So, there is uncertainty what a ruling on the appeal might do to OSU's postseason appearance last year, or their postseason eligibility this year. But Boynton did say that he lost a recruit this offseason due to that uncertainty.
READ MORE: Kansas State Football: Re-Predicting the Rest of the 2021 Season
READ MORE: Despite National Media Narrative, the New-Look Big 12 Will Be Just Fine
You can find Matthew Postins on Twitter @PostinsPostcard.
**Want to win a $20 gift card? Go sign up here and join our conversation! The best poster each week wins a gift card to your favorite establishment!**